The British brewing style lands in Chicago.
1. The transformation of American brewing.
Sierra Nevada gets credit from most critics for leading the craft beer boom in the United States. It is not an unfair accolade and has carried with it a number of consequences, some predictable and others unintended. Among the more predictable and positive effects, craft brewers have pushed off from their California bridgehead and into the rest of the United States.
Also on the predictable side, craft brewers entranced by the original offering from Sierra Nevada have tried with varying success to replicate its qualities. Some of the students have outstripped their model; Sierra Nevada now resembles a standard rater more than intriguing craft beer.
2. The renaissance of India Pale Ale.
Its first beer was a pale ale, but neither Sierra Nevada itself nor its newfound competitors stopped there, and experimentation with other styles has proceeded apace. One of the obvious choices has been India Pale Ale. IPA not only represents a logical follow on to its simpler cousin, but thanks to North American brewers it is, as Garrett Oliver writes in The Oxford Companion to Beer (New York 2012), "the most popular craft beer style on the planet." (Oliver 483) It also is, we would argue, the greatest beer style of all.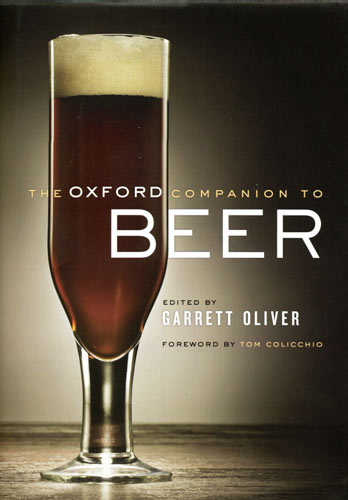 Variant substyles have proliferated, and western brewers in particular have developed their own identifiably American strain of IPA that has gained adherents nationwide.
The 'west coast style' is highly alcoholic, huge and hoppy even for an IPA, and its strength outstrips other versions of the same ale. The headbanging style does well in competitive tastings, if for no other reason than the biggest flavors register best on palates jaded by judging beer after beer. That, however, does not make these monsters the best of the bunch, let alone the most pleasant to drink.
Some of these beers are, to the Editor, barley wines in masquerade, and some of them pack even more pop than any number of wines per se. Some of them lack the balance, even a hefty finesse, that ought to characterize a superior India Pale.
If the west coast takes credit for both the craft revolution and the monster IPA, the style itself also has fanned out across America. The bellicose west coast style now emanates from Brooklyn, Philadelphia, Portland (Maine), Princeton, Providence and points between and beyond. Brewers on both coasts have become justly celebrated nationally for the quality as well as quirk of their products.
3. The craft beer revolution comes to Chicago.
Others toil in relative obscurity outside their immediate environs. The reputations of most craft brewers in flyover country, even in and around the windy colossus of the Midwest, remain lost to the coastal mind. That will soon begin to change. Founder's beers, from Michigan, made their highly anticipated debut in northeastern stores this Spring; others are bound to follow.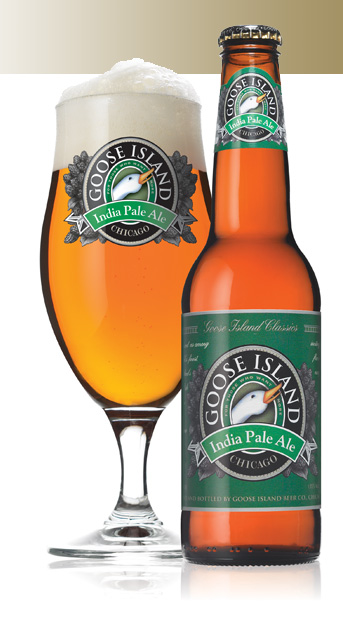 Goose Island IPA
InBev/Anheiser-Busch/etc/etc/et al./etc has acquired Goose Island, first of the current generation of Chicago independents, and extended production beyond the city. The multiglomerate previously gobbled Red Hook, first of the notable Pacific Northwest craft brewers, and has added Goose Island lines to its three Red Hook plants, so that the beers are set to acquire a nationwide distribution network.
The acquisition of craft brewers by the faceless multinationals usually spells dilution if not doom for the taste of the original beer. Often the biggies ramp up production to their accustomed industrial scale and cut costs through the addition of adjuncts but that does not appear to have occurred, at least not yet, with Goose Island.
To be fair, none of us ever much liked the original and signature Goose Island product, Honker's Ale. It was a weak and stingily hopped red ale, a style to which we are not partial, and always has tasted particularly clumsy, even one-dimensional. It is better now, at least on draft, and its newer IPA variant is excellent both on tap and in bottle. This is a lighter species of the type, as we might expect from a big brewer, antithetical to the west coast style, and yet none the worse for that. At just under 6% ABV, the IPA from The King has a sprightly balance; refreshing, at least for now. We will have to wait and see what InBev does with its acquisition, but there is no cosmic reason why a big brewer needs to traduce a good product.
If Goose Island no longer counts in primal terms as a Chicago craft brewer, it has no lack of worthy successors that, like the western crafties who followed Sierra Nevada, have outpaced the pathfinder.
4. Beer on tap.
The best of the drafts that we have found from brewers in the Chicago region has got to be the Zombie Dust IPA from the (obviously) eccentric brewers at Three Floyds in Munster, Indiana just over the line from Chicago. They have not fussed with their formula; the malt base is hopped with a single variety, citrusy Citra from the Yakima Valley. The result is as good as any IPA anywhere ever.

Zombie Dust
It has only just appeared in bottles; they call it pale ale, but barlists say IPA, and that is where it belongs. Alone of the beers on their website, the eccentrics disclose nothing about its alcohol content or degree of bitterness. It does not feel alcoholic, but rather accessible in a session way while also intriguing and addictive.
Our second prize for Chicago draft goes to the IPA from Revolution on the north side of the city. It is good, but not as good as the undead dust. We liked the Centennial IPA from the celebrated Founders brewery in Michigan--the recent arrival of its beers on the east coast has caused a minor sensation--it was good but not as good, and not as good as any number of other IPAs from either side of the Atlantic.
5. Beer in bottles (and two in cans).
Lots of regional brewers bottle beer too. Bell's, another Michigan outfit, is one of the older of the new craft producers, and its makes a classic, if light and almost golden pale ale. It packs a pronounced taste of grain but shows some balance too; bright and fruity, if a little soft. At 5.2% alcohol it is strong for pale ale by British but certainly not American standards and betrays no boozy heat.
The blast of alcohol (6.5%; no monster by west coast rights) is apparent but not unpleasant in the Pegasus IPA brewed by Argus on the far south side. The beer has a malty start that turns bitter but not fruity, let alone citrus, to finish dry. It is a balanced and excellent beer.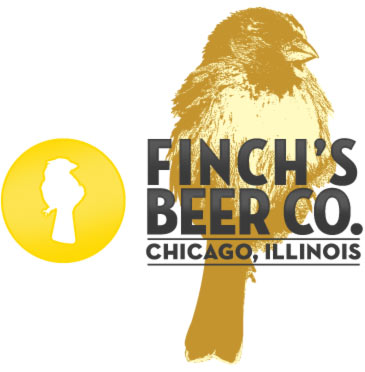 Even better if not best and smallest; Finch's Beer Company, a northside brewer of ales. They make blonde and pale ales and, in collaboration with Threadless (hipsters all), a Chicago based designer of t-shirts, bags and bottles, an IPA. Like Oskar Blues, Finch's always cans, never bottles its beers. These nods to the green aesthetic impose no ill effect on flavor.
We particularly like the 'cut throat pale ale,' really a crisp English style IPA loaded with malt and citrus, almost acidic tones. It pulls off a rare trifecta; big but also dry and refreshing without an excess of alcohol (5.6% ABV according to the can; 5.5 on the website). This is one of the better IPAs on the planet, and clever; some of the citrus flavor comes from citrus. Its can (but not the brewer's website) indicates that cut throat is "brewed with sweet orange peel."
We are not usually enamored of fruit in beer, although Hoegaarden is a decent drink as Belgian wheat beers go; Magic Hat has seen success with its biggest seller, Number 9, an ale flavored with apricot; and Wells in England has developed a following for its banana beer (not necessarily endorsed by britishfoodinamerica).
Use of the orange peel for an IPA, however, is brilliant, and the practice ought to spread. The zest is tarter than the fruit itself, and pulls up the tones of citrusy hops without obtrusion. The Finch's ale is more than a keeper, worth seeking out; apparently distributed anomalously in Connecticut.
We also tried an oddity during our visit to Chicago, from 5 Rabbit, "the first Latin microbrewery in U. S." according to its website at www.5rabbitbrewery.com. The website itself is lovely. It includes a short history of the enterprise, short in part because its history is so short: 5 Rabbit brewed it first beers only in 2011. One of them, '5 Vulture Oaxacan dark ale' includes roast ancho which, as the brewery assures its customers, confers depth rather than heat on the beer. It also confers on it the unmistakable taste of prune at the finish, a decidedly strange but not unpleasant sensation.
6. Apologia.
Other adventurers are brewing beers out of hope and dedication rather than merely gain in Chicago, and we are sorry to neglect them, but our travel time is finite and this is what we found. Nor have we discussed the precraft favorites of yore, from Stevens Point and other Wisconsin sources, although some seem sadly to have slipped. Their story must wait for now.