It is embarrassing but true that the basic britishfoodinamerica recipe for ordinary (as opposed, for example, to hot water or suet) pie pastry reached us via Martha Stewart, who repeats the recipe in any number of her cookbooks. We believe that credit should be given when due, and so the confession. This recipe always works provided that you use a food processor; it prevents overkneading, the commonest reason for a ruined crust.
The amounts provide enough pastry for a nine inch double crusted pie, like Art Jackson's Pleasant House kale and mushroom pie.
---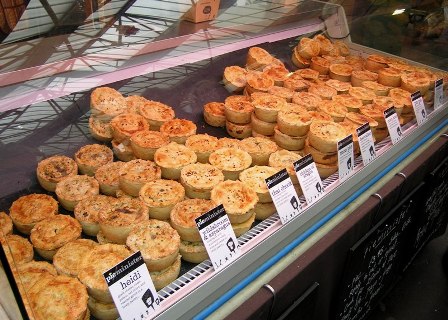 -2½ cups flour
-1 teaspoon salt
-½ lb cold unsalted butter or lard or half of each cut into little chunks
-about ¼ to ½ cup chilled water
---
Dump everything but the water into a food processor and blast the mixture until it looks like cornmeal, usually in about 10 seconds.
Carefully drizzle water through the open tube of the processor while you pulse the blade just until the dough only just holds together; do not process the dough for more than 30 seconds in all, and do not add so much water that the dough becomes sticky.
Dump the dough out onto about two feet of plastic wrap and bash it with the palm of your hand to build a disc about an inch or so thick: Refrigerate it for 45 minutes to an hour before rolling it out for your pie.
Notes:
- Other shortening options include margarine--some Old School cooks swear by it, and the same goes for Crisco, as anyone who has seen 'The Help' can attest--but the Editor tends to return to lard or butter.
- Some cooks add a little sugar to the dough, something like ½ to 1 teaspoonful. It will crispen the piecrust or make it brittle depending on your point of view. We prefer the unsugared texture.
Whether or not a recipe calls for the practice, if you are using a wet filling, then blind baking the bottom crust for 10 minutes or so will go a long way toward ensuring that you do not wind up with a sodden undercrust. Strew a layer of unsoaked red beans across the pastry and bake it at 350°. Keep the beans for repeated reuse.