These pies are fun to make, foolproof and delicious. Each recipe makes four pies: You can halve or double or otherwise multiply or divide the amounts without altering the proportions. You will need a 4 ½ inch (number 3 French) ramekin or something similar for each pie.
---
- 1 lb ground beef
- 4 rashers of Irish bacon, cut into ½ inch pieces
- 2 lamb kidneys or ½ veal kidney (optional but strongly recommended), cut into small chunks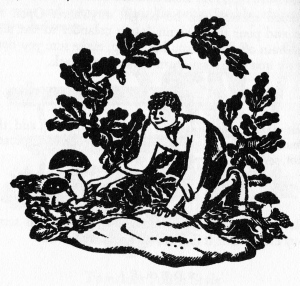 - 8 ounces sliced mushrooms
- 2 cups chopped onions
- 1 Tablespoon flour (preferably Wondra)
- 1 can beef consommé
- 1 Tablespoon steak sauce
- 1½ teaspoons Worcestershire
- ½ teaspoon mushroom ketchup
- Splashes of hot sauce
- Black pepper
- 1 package of frozen puff pastry (2 sheets), thawed twenty minutes to half an hour before you are ready to put the pies in the oven. (Pepperidge Farm is good): This is practical weeknight cooking.
---
Preheat the oven to 450°
Place a cast iron skillet on high heat.
Add the bacon and cook until brown; then it from the pan.
Fry the kidney until seared and remove it in turn.
Add the beef, mushroom, onion and thyme and fry until the onion clears, breaking up the clumps of burger. Some flecks of gold should emerge on some of the mushrooms if you do not overstir the mixture.
Stir in the bacon and kidneys.
Add the flour and stir in the mixture until thev flour loses its white color and basically disappears into the mix.
Add the consommé and bottled sauces; bring the filing to a boil, thin the mixture with a little beef stock or water if necessary and reduce the heat to a simmer.
Simmer the filling for a few minutes until it has the consistency that you want; season with pepper and, maybe, salt, but the consommé and sauces are salty so make sure to taste the fillings first.
Spoon the filling into the ramekins: it will cool and thicken a little as you cut the pastry.
Cut 5 inch diameter rounds of pastry (trace one of the ramekins before you fill it) to top each ramekin and crimp the edges vertically. Cut vents in the pastry and decorate it with scraps.
Bake the pies on a cookie sheet until the pastry turns golden brown, usually about 10-15 minutes.
Notes:
- If you bake bigger pies their crust may get soggy in the center unless you use a pie bird. We like pie birds.
- You can substitute standard American smoked bacon, pancetta or even salt pork if you cannot find unsmoked Irish (or English) bacon.
- If you have no mushroom ketchup, use another ½ teaspoon of Worcestershire.
- You will have four good-sized triangles of pastry left over. Paint them with a little heavy cream, sprinkle them with a little brown or Demerrara sugar, some allspice, cinnamon and nutmeg and pop them in the (still heated to 450°) oven on a cookie sheet while the pies cool. Cook until the pastries rise and color, about 5-10 minutes. You now have pop ups for breakfast.