We return to Clerkenwell in strength, & this time for dinner.
Last year britishfoodinamerica noted our visit to Clerkenwell on the Lower East Side of Manhattan. Back then we had some time to drink beer at the bar but no opportunity to try the food. We liked the place so we vowed to return.
Recently we finally did, with our French Correspondent, two of our College Correspondents, outside counsel and Phoebe Dinsmore. It is an affable but discerning bunch that would not in conscience do the kitchen any favors if, sadly, the cooks fell down. We bathed ourselves in hope.
On the bathing front, unless the heat is asphyxiative, it always rains when we visit the Lower East Side and this wet night was no exception, so the room was quiet during midweek, which may have been just as well for the staff. We were celebrating as well as reporting, passing presents around, raucous but of course not unruly.
At the outset we might note some changes to the drinks available at Clerkenwell. On our earlier visit the selection of beer was generic with the exception of Prince Charles' Duchy Original bottled ale at a bargain price and the Hobgoblin dark ale from Wychewood in Oxfordshire. That has changed. The royal and dark bitters remain but now have welcome new company both in bottle and on tap. Their draft neighbors include ales from Southampton and Peak Organic; to our pleasant surprise, 21st Amendment IPA on tap has joined them from the San Francisco craft brewery. How did Clerkenwell score that? Similarly welcome and mysterious, Clerkenwell now serves the superb Elizabethan Ale in bottle from the great Harvey's of Lewes, something that we otherwise have encountered in the United States as contraband from our Rural Correspondent's travel bag.
The selection of wines remains as before, short and chosen for value. There is a Carmenere, the forgotten grape of claret by way of Chile; a bracing second tier Marlborough Sauvignon Blanc from Arona; and a red Sonoma Meritage from Lyeth among the more usual but decent suspects.
There is Pimm's Cup, dark Coruba rum for mixing and there are some decent malts.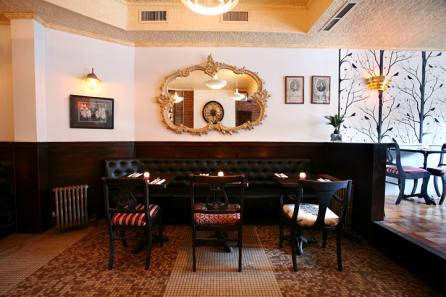 The Clerkenwell
49 Clinton Street, New York, NY 10002
212-614-3234 www.theclerkenwellny.com photo: Ryan Charles
Before assessing the food, we should note again the lovely room at Clerkenwell. A single panel of wallpaper in the dining room echoes the treatment in the bathroom, black Georgian silhouettes on a scarlet field: Otherwise the surfaces are quieter to support the big gilt mirror, oversized clock and other gadgets. The atmosphere is postmodern ironic retroid, but fear not; Clerkenwell pulls it off in winsome style.
We liked the staff at Clerkenwell and its quietly, almost courtly young owner (eye candy) on our first visit and liked them again this time. Their logistical mission was complicated by the fact that several of the Editor's colleagues trickled into the restaurant late due to missed trains, work crises and habitual tardiness. This neither irritated (at least not visibly) nor fazed them. The owner pitched in when staff became strapped and stepped up to replace expired bottles of wine in real time when requested, itself enough reason to return happily to any restaurant. Why do so many places with pretensions to quality fail to pour the wine by the time the main courses appear? This terrifying trend must be an undocumented cause of cardiac crises.
On to the food. We wound up with seven starters and all of them sang. Ms. Dinsmore of course opted for a salad, this time of fried goat cheese, good greens and beet; perfectly prepared. A tart of poached egg on sprouts and leeks hid its carpet of good diced ham (vegetarians beware) in superb shortcrust pastry. One of the College Correspondents (a size two) mused that the tart might prove a little rich before a robust main course and would order it as such; the Editor scoffed. The tart is just what it should be, balanced, bright and rich, and all the more impressive because it is a deceptively difficult dish for restaurant kitchens to prepare.
Pinky toe crab with sundried tomatoes sounded innocuous, bland and even clichéd. We ordinarily avoid the overused and ill-treated dried tomato, but these were poached tiny grapes that actually enhanced the flavor of the crab. We had no complaint about the seared prawns, rare praise, and enjoyed a side order of the universally underrated devilled egg as a supplemental starter with a pint of the IPA.

Main courses were more mixed in quality but only due to the fish and chips ordered by our French Correspondent, doubtless out of morbid curiosity. The English classic usually disappoints and this was no exception, not quite fried right, not quite crisp and yet slightly overdone; the deepfryer must have been too cool by a touch. The big steak-cut chips suffered the same fate. This, however, proved anomalous. Another College Correspondent arrived breathless with drama and commotion after the rest of us had started work on the main course, immediately begged for a burger and got it in minutes along with a heap of those chips that, this time, was faultless; crisp and golden, snowy and soft and worth a trip.
The burger itself arrived rare as requested by way of Pat LaFrieda, the deservedly famous blender of ground beef. The butcher combines different cuts to create a different burger for each of its customers, at a premium. Clerkenwell got a good one; this is a terrific burger and a steal at $13.
On and on at this point; salmon was deftly poached in olive oil, fragrant and greaseless; mackerel with celery, olives and raisins, productively plagiarized from Moro in London's Clerkenwell (the owners once lived upstairs) should be standard fare everywhere.
Some time ago serious London restauranteurs embarked on a collective pork belly binge and the party has leeched overseas. Clerkenwell's version with Chinese Five Spice is crisp and fatty and all that it, too, should be, although we would have liked more, a lot more, of its parsnip puree and little carrots. Nonetheless the dish should outlast the fad. All this comes at gentle prices; nothing on the printed menu costs as much as $20, sides (those devilled eggs) start at $3, starters at $8 and mains at $11. We had no room for dessert; coffee was fine, tea from bags.
If the solid soulful food at Clerkenwell is more gastropolitan British than traditional, its base remains firmly in the archipelago. British foodways never have been anything but promiscuous and we are grateful that Clerkenwell has bravely helped bring the torch to New York. The place is not formal; patrons are comfortable coming in for dessert and during our visit an organized tasting of wine and cheese pairings broke out at some of the tables. The atmosphere is almost amateur in an accomplished sense and that, traditionally, is British at its best.