6 servings.
This is an easy and forgiving recipe. The ribs are fatty and meaty and the devil mutable. You can vary the oven temperature and cooking time. Change the proportions within the devil, marinate the ribs or not, use boneless ribs, chunks on the bone or racks. This also is a good way to cook pork belly. The Editor's recipe.
---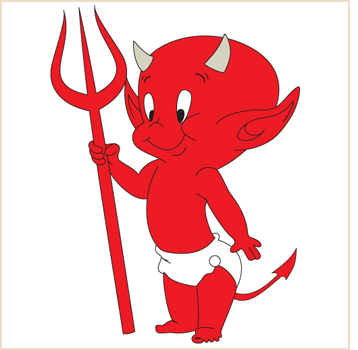 -about 2 cups sliced onion
-about 4 lbs boneless pork ribs or 8 ribs on the bone
-2 Tablespoons olive or neutral oil
-4 Tablespoons Worcestershire
-½ teaspoon allspice
-½ teaspoon cayenne
-2 Tablespoons dry English mustard
-½ teaspoon salt
-1 heaped teaspoon dried thyme or 1 teaspoon rubbed sage
-½ teaspoon turmeric
-about ½ cup hard cider (preferred) or white wine
---
Preheat the oven to 275°
Scatter the onions in a shallow ovenproof dish or cast iron skillet just big enough to hold the ribs without crowding them. Pour the cider or wine onto the onions.
Arrange the ribs on the onions so that there is a little space between the ribs.
Whisk together all of the other ingredients to make the devil, paint the ribs with it, and bake them for 2-3 hours, depending on how you like your ribs. At 2 hours they will be tender but firm, and ideal for finishing with a brush of their liquid over charcoal; at 3 hours they should be falling off the bone.
Serve topped with the onions and with lots of mashed or smashed potatoes or (better but not traditionally British) creamy grits.
Notes:

- All of the ingredients for the devil, including the oil, can be changed, omitted, increased or decreased: It is a most personal issue, like the infinitely variable strains of American barbecue. Alternatively, pick another devil, but the Editor does particularly like this one for these ribs.
- If you have less time, heat the oven to 350° and cook at that temperature until fork tender, usually only 1–1 ½ hours. If you have more time, marinate the ribs in the devil overnight or less, for as much time as you do have.
- You can cut the recipe down, double or triple it or more for a crowd, make the ribs in advance to reheat outside over charcoal or inside under a broiler. Serve the ribs with baked beans or greens or cole slaw depending on the season instead of or in addition to the potatoes or grits. Cabbage, chard or kale are good too.
- The Editor likes the fatty juices spooned with the onions over the ribs--in moderation. They are rich and delicious but not for everyone.