Our annual collection of holiday gift ideas.
Books.
The written word is our stock in trade, our passion along with the stove, so we lead with suggestions for books, because they are what we like best to be given. The lead goes to Art and Appetite: American Painting, Culture and Cuisine by Judith Barter ($50 or less), catalog to the exhibition of the same name at the Art Institute of Chicago; recipes included. Artifacts ranging from Art Deco barware to cookbooks and menus join the paintings and sculpture. The show opened on 12 November but lasts only until 27 January. If you want to treat a special friend, get her and a companion to Chicago in time.
It is an oversized, overpriced and impractical blockbuster laden with foodporn, but also essential to the sensibilities of britishfoodinamerica. With Historic Heston, Heston Blumenthal has given us his lavish roadmap to the reimagined food from the British past that he serves at Dinner, his highly acclaimed (and priced) restaurant on Park Lane in London. Listed for $200 but already discounted online; at least the book is cheaper than dinner at Dinner.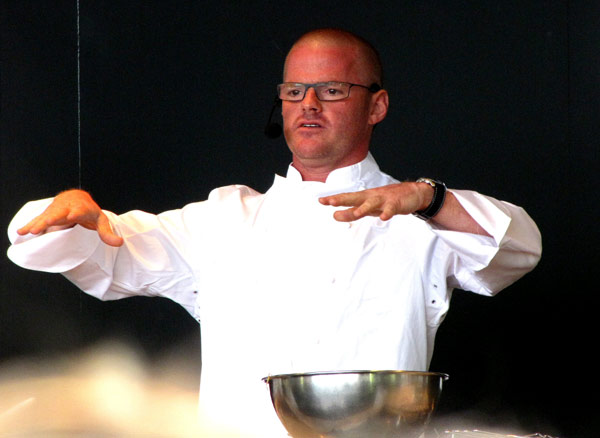 WWOZ, the New Orleans radio station founded in 1980, is a national treasure. The radio station published two cookbooks this year. The first, That Sounds Good!, written by committee, celebrates the thirtieth anniversary of the station (things can take awhile in New Orleans) and gives the lie to the chestnut that anything emanating from a committee must necessarily be bad. Contributors of recipes include musicians and others involved in the music industry. The book includes an illustrated history of the station and profiles its founders; essential reading for anyone addicted to New Orleans. The innovative recipes include a simple, and irresistible, oxtail curry with a Caribbean cast from Harold Brown, the drummer of WAR.
The station also has entrusted Elsa Hahne with compiling things that Louisiana musicians like to cook and eat, and its choice of author has proven good. The accessible recipes are presented clearly and the anecdotes shared by all the contributors enjoyable in their own right. The Gravy: In the Kitchen with New Orleans Musicians also benefits the nonprofit station. Highlights include John Boutté's beef and oyster pie and a trippy introduction by Dr. John. $30.
The editors of Garden & Gun, the magazine of southern culture by way of Charleston, South Carolina, has just published The Southerner's Handbook: A Guide to Living the Good Life. It includes the work of G&G regulars, including John Currence, John T. Edge and Julia Reed but, despite her baleful presence, the Guide is a worthwhile survey of Things Southern. If the handbook is just that, more primer than treatise, much of it will delight the uninitiated as well as conversant admirer of a south at once timeless and postmodern. On the food front, its differentiation of barbecue sauces is informative and the list of 'essential southern cookbooks' is apt if incomplete and reflects its Carolina bias; nothing at all from New Orleans, not even the iconic Times-Picayune cookbook. Still, instructions for shucking an oyster, frying okra, making biscuits and sausage gravy for slathering over them or, welcome nod to Louisiana, building a roux, will please any discerning reader. Listed at $28 but available from Amazon for $17.35.
Growing Up in Restaurants: The Story of Eating Out in Britain from 55 BC to Nowadays by James Pembroke is a mess of a book. Editing infelicities and typographical errors abound, the entirely unrigorous and often anachronistic 'historical' discussion is unsound, and all (or much) is forgiven. When Pembroke, a public school boy (Harrow) and Cambridge graduate who should have known better, not least about the typos (he is editor of The Oldie), recalls his dysfunctional upbringing his voice sounds nary a negative note. His judgments may be questionable but always are entertaining and Pembroke really did eat all his dinners in restaurants as a child. As low as $18.48 from a seller via Amazon.
Finally for now, we reviewed The Vintage Tea Party by Angel Adoree in our last Number. It is a wonderful book loaded with quirky craft ideas and excellent recipes that tweak classic British preparations. The illustrations alone should make you smile; read our review for more detail. Listed at $30; $22 online at Amazon.
Christmas.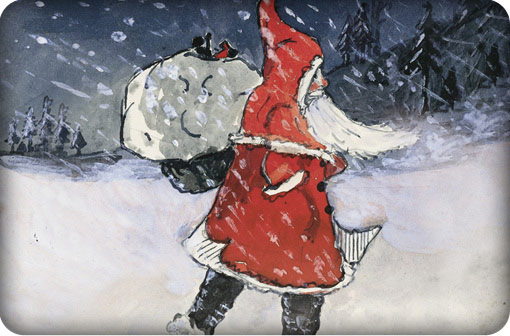 The best Christmas book may be the Letters from Father Christmas, duly postmarked at the North Pole, that J. R. R. Tolkien sent his children from 1920-43. The letters include drawings by Tolkien depicting the North Pole Bear, the faithfully inept chief assistant to Father Christmas, and the Red Gnomes, Snow-elves and attacking Goblins who inhabit their handwritten pages. $22 list; $15.56 at Amazon.
This year the Bodleian Library at Oxford has compiled an advent calendar of 24 Christmas drawings that Tolkien made for those letters. They are utterly engaging and the calendar costs only £4.50 at www.bodleianshop.co.uk. Also from the Bodleian, an ornament in the shape of the Radcliffe Camera as well as various angels and other seasonal things cost £7 each.
Implements.
The gods of Fortnum & Mason have wrought a transformation at the big, venerable shop in Piccadilly. Everyone there now is nice; most of them extremely knowledgeable and helpful too. Everything is expensive but much of what they sell is so good that it represents decent value anyway. The line of coronation china is that rarity, memorabilia involving the British crown that is neither tacky nor tawdry tourist bait. The delicately beautiful plates at Fortnum's that commemorate Elizabeth II's sixty years on the throne feature a delicate rendering of crown, rose, thistle and leek. £30 online. There are lines of pretty tea sets unrelated to the monarchy too. Fortnum's will ship worldwide except to Japan.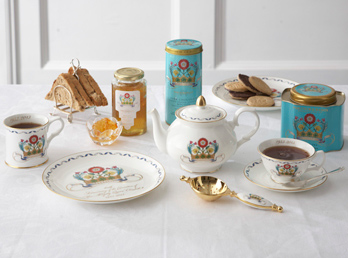 Most other department stores leave us cold but not Selfridges. At a time when Harrod's and Harvey Nichols have traduced their once magnificent food halls (and in the case of Harrod's just about everything else), Selfridges carries on. You could do all your Christmas shopping at its website, www.selfriges.com. As at Fortnum's, ceramics are a strength, if of a different cast. The Emma Bridgewater 'Skyline' tea service features a cartoonish and yet appealing set of London landmarks. £75 for the pot and £20 apiece for its mugs. A 'Lady & Store' mug from the 'Selfridges Selection' series shows a Victorian nymph holding Selfridges itself, a beautiful outpost of the Chicago School in London, imperiously if incongruously dominating its zone of Oxford Street. £15.
The NPR website offers three variations on stainless steel tiffin cans, beautiful and practical for transporting or simply storing all manner of food. The two tiered version in a quilted cotton shoulder bag costs $38; Three tiers cost $25 without the bag and $40 with it, which comes in subtle shades of brown or green.
Royal Worcester has bitten too much dust to survive, a victim of 2008. They were the only British maker left of traditional, wonderful and beautiful egg coddlers. For the benighted, an egg coddler is a ceramic pot fitted with a metal screwtop. It is just the size for simmering a single egg with the dressing of your choice; smoked salmon and capers, ham and cornichon, anything you like. Shitty imposters are available on the cheap online; do not bite. Instead, find your friend some antique exemplars via eBay or elsewhere online. Prices seem surprisingly reasonable given their scarcity.
Reginald Davis Ltd. at 34 High Street in Oxford (England, not Mississippi) offers an array of nutmeg graters ranging from the late seventeenth to mid-nineteenth centuries. Gentlemen carried them everywhere, for seasoning their food and sniffing with narcotic effect. You will display yours for the appreciation of aesthetes. Prices range from very high to even higher, from hundreds to thousands of pounds. The graters, however, will not lose value. www.reginalddavis.com
West Elm sells GreenPan skillets. They are manufactured by a Belgian company from recycled scrap and use an environmentally happy, culinarily brilliant ceramic nonstick coating that conducts heat quickly and evenly. The shallow blue-colored skillets are pretty, safe to a temperature of 450° Fahrenheit and range in price from $35 to $50. Good value for money. Available at www.westelm.com and indirectly through www.green-pan.us. You also can find them on the ground at Macy's, Target and elsewhere.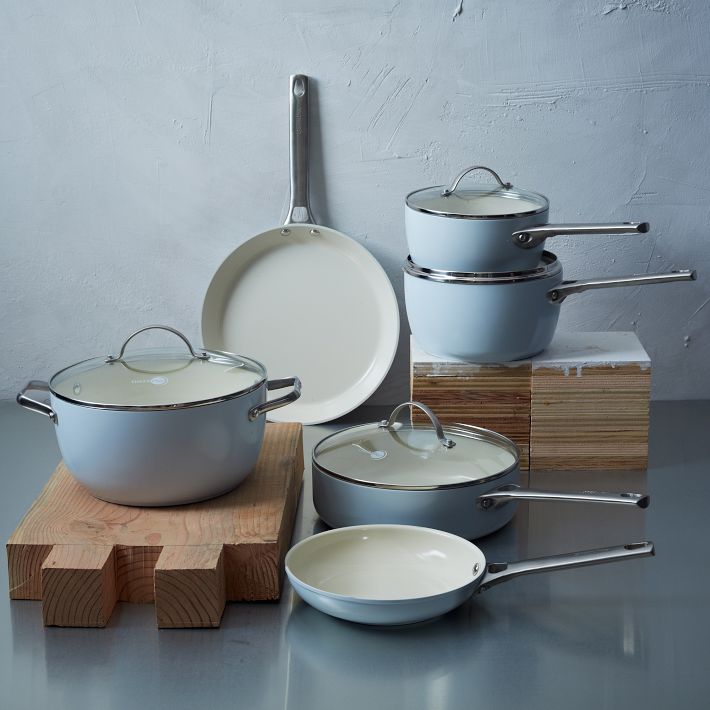 A wag has noted that the name of the Imperial War Museum in London includes three of the most unpopular words in the English language, but that should deter no one from visiting the place once they finish its renovation. Meanwhile the museum shop holds various delights at its website, www.iwmshop.org.uk. For only £3, score a jam spoon with a handle in the shape of an 'S' that you can hang from the lid of a jar. No drips, no sticky handle.
Beautiful black Bakelite telephones, built in 1930s Britain and reconditioned for IWM, cost £150. The price is steep but the phones iconic. You will, of course, need to spin a dial instead of punch buttons.
A wide bowl on a short thick stem tapers toward the top: The Glencairns whisky glass is ideal not only for sipping Scotch, but also for a slug of Madeira. Lovely to look at as well; $10 apiece and finally available in the United States from Sur la Table in stores and online.
It seems that the selection of flasks available now is unlimited. They range from elegantly practical to utterly tasteless, as we might expect. One of the most elegant must be the little 2.5 ounce flask from Launer, the leathergoods people with a royal warrant. Ours is stainless steel cover in Supple British Racing Green leather; 'made in Great Britain.' It was expensive, £25 at Cadenhead's whisky shop in Marylebone, but not compared to Launer handbags, which can set you back four figures.
Stone Cork makes an 8 ounce flask covered in leather too. The quality of the skin is not the same, but this flask incorporates a telescoping shot glass for elegant imbibing on the fly. About $25 from Amazon and other online sources.
Trixie & Milo out of Portland, Oregon does nothing but make flasks, but they make a lot of stunning ones decorated with tattoo-inspired artwork. The tattooed mermaid that shows a bit of anterior cleavage is particularly appealing; other good choices include a Union Jack, a stars and anchor motif and a 'Naughty Eight of Diamonds' pinup style nude. Prices range from about $23 to $26 at www.trixieandmilo.com; a good selection also is available through Amazon.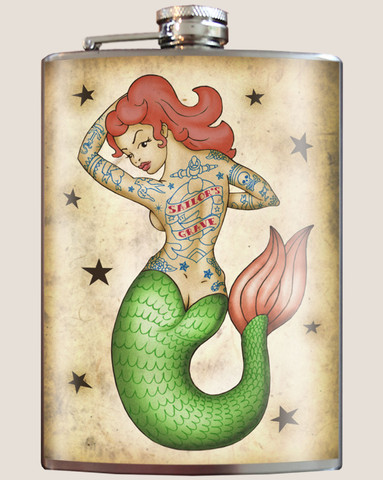 Also at Amazon, Forum Novelties, a costume company catering to adults, has a 'Roaring 20s Gangster Girl Garter & Flask,' just what it purports to be. Fun for only about $10.
If you prefer to see rather than conceal your booze, several companies offer flasks with a window to take the guesswork out of how much fuel remains in reserve. Cork Pops has a round 'Nicholas Portside Flask' decorated to resemble a porthole; about $25 at Amazon. A smaller 5 ounce unadorned elliptical flask with window costs only $6.52 at the same site.
Another novelty flask, from BeWild, hides the vessel within a bible complete with placemarker strap. A welcome gift for the holy roller. $17 at www.bewild.com.
Finally for our flask roundup, West Coast Gifts has a tiny stainless steel keychain flask for just $5; prefect for the abstemious among us. Also available from Amazon and at Shades Plus on Thayer Street in Providence, Rhode Island.
Food.
Choices of food from Fortnum's include their Piccadilly piccalilli, the best of its kind by at least a league; it comes in a bulbous sort of Mason jar that looks enticing and elegant. You might also give someone a jar of pickled unripe blackberries from Fortnum's exclusive 'foraged' line (the products really have been foraged) or some smoky hot Gran Luchito chili paste, an innovative product created by Fergus Chamberlain, a British chef, from rare Mexican chilies.
Henderson's Relish is the legendary Sheffield alternative to Worcestershire. It has a brighter flavor than its far more famous rival and is suitable for vegans. Its advocates range from Sean Bean and K.T. Tunstall to Marco Pierre White. Available online from www.theyorkshirepantry.com and www.buy-hendos.co.uk. Aprons and T-shirts available too from the latter site.
Cap'n Mike's Holy Smoke Salmon Candy. Could the name conceivably be worse,
Cap'n? And Candy in the same package as salmon? Maybe the west coast differs from the east, but somebody ought to discuss its marketing regime with Holy Smoke or, perhaps, the captain himself. The salmon candy will set you back a brutal $75 or more a pound, and while this will sound silly, the candy is worth its price. It is dry but not desiccated, so you get a fair amount of concentrated smoky sweet flavor per pound. And of course it is not candy at all, but rather a smoky glaze that gives this stuff its snap, like a good ham slathered in marmalade. Available online at www.holysmokedsalmon.com.
A little tin of mints from the Imperial War Museum bears the image of a King George V class battleship firing its fearsome broadside for only £3.50. A stocking stuffer the Editor secretly covets.
Clothes and accessories.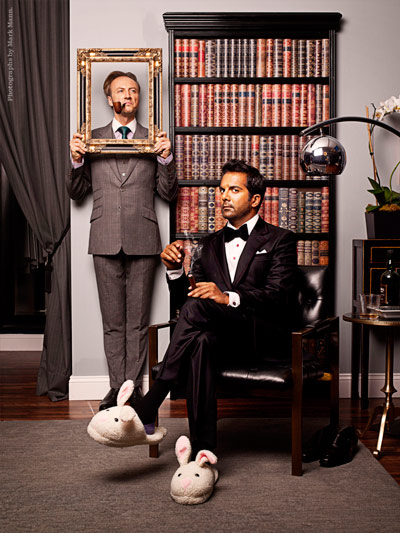 Our friends at Lord Willy's
Our exorbitant shop of the year is Lord Willy's on Mott Street in New York. As the name implies, this clothing shop is that refreshing rarity, a tailor shop lacking the atmosphere of a church in the midst of a funeral. Skinny bespoke suits cut 60s style will cost you four figures and accessories do not run cheap either, but the fabrics are beautiful and the cutting superb.
Harris tweed gloves in grey herringbone with black leather palms, by Dent's, cost a hefty $250, but gorgeous they are. We like the 'Oddities' section online at www.lordwillys.com. It features, among other things, "Little Boy Crap," a "completely crap reproduction of one of the great masters…. 'Little Boy Blue' himself in a quality reproduction crap frame, this piece will be the start of many a great discussion, or the end of one." Machine washable of course.
Even better, for $100 you can get "Ol' Fella," who is, of course, a solid gold penis charm but you will need to specify whether you want him cut or uncut. Then, as Lord W explains, you can ask people whether they would like to see your penis without attracting the attention of law enforcement.
A rare bargain at $145; a cheap plastic windup toy of teeth on feet is "made in a quaint Italian village (China)." Spend you money with a smile.

Joules, a longtime British maker of equestrian clothing, has expanded to the street in terms both of clothes and of shops; formerly they set up tents at race meets, rallies and other equestrian events, but now they have begun to open shops. They also offer an online service and ship to the United States. The clothing is influenced by the requirements of the countryside but will not mark you as a twee Tory. For women, the quilted Moredale jacket represents good wintry value at $154, lots of jaunty sweatshirts range in price from $42 to $118 for the one that supports the charity "Help for Heroes" in caring for wounded British servicepeople. Ribbed down vests with detachable collars of fake fur cost $220; Wellington boots and sweaters sport creatures including foxes and dogs (of course), chickens and sheep. Boots at either $73 or $167; sweaters at $120 and $136. Lots more at www.joulesusa.com but beware; the site is slow and glitchy so you may want to order by phone after making selections online. 800.583. 9559.
For men, Joules sells "our Crown Joules," playful underwear depicting artichokes, hounds, roosters (we have restrained ourselves by selecting this synonym) and stags; Christmas motifs join the mildly suggestive ones. $30 apiece. A rugged wax jacket, the 'Landsdale,' will set you back $443, a bit more expensive than most Barbour models but extremely stylish as well. Joules chinos are particularly pleasing; heavy cotton, quirky colors, flat front and contrasting double tabs at the cuff. Irresistible at $119. As with the women's lines, lots more online.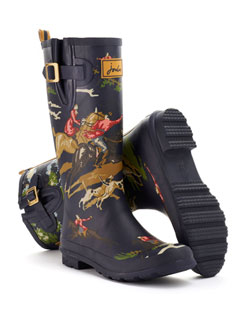 Joules childrens' clothing is adorable.
At the HMS Belfast shop alongside the cruiser, The Imperial War Museum sells navy polos with the ship's badge, a pentagon containing a heraldic serpent at sea, for £22. The shirt also appears online at www.iwmshop.org.uk but you will find it only on the last page of the T-shirt section.
Go cheaper, down to £15, for the T-shirt of a besuited Churchill brandishing his Thompson submachine gun or spend £325 for an authentic First World War Royal Navy duffle coat. For women only, Jack Wills sells a slimmer updated 'Brunswick' duffle in its US and UK shops and online at www.jackwills.com.
Wills also offers pretty tartan bras and panties, about $75 for the set, and a festive range of womens' products in starry night fabrics, including a fitted blouse, loungewear, a backpack and various accessories. Prices of course vary.
Birthday cufflinks from, appropriately enough, www.birthdaycufflinks.co.uk, cost £49. It would be more accurate to call them birthyear links; the company can make links from a British coin minted between 1928 and 2010 inclusive.