Veal kidneys, simply fried by Edna Lewis.
An English staple transplanted deep within the American south and an example of hoe African-Americans have preserved traditional foodways, this dish deserves a wide acceptance indeed. Alas, most kidneys in the United States travel straight to the dogfood factory instead. This is an extremely good introduction to them for the uninitiated, mild in flavor and easy to cook. For four.
---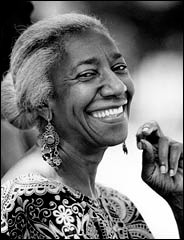 2 Tablespoons unsalted butter
2 slices of smokey bacon, diced
another 3 Tablespoons unsalted butter
3 more Tablespoons unsalted butter
3 veal kidneys, split lengthwise, cored of white tissue and cut on the bias into slices ¼ inch thick
¼ cup red or white white,
salt and pepper
a Tablespoon or so minced chervil
---
Set a heavy 12 inch skillet skillet (cast iron is ideal) over medium heat. When it is hot, toss the butter into the pan with the bacon and let it render until crisp.
Take the bacon from the skillet, drain the fat and add the second tranche of butter.
Increase the heat to medium high, let the butter bubble up and lay the sliced kidney into the skillet in a single layer.
Sear the kidneys for the briefest moments, 3 to 4 minutes in all, just to heat them through.
Fish the kidney slices from the skillet with a slotted spoon and keep them warm.
Add the wine to the debris in the skillet, let it cook for a minute to reduce, then pour the sauce over the kidneys, season them with salt and pepper, top them with the bacon and then sprinkle each dish with some chervil.
Notes:
-Miss Lewis does not say so, but a dryish Madeira or sherry makes a sound alternative to the unfortified wine.
-If you cannot get chervil (but do try) parsley, of course, works fine.
-The recipe works nearly as well with lamb kidneys butchered the same way.
Add some cayenne if you like at Step 3, some mustard or Worcestershire at the outset of Step 6 if you like.