A review of the estimable Angeline in New Orleans, embedding two recipes for posset
Until the end of last year an acclaimed restaurant occupied an atmospheric spot in the Lower French Quarter of New Orleans. The lower quarter remains residential, a demographic planet away from the squalid revels of Bourbon Street. It is dark at night in the lower quarter, a gaslit urban island devoid of neon glare or cover bands. It is lovely there.
The restaurant was Stella!, a plush dining room with formal service and an ambitious kitchen prone to molecular fancies. Stella! did not come cheap. In these and other respects it contrasted with much of the New Orleans restaurant universe, not least in cost, which could rival that of a dinner in New York if the diner did not watch her wallet, especially when confronted with the stratospheric prices on the enormous wine list. One of the weird artglass decanters resembled nothing so much as the twisting penis of an exotic animal or alien. The vessel was so big our hapless young waiter had a hard time hefting the thing, and found it impossible to pour the wine without backsplash.
Stella! will not be missed, not by the Editor or her colleagues at britishfoodinamerica, and not just because of the glass member. The formal service frequently fumbled more than the outlandish decanters. The restaurant spent too little time training its staff, and many of them looked uncomfortable, even hunted, on the floor.
Servings were too small. For all its ambition, the kitchen at Stella! stumbled. Intervals between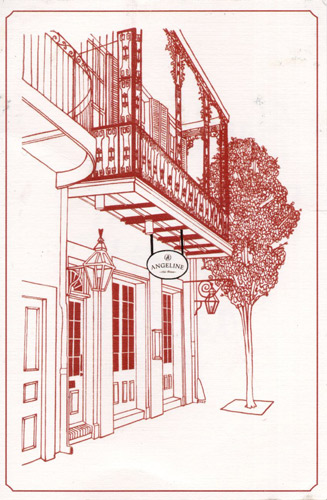 courses sometimes bordered on centurian and plates for the diners at table did not always appear at the same time. The kitchen could border on timid, for despite dabbling in foams and gels and jarring juxtapositions the food at times tasted of very little. If Stella! never served anything bad, it seldom served something memorably good.
Enter Angeline. The new owners stripped the space. They replaced the opulent furnishings with sensible seats and tables, unobtrusive implements and a few subtle small paintings. It costs a lot less, the menu is considerably smaller and the reasonably priced wine list is short.
The staff is informal, almost amateur and utterly winning. The greeting is friendly, the waiters are friendly and if you pique her interest by ordering something slightly offtrack the friendly bartender will trot over to your table to talk Sherry or rum. During our visit the place was all of three weeks old but the pacing and sequence of courses was smooth. Honesty is everywhere. If our waiter could not field a question he happily went off in search of an answer he quickly found.
The reference to Sherry is neither a typographical error nor digression into theory. Angeline serves Sherry. They offer a good selection of the stuff because they like it. The attitude is nearly nonexistent in most American restaurants, where the discerning drinker is lucky to find any fortified wine at all. Any number of tapas restaurants do not even offer a Sherry, let alone a selection of them, even though it is the traditional drink to accompany the small Spanish plates.
Angeline lists fourteen Sherries by the glass and if you ask they probably could offer a few more. Wonderful producers including Gonzales, Lustau and Valdespino; there is a rarely sighted unfiltered Fino from Tio Pepe too. To help you celebrate their welcome appearance Angeline also lists ten Champagnes flanked by eight other sparklers, including the counterintuitively beguiling bargain basement Gruet from New Mexico.
The service of Sherry is, of course, an enduring aspect of British foodways, and so is an obsession with Champagne, but Angeline is hardly British, not most of the time. Its food is grounded in the American south with emphatic but not slavish nods to Louisiana itself but also strays with creativity. Starters of crispy cauliflower with sharp sheep's cheese; baked eggs with bitter greens, fennel cream and lemon vinaigrette; and a southern fried quail served with a hoecake; each one sang. These were well conceived combinations perfectly prepared.
So are the Angeline salads. The composition of arugula, crisp chicken livers and pickled blueberries with buttermilk dressing should become a signature.
The rabbit Milanese already had attracted attention in the fevered New Orleans food press by the time we visited the fledgling restaurant; the linguine and crab served with Serrano chili and bottarga should follow suit. Soft shell crab was abundant in town during our stay. Lots of places prepared it well, none better than Angeline.
Unlike the earlier courses, desserts do strike a British note. Now that the Olympia Tea Room has defied its own tradition and dropped gingerbread from the menu, the version at Angeline may be best in show. And for the first time, whether in Britain, the United States or anywhere else, we encountered posset while dining out.
Possets were particularly popular during the long eighteenth century in both England and Scotland; shortbread is its boon companion. Medieval possets were drinks of warm curdled milk but sometime in the seventeenth century they evolved into piquant custards thicken by the collision of acid, either citrus or vinous, and cream.
In her classic Food in England, the eccentric Dorothy Hartley ascribes a posset poem to Pope, if without conviction. Appropriately enough in a review of Angeline, the thickener is 'sac,' more commonly spelled 'sack,' the eighteenth century English term for Sherry. As the title of the poem indicates, this posset originates with the Raj while taking ingredients that reflect the global reach of British trade:
"Posset (East-Indian style)
From far Barbados on the Western main
Fetch sugar, ounces four, fetch sac from Spain,
One pint, and from the East Indian coast,
Nutmeg; the glory of the Northern Toast,
On flaming coals let them together heat,
Till the all-conquering sac dissolve the sweet,
On such another fire put eggs, just ten,
(New-born, from tread of cock and rump of hen),
Stir them with steady hand, and conscience pricking
To see the untimely end of ten fine chicken,
From shining shelf, take down the brazen skillet,
A quart of milk from gentle cow will fill it
When boiled and cold, put milk to sac and eggs,
Unite them firmly, like the triple league,
And on the fire let them dwell.
Pope(?)" (Hartley 559)
The triple league will of course be familiar to most if not all readers. Good classicist that he was, Pope or whoever wrote our posset poem refers to the rather unholy alliance of Caesar, Crassus and Pompey derided by Conyers Middleton in striking eighteenth century prose as
" ….nothing else, in reality, but a traitorous conspiracy of three, the most powerful citizens of Rome, to extort from their country, by violence, what they could not obtain by law." (Craik 18)
But perhaps we digress.
Hartley's own posset is simpler, although less lyrical and textured less like a custard, more like farmer's cheese. It relies on both white wine and lemon to react with the milk:
"Take 1 pint of milk, put that in a pan, and when it froths up, add a gill of white wine. Strain out the curd, rub some lumps of sugar on a lemon, and add with a spoonful of ginger and a grate of nutmeg if liked." (Hartley 559)
Possets deserve revival; Angeline unaccountably has chosen citrus over Sherry but even so has done the more modern tradition proud. And Angeline is properly proud of its posset. Although as always in New Orleans (with rare exceptions like Stella!) we were sated, we decided to test the kitchen one more time with our order of gingerbread. We had, however, expressed delight that their posset even existed so one emerged on the house, along, it must be said, with a free flight of rare rums.
The flight took off as the result of a question, after the Editor asked our waiter what kind of rum the house stocked. He did not know, went off to ask the bartender and returned at once with a question of his own. "What would you like? We have a few." In sadistic mode the Editor requested Smith & Cross, an unfiltered cask strength Jamaican with the taste of piracy, or at least the early eighteenth century. It is unknown in most retail establishments, including restaurants. The waiter returned with a smile and tray holding three glasses, trailed by the bartender. It was to be a blind tasting for the inquisitive diners at Table 14.
It must be admitted that among her many vices the Editor collects rum, or more accurately rums, but Angeline held the trump. Two of the glasses contained rums unknown to the Editor; one of them, Hamilton St Lucian Pot Still Aged Rum, was outstanding and so was the second, but by this time nobody was taking notes and its provenance is lost to the wages of sin. Such is life in New Orleans.
The third glass of course contained Smith & Cross, and to her credit or more likely luck the Editor and her colleague got or guessed its identity. It held up well to the newcomers. We left Angeline with reluctance but the polymath musician Aurora Nealand, that evening in the guise of Rory Danger and her Danger Dangers, sang her siren song so we set off for Siberia.
Angeline
1032 Chartres Street
New Orleans
504.308.3106
angelinenola.com
Notes:
Miss Hartley's Food in England first was published in London during 1954 and reprints of good quality are available. The Middleton passage is from his Great Triumvirate, reproduced in part in Sir Henry Craik (ed.), English Prose: Selections vol. 4 (London 1911)
The Tea Room abides in Watch Hill, Rhode Island even if its gingerbread does not.
Aurora Nealand's websites include auroranealand.com and rorydanger.com.
For the schedule of performances at Siberia, go to siberianola.com.