Broccoli & Brussels sprout casserole
Serves 6
A family classic from the Editor's Mother; a traditional and requisite side dish from our holiday table.
---
-1 large head of broccoli, cut into small pieces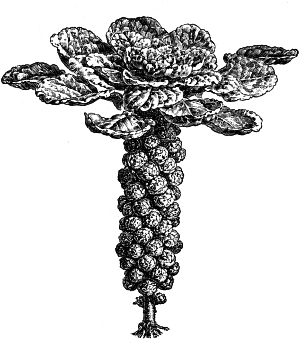 -1 dry pint Brussels sprouts, cleaned and halved if large
-1 can Cream of Mushroom soup
-1 ½ cups sliced mushrooms
-1 ½ cups shredded cheddar cheese
-1 medium onion, grated
-Salt and pepper to taste
-2 Tablespoons unsalted butter
-1 cup seasoned breadcrumbs
-1 ½ teaspoons ground sage
-Water to moisten breadcrumb topping
---
Preheat the oven to 350°
Boil the vegetables until they are just starting to get tender.
In a large bowl, combine the parcooked vegetables with the mushroom soup, 1 cup of shredded cheddar, the onion, salt and pepper.
Melt the butter in a large frying pan. Add the breadcrumbs and brown them, then add the ground sage.
Add just enough water to the mixture to bind it.
Put the vegetables in an ovenproof dish. Spread the breadcrumb mixture on top along with the rest of the shredded cheese.
Bake the casserole until thoroughly hot, usually in about 40 minutes.
Notes:
- This recipe can be doubled for a crowd, and is just as good in its leftover incarnation.
- You may want to sear the mushrooms first; we do. The original recipe omits that step but uses canned mushrooms.