Kitchen, Household & Fashion Gifts for the Holidays.
Kitchen, Household and Fashion Gifts for the Holidays.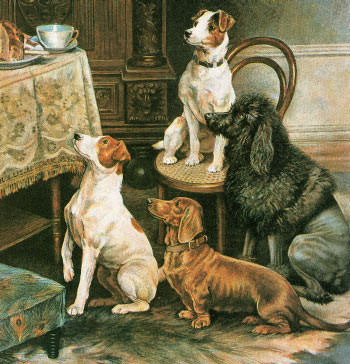 Kitchen.
We came late to the party, but in these days of disorganization the staff at britishfoodinamerica have become converts to kitchen timers; the rice, for one thing, will not burn. Kikkerman Design makes over a dozen models, including anthropomorphic animals; we like the round magnetics that remind us of interwar English design. They come in five color choices and stick right to the vent of your stove. About $17 from www.kikkerland.com and various other websites.
For $21.50, Kikkerman also sells agreeably creepy cutting boards depicting people with anatomical cutaways of the torso; your choice of Adam or Eve (unlike him, she is happily naked).
This year Restoration Hardware holds a trove of gift ideas. Kitchenwise the 'reusable disposable' flasks are handy vessels for sending someone homemade infusions or just samples of special spirits that you would like to share. They look industrial and will not break in the mail. But 'reusable disposable?' A set of three costs $15 by catalog or through www.restorationhardware.com.
Shake up the contents of your flasks with a silver cocktail shaker in the shape of a bulldog; its 'license' tag may be monogrammed. The bulldog is only available from the Pottery Barn catalog or website (no brick and mortar inventory), www.potterybarn.com, for $49.
Little stamps for decorating pastry, like savory pies, or cookies cost only about $5. They come in various shapes, including evergreens, shamrocks, turkeys and that traditional symbol of New England hospitality, the pineapple. We found them at Copper Kettle in Hoboken, New Jersey. Contact them at copperkettlekitchen@gmail.com or telephone (201) 850-1890.
Last year's steers, including classic teapot styles, microplane graters, pudding basins and savory pie molds for baking raised pork, game and other pies, remain good bets for cooks with British aspirations; along with many other suggestions in our archive at the Christmas 2010 Number.
To go beyond the passive mold, try the Bella electric pie maker. It is a sort of specialized waffle iron that will produce four little pies. Discounted from $49.99 to $29.99 at Macy's stores across the United States and at www.macys.com ; you will need to enter the 'WebID code 605022 and item number 13563 at the site.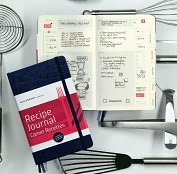 Finally, even in this virtual age, the organized cook should want to scribble notations during the course of preparing dishes both old and new. It therefore pleases the Editor that, after considerable delay, Moleskine published its handy recipe journal this year. The booklet includes an elastic loop to keep open the recipe to hand, a recipe that you have handwritten in the categorized boxes provided for it; recipe, ingredients, preparation and notes--precisely the bfia format! Tabs delineate discrete sections too, for cocktails, deserts, sides, mains, first courses and starters. It even comes with a dictionary for the translation of culinary terms into six languages. A delight.
Household.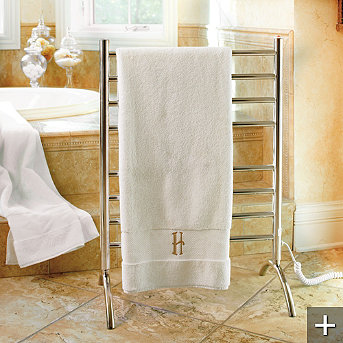 Edwardian bathrooms were nothing if not elegant, and their comfortable practicality has faded from many memories. If you are flush, however, then Frontgate (catalog at www.frontgate.com) has some fittings for you. The freestanding "Myson Towel Warmer," for example, requires no installation or wiring; it plugs into the wall. You could even put one in the bedroom to make a blanket toasty. Not an extreme extravagance at $229 plus shipping. If you are strapped for space but willing to drill, a smaller wall mounted rack costs $199.
Other items may be extravagant indeed, at least in theory, but nothing in the encyclopedia of small miseries beats the defeated feeling that ensues when you look askance from the throne to discover an empty roll of toilet paper. Frontgate offers alternative solutions.
Our favorites are the "Wall-mount Magazine Rack" and "Tissue Storage" tower. The description of the Rack tells only one appealing half of the story (for who does not read?) because it holds two rolls of toilet paper to help forestall the awkward waddle toward the closet of supplies. It costs $299 and requires invasive surgery on the wall next to your hopper. You can avoid carpentry with either a rather ugly freestanding version at the same price or the tower. It lacks the rack but boasts the added advantage of stowing three rolls and, loaded to capacity, appears positively architectonic in a sort of Fritz Lang way. Considerably cheaper too at $149.
You could obtain the same hygienic insurance without expenditure other than the price of a room by staying at a W Hotel and boosting their jaunty "Backup Plan."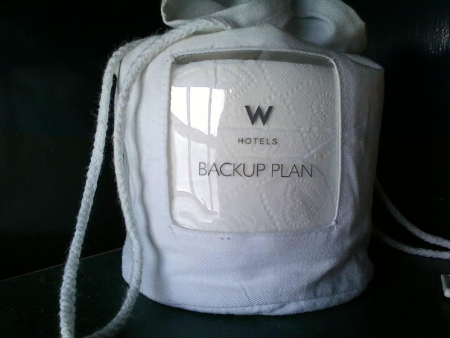 A hygienic insurance policy
On the softer side, Jan Constantine sews stunning pillow covers festooned with fabric appliqué and embroidery. Samples and prices appear at www.janconstantine.com. We particularly like our map of the British Isles and, if you are that person, they also make pillows commemorating the marriage of Will and Kate. Lots of other pillow styles, wall hangings, banners and more; available from Swift-Morris Interiors in Hoboken, New Jersey and Newport, Rhode Island and in the United Kingdom from Liberty, other carriagey department stores and furnishing shops; we got ours at Bracey Interiors in Clifton, Bristol.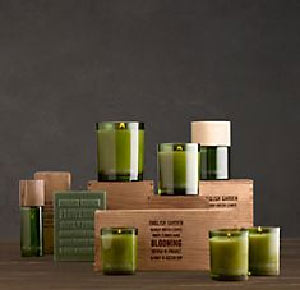 Cast them in an alluring light with English Garden privet scented candles in various sizes for $39 to $59 at Restoration Hardware. Go flame free indoors or out with Restoration's flameless candles that cost $19 to $45 depending on size; particularly handy for students in dormitories that forbid open flames, and all of them do. Splurge if you dare with the arched lanterns to hold them that range in price from $59 to $299.
In winter at the Oxfordshire home of our parsimonious Rural Correspondent, you need to go outside to warm up unless, however, you stay warm with furred hot water bottles in fake fox, lynx or mink from the same source at $29. Pass them around to other grateful guests and remember to add them to your Christmas list by scribbling on a chalkboard door hanger shaped like the 'make up room/keep out' signs in use at the best British hotels. Also at Restoration Hardware; $18.
Vines, threads and other clothing; no lids.
Jack Wills sells pillows too, and they are lovely, but that is not their primary product. Think of Wills as an upmarket Abercrombie with a British cast. This is clothing for the young and beautiful, cut like second skins, but if you are trim, oldies can wear the dressy and rugby shirts intended for both girls and boys. The taglines are variously 'university outfitters,' 'outfitters to the gentry' and 'fabulously British.' It all is a bit much within the UK but, at least not yet, the almost ironic styles look fresh in the United States. The sensibility is hypertraditional with a twist: Quality is superb. Even better, price points for the US market are drastically less than in the UK, and transatlantic express shipping from the English warehouse is free.
The men's rugby shirts are nearly a steal for $89; the more limited women's range of ruggers come in at $79. Flannel and dress shirts are good value too from $79 to $98, including the elusive moleskin. Lots of plaids, stripes and florals on the female side and irresistible cotton panties printed with billowing little union jacks cost only $14.50. A striking military tux in infantry red costs $449 and there is a chunky fake fur jacket for your inner sasquatch at $249. Dresses are pretty and skirts are short.
Bridgehead shops in the northeastern United States include Boston, Newport and Nantucket, which in itself betrays the intended demographic. By now Jack Wills has become ubiquitous in university towns and bigger cities in Britain. Also of course at www.jackwills.com.
Sundance has three different styles of striped shirts too, rugbys altered for plaid button cuffs and collars over ticking cloth linings. Each hoop of color to hoop your core is separately sewn. The arresting shirts cost $98 at www.sundancecatalog.com.


RL Rugby promotes British haberdashery style at its "Tweed Run" bicycle meet in NYC
While we remain on the muddy field we also ought to mention Ralph Lauren Rugby. The RL empire can be a bit crass, but the 'make your own' rugby shirts are irresistible. You can select your colors, stripes and two different embroidered designs on each shirt from thirty options, all for $128. Women have the additional option of a dress at the same price. Stores in major cities; online at www.rugby.com.
Moving on, Restoration Hardware has a Triumph T-shirt in suitably muted colors with a striking union jack shield on the arm; not cheap at $55 but what the hell. By catalog and at www.restorationhardware.com. T-shirts emblazoned with the King's Broad Arrow from Georgian days sometimes appear for sale somewhat incongruously at www.bigicetees.com, a site primarily engaged in selling tacky "wedding and engagement T shirts for the entire bridal party," but disappear for long stretches of time. The arrow, or crow's foot, identified all kinds of crown property, from weaponry through clothing and survey equipment. Now it can identify you provided that you are persistent. In black on white or the reverse for $20.
Otherwise www.cafepress.com lists some 22, 400 Ts at various prices (none high) with a British theme; most are crass but of those with a culinary subject are worth a look, like 'Mr. Creosote's After Dinner Mints.'
Nothing crass about the clothing of Jan Constantine; she makes pretty white nighties with floral embroidery trailing across the throat; simple elegance that is neither slutty nor lacking in sex appeal. £43.50 at the website.
If anybody out there still wears a tie outside the office, Saks Fifth Avenue sells an exclusive line of narrow knit Fair Isle ties by David Hart for $125. The quickest route to the ties online is via www.saks.com/giftselector.