An anomalous name: Jane Grigson's Vegetable Book.
Jane Grigson chose to open her Vegetable Book with a meditation on writing and reading from the underappreciated Robert Louis Stevenson. "Every book," he maintains,
"is, in an intimate sense, a circular letter to the friends of him who writes it. They alone take his meaning; they find private messages, assurances of love, and expressions of gratitude, dropped for them in every corner."
It is not out of temerity but rather from awe that all of us who read Mrs. Grigson may consider ourselves her friends. Humanity and humor characterize her considerable output, and we are grateful for her guidance and company. In common with the most compelling scholars, Mrs. Grigson had a subversive side. In her discussion of lamb's lettuce, for example, she reminisces that the schoolgirls, and they all then were girls,
"were never allowed into the large grey-walled vegetable garden of our boarding school in Westmoreland (the school motto was 'One heart, one way', but it should have been 'No.') This blank Africa of our familiar world was tucked away behind the playing fields on a south-facing slope. We knew it concealed delights that we would not enjoy…. " (Grigson 283)
Like everything she wrote, Jane Grigson's Vegetable Book is good. Better than good; the prose is delightful, the recipes sound and the scope of scholarship impressive, and it is astonishing that a book with so contemporary a sensibility first appeared as long ago as 1978. An emphasis on vegetables outside the cranky confines of sandaled zealots was then otherwise unknown.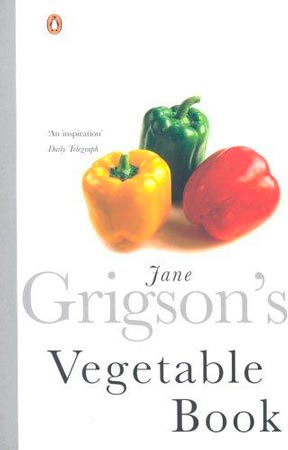 In order of appearance: La Varenne, in the service of the sister and aunt of Valois monarchs; John Evelyn cutting his greens; a caustic Coleridge inveighing against Mrs. Rundell and sowing peas while his wife Dorothy keeps her culinary journal; William Rollinson describing Lake District life; and Elizabeth David delivering Britain from drabness each inhabits the introduction, even though it runs to only two pristine pages.
The term vegetable, she explains, has
"been around for a long time, in the sense of animal, vegetable, mineral, but not until the 1760s did it come to be used in this new specific way, to describe 'herbs and roots grown for food'. The restricted meaning came to take first place in most people's vocabulary." (Grigson 13)
The Vegetable Book is not, however, an effort limited to vegetation alone. Vegetables of all kinds inhabit the recipes but so does just about anything otherwise edible, and a lot of the dishes are designed for service with birds, fish or meat.
Forty recipes include chicken; pheasant braised with cabbage in cream comes via a British adaptation of James Beard.
The otherwise obscure Robin McDouall, the cranky but compelling minimalist from midcentury clubland, gets a nod for his tomato ice cream. "An unusual first course" in the droll estimation of Mrs. Grigson, and not nearly so bad as it sounds, instead not bad at all; the savory ice may be "embellished with prawns, shrimps, lobster or crab." (Grigson 509)
Notwithstanding a kind of French name, Mrs. Grigson's 'chard and pork pate' tastes typically English with its accent of bacon and spicing of cinnamon, clove and nutmeg. The addition of the chard creates "a delicious small pate that many people find more agreeable than the all-meat recipes" and we count ourselves among them. (Grigson 504)
How to employ lettuce braised with "glazed carrot, onions, turnip--boiled potatoes if you like"? Above all for beef, ham." (Grigson 321) On lettuce more generally, she opens with a discussion of ancient Egypt. "For the Egyptians," she explains,
"Min was the ithyphallic god of increase. Lettuces were sacred to him, perhaps because of the 'straight vertical surge' of their growth, perhaps because of the milky juice they exude which could be taken as a symbol of mother's milk or semen. Juicy plants like this are rare in Egypt." (Grigson 312)

Min does his lettuce thing.
From ancient Egypt the discussion travels to classical Greece, then on to seventeenth century England in the company of John Parkinson and Evelyn, whose comprehensive salad calendar Mrs. Grigson reproduces in full, with or without the intervention of Min. She concurs in Evelyn's insistence that lettuce "ever was and still continues the principal foundation of the Tribe of Salads; which is to cool and refresh." She demurs, however, "at his insistence, following the opinion of Ancient Rome, that lettuce upholds morals, temperance and chastity." (Grigson 313)
And then there appears Sydney Smith, "greatest of English wits," or anyway his poem that renders a workable recipe for salad dressing. It includes, among many other things, "mordant mustard," "onion atoms" and also "oil of Lucca.". So much for the apocryphal English disdain for greens and suspicion of olive oil.
On 'Haggis and Bashed Neeps," or "turnip purry:" "It is quite easy to buy haggis… and," as Mrs. Grigson confides, "it is a good dish. After simmering it steadily in water for an hour and a half, serve it with … neep purry," that is, a mash of turnip spiked with the ginger recommended by Christian Isobel Johnstone (disguised as Meg Dods) along with "potatoes and whisky to drink. If you can manage a fine single malt such as Laphroaig, so much the better." (Grigson 527)
Mrs. Grigson finds poetry in parsnips, a root unjustifiably neglected in the United States, at least outside New England, and despised in France.
"On the prose of parsnips--if you think they are prose--a little poetry is sprinkled in the name of one of the great poets of our time. The Russian for parsnip is Pasternak. Perhaps Boris Pasternak, Boris Parsnip, reflected that parsnips have a flavour entirely of their own and are more delicious than their reputation allows…. "
This kind of whimsy intertwines erudition throughout the Vegetable Book, including a little later along in its discussion of parsnips.
"I used to think that the parsnip as a vegetable had been developed in England. But now I feel sure it is one of the more ancient of European root vegetables, given up elsewhere, but retaining popularity here in north where it grows so well. That is not to our discredit. French dictionaries give a phrase 'Des panais!'--'Parsnips! Nothing doing!', 'Damn that!'" (Grigson 360)
Damn it indeed. The French may disdain the parsnip and much more about British food but Mrs. Grigson, and thanks to her we, know better than that. And where else but the wondrous world of Mrs. Grigson would we find a cookbook with the unmeretricious mention of an erection?
Recipes from Jane Grigson's Vegetable Book appear in the practical.