Curried parsnip soup from Jane Grigson's Vegetable Book. In English Cookery Mrs. Grigson declares: "The best English soups are unrivalled, but one might wish there were more of them." This unrivalled recipe begins to redress the dearth.
---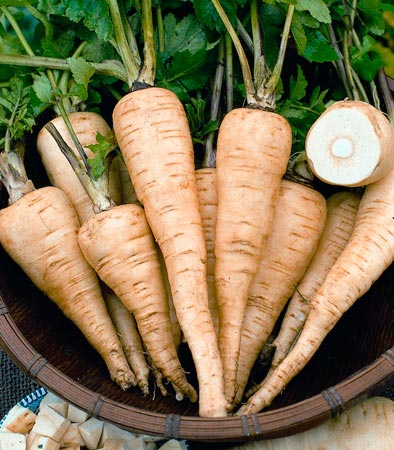 heaped Tablespoon coriander seed
heaped Tablespoon cumin seed
½ teaspoon or more cayenne
¼ teaspoon ground fenugreek
heaped teaspoon turmeric
a smashed garlic clove
a chopped onion
a large peeled and chopped parsnip or two
3 Tablespoons butter
1 Tablespoon flour (preferably Wondra)
1 quart beef stock
salt (possibly)
4-5 oz heavy cream
minced chives or scallion greens
---
Grind together the coriander and cumin, then mix them with the three powdered spices.
Melt the butter in a heavy pot over medium low heat and cook the garlic, onion and parsnip under cover until they soften but do not brown, usually in about 10 minutes.
Stir in the flour along with a generous Tablespoon of the curry powder into the vegetables for a couple of minutes.
Slowly pour the stock into the vegetables, bring the soup to a boil, then reduce it to a simmer until, as Mrs. Grigson says, "the parsnip is really tender."
Puree the soup with a hand mixer or blender, check for salt, reheat the soup and whisk the cream into it.
Scatter each serving with chive or scallion and think about dropping a few croutons onto the surface.
Notes:
-Mrs. Grigson has of course blended her own spice mix from scratch, but if pressed for time a like amount of good commercial curry powder is a fair enough substitute.
-Her curry powder differs from ours in using a dried chili or some chili flakes instead of the preferable cayenne, and in its proportion of individual spices: We have used proportionally more cumin and turmeric. Anyone should have no hesitation in blending her own powder to taste.
-No time is specified for softening the parsnip at Step 4 because the texture and fiber of each parsnip may differ so much.