In praise of punch, & an outstanding (!!!!) if costly flavored rum, featuring a recipe--for punch, which pirates like(d).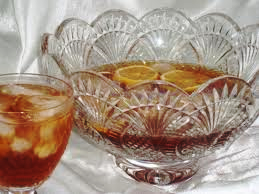 Before there were cocktails there was punch. The drink was convivial; instead of ordering an individual mix, everybody ladled up a share from the punchbowl. That was a good thing during the eighteenth century heyday of punch, invariably strong, and would be a good thing as well in our micromarketed, fractured times. Maybe if we got together at the holidays or otherwise to share the same hooch we might find common ground someplace other than abaft the bowl or in our horror at the horror that is Trump.
Punch need not look back, as the hipsters of Brooklyn, Portland (Mainers and Oregonians both) and especially Providence discern. At the Eddy in the capital of Rhode Island, punch always takes pride of place on the (otherwise) cocktail card. The card tells you that pirates like punch and everybody likes pirates (two immortal truths) but will not tell what, at any time, the punch may be. No matter; punch at the Eddy is ever good, the way graduates up on College Hill are Ever True, and combines caffeine (tea) in the eighteenth century manner with the various alcoholic alternatives to keep the drinker going late late late, like Hogarth's rake or his Modern Midnight Conversation.
Of late a lovely flavored rum has entered the lists of the artisanal joust. Plantation Stiggins Fancy 1824 Recipe Rum, an "Artisanal Infusion" made with pineapple bark (along with macerated pineapple per se , but only for three months) should not be mistaken with the recent proliferation of ghastly 'spiced' rums, inferior white plonks disguised with crappy artificial flavoring and food color. The Plantation pineapple rum would not likely be mistaken for the ghastly impostors in any event (unless the customer is already addled at the point of purchase) because in contrast to them it is not cheap.
The rum, as its label admits, is not a postmodern conceit. "In nineteenth-century England," the producers explain, "one of the most prized delicacy [sic; their grammar is considerably inferior to their rum] was a thing called 'pineapple rum,' a sipping spirit par excellence." Back in the colder day, again according to the producers who purport to cite Dickens, pineapple rum was in particular a palliative against cold, taken as toddy with sugared boiling water.
It would doubtless have found its way as a foundation for punch as well, and if you treasure your friends despite a recent study concluding that at least half of them do not like you much, take the following proportions and multiply for the deserving as you see them:
1 part Plantation &c &c 1824 &c &c pineapple infused rum
1 part pineapple juice (canned is utterly adequate)
2/3 part water
1/3 part Madeira (cheap fake, like Paul Masson, will do; go with an authentic Rainwater if feeling flush)
1/3 part falernum
A simple enough formula except, discerning readers may lament, for that last item, falernum. It was a staple flavoring in the eighteenth century British Caribbean, but has fallen far from favor all the way to obscurity, which, as with many things including pineapple infused rum, is a shame. Little, however, other than convenience and competence, is lost in the end. Commercial concerns now produce falernum in our artisanal and authenticity inclined age (go, inevitably, to google) or, better, follow our own formula from the practical. Make a big batch; falernum keeps forever in the fridge.