A note on Medley pie, embedding recipes for it.
1. A "detestable piece of cookery."
Medley pie has engendered a certain controversy, more because of bungled incarnations based on leftovers than on the traditional pie itself. According to "The Foods of England Project" online, a letter published in Lloyd's Weekly Newspaper on 27 April 1845 likened Peel's newly appointed ministers of state to the dish. The cabinet was, the correspondent contended,
"not unlike a certain detestable piece of cookery, which in the North of England is called a 'medley pie,' of which the ingredients are everything, the flavour nothing. When you take off the crust and stir it up, you find beef, and rabbit, and bacon, and apples, and onions, and turnips, and carrots--a bit, in fact, of everything that has passed through the larder, or the pantry, the last fort-night. Of course, your palate cannot give you the least information as to what you are eating, though your eyes, a sort of culinary Hansard assure you, against the evidence of all your other senses, that it is beef, and bacon, and apples, and so forth." ("Food")
In historical terms posterity has been unkind to the opinion of the Lloyd's letter-writer. Perhaps he found Peel, who founded the Conservative party from the ruins of the Tory party, insufficiently conservative.
The Peel government passed the first legislation restricting the length of the working day and establishing rudimentary safety requirements in factories. It also, at the cost of its own destruction, took on the landed Tory grandees to repeal the Corn Laws restricting the importation of grain, a response in part to the horrors of the Irish famine.
Nor is our letter writer altogether fair to medley pie. In fact he is not fair at all, for the historical recipes include no such grab bag of senescent ingredients.
2. Frugality will always out.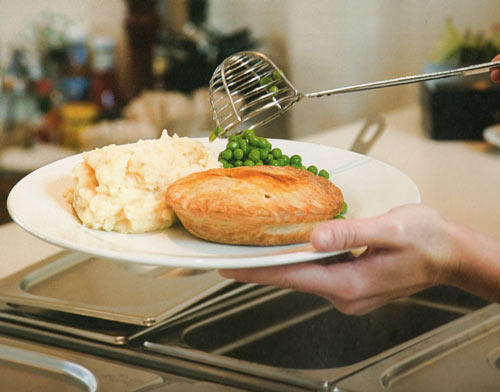 Later writers, notably Elizabeth Craig, do consign the dish to the leftover heap, but a modest amount of research indicates that medley pie is a nearly lost traditional recipe from the English Midlands, not the North, and that its pedigree is respectable.
Craig includes her recipe in Beer and Vittles , from 1955. By then she already had been a bestselling cookbook author, most notably in the guise of Cooking with Elizabeth Craig , for over twenty years. She aimed most of her work at "the housewife of modest income" and therefore produced austere and even parsimonious recipes in the bulk of her books. Their broad appeal probably resulted more from the strictures of rationing, which ended only in 1954, than from any intrinsic quality.
To a considerable extent, Beer and Vittles represents an attempt by Craig to unleash her inner good time girl. She cannot, however, quite cut loose. It is as if an asexual grind were abducted from the library and dumped at a frat party.
Even as beer flows freely and the revelry swirls around her, Craig cannot shake her sober shade. In typical form, she specifies leftover roast meat instead of making her medley pie from scratch. The difference in technique is more apparent than real, however, and does little harm. It also saves not just money but also time on a busy weeknight.
3. Mary Ann Evans piles on.
The Foods of England Project notes that "George Eliot's ' Impressions of Theophrastus Such '" [sic] refers to a mythical literary review, a "lively but judicious publication known as the 'Medley Pie'" without more. ("Foods") From this we might infer that Eliot found the pie agreeable.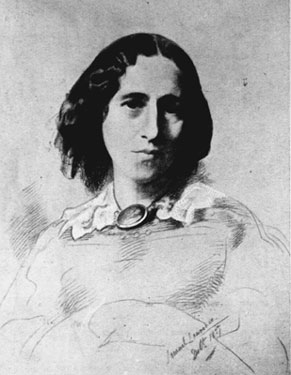 The inference would be wrong. Theophrastus Such, her last and most experimental fiction, appeared in 1879 and consists of eighteen interlinked essays that reveal the eccentricities of the narrator, an obscure intellectual. The 'lively but judicious publication' surfaces in the fifteenth story, called "Diseases of Small Authorship."
"Particular callings," observes the narrator, "encourage particular diseases." After taking justified swipes at the parasitic rural clergy, who "might have severe attacks of expectancy concerning parishioners' turkeys, cheeses, and fat geese, or of uneasy rivalry for the donations of clerical charities," the narrator turns to his subject. (Eliot 109)
Authors suffer the same diseases as everyone else, given their diversity:
"Authors are so miscellaneous a class that their personified diseases, physical and moral, might include the whole procession of human disorders, led by dyspepsia and ending in madness--the awful Dumb Show of world-historic tragedy. Take a large enough area of human life and all comedy melts into tragedy, like the Fool's part by the side of Lear." (Eliot 109)
The narrator, however, "did not set out on the wide survey that would carry me into tragedy, and in fact" the writer in question "had nothing more serious than certain small chronic ailments that come of small authorship." (Eliot 110)
The particular malady under consideration is personified by one Vorticella, the wife of "an important townsman" in the provincial backwater of Pumpiter. She had written a pretentious book entitled The History of the Channel Islands, with Notes and an Appendix. Her apparent ignorance of the subject had not proven an impediment. The narrator
"was amazed at… the writer's capacity to handle almost all branches of inquiry and all forms of presentation. In Jersey she had shown herself an historian, in Guernsey a poetess, in Alderney a political economist, and in Sark a humorist…. " (Eliot 111)
The only, minor, London publication to review The History found it "dull and pompous." Due to the local stature of Vorticella's husband, that accurate appraisal had done nothing to deter the critics of Pumpiter at the Gazette and Literary Watchman , Pumpshire Post , Church Clock , Independent Monitor " and, of course, our "lively but judicious publication known as the 'Medley Pie.'" (Eliot 110)
Although vitriol was not unknown within these publications, "Vorticella and Shakespeare were allowed to be faultless" and "no blemishes were observable in the work of this accomplished writer, and the repeated information that she was 'second to none' seemed after this superfluous." (Eliot 111-12)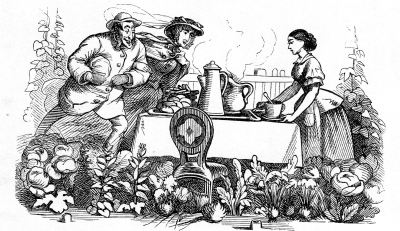 That was not all. Journalists need copy, read journals other than their own and their incessant deadlines afflict them. It therefore should not prove a surprise that "journals from the most distant counties; as the 'Latchgate Argus,' 'Penllwy Universe,' 'Cockaleekie Advertiser,' Goodwin Sands Opinion, and 'Land's End Times' not only took the opportunity to review The History of the Channel Islands after the notices from Pumpiter but also issued "strikingly confirmatory judgments, some times concurrent in the very phrases." (Eliot 110)
The narrator notes that although Vorticella would produce only the single opus, it was more than enough to afflict her with a "sort of fungous disfiguration, which makes Self disagreeably larger." (Eliot 115)
Not that the kindly narrator thinks Vorticella lacks any attractive attribute, even if her only one may be authorship of but the single volume:
"I would by no means make it a reproach to her that she wrote no more than one book; on the contrary, her stopping there seems to me a laudable example. What one would have wished, after experience, was that she had refrained from producing even that single volume, and thus from giving her self-importance a troublesome kind of double incorporation which became oppressive to her acquaintances, and set her up in one of those slight chronic forms of disease to which I have just referred." (Eliot 110)
To belabor the obvious, the Goodwin Sands are treacherous waters in The English Channel: Many ships lie wrecked upon them. Cockaleekie is not a place. It is the name of a soup and derives from the Scottish dialect for 'chicken and leek.' Land's End is an unpopulated rocky spit, while a latchgate is just a gate. None of these 'places' could publish anything.
Eliot (Mary Ann Evans) grew up in the Midlands where medley pie originated and we might trust her judgment. She would not have nestled medley pie among the sandbar, soup and swinging gate unless her readers would readily recognize the pie as a "detestable piece of cookery." Like so many traditional British foods, it appears to have fallen from culinary grace at the hands of Victorian cooks.
4. Not so fast….
The traditional recipes, however, are not, as one group of Anglo-Indians (British ancestry) liked to say in their backhanded way about the food of another (mixed ancestry), not to be despised. In fact there is a lot to like in these rich and bracing pies.
Craig provides no background to her recipe but a similar version apparently is indigenous to Leicestershire, at least according to Mrs. Dalgairns, an estimable early nineteenth century Scottish author. She includes a recipe for "Leicestershire Medley Pie" in The Practice of Cookery , from 1830 . Her original essentials; quartered apples, "fat bacon, and any sort of cold roast meat" seasoned with ginger, bathed in ale and encased in shortcrust pastry.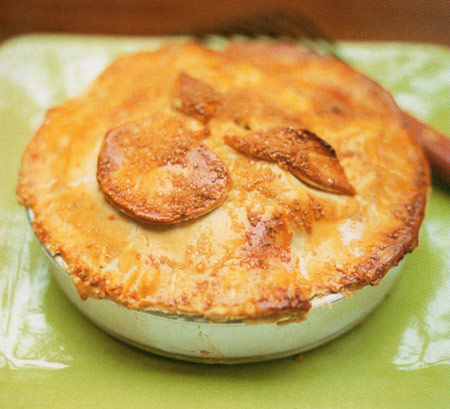 Offshoots appear in both Derbyshire and Suffolk. Those medley pies season their fillings with sage instead of ginger and select stock instead of ale. In Derbyshire as in Leicestershire the pie is based on bacon but the version from Suffolk used a mixture of pork and pig's kidney instead.
Medley pie may be a fairly old dish. According to Lizzie Boyd, the editor of British Cookery: A complete guide to culinary practice in the British Isles, a traditional bacon and cow heel pie
"possibly developed from the earlier Medley Pie which as the name implies was a combination of ingredients. The Leicestershire Medley pie contained boiled bacon, roast pork, apples, ginger and ale, while the Derbyshire Medley Pie also included onions and sage and was served with a jug of hot vinegar." (Boyd 308)
Boyd calls the bacon and cow heel preparation, the first recipe in her chapter on pies and puddings, "a true savory pie," implying in context that it in turn dates at the latest to the early eighteenth century. By then, she explains, "pies had become firmly divided into sweet and savoury." (Boyd 309) We cannot, however, be sure, because Boyd abandons the subject there without even providing a recipe.
Little other information about medley pie appears to exist elsewhere in print. Dorothy Hartley describes another medley pie without identifying it as such in her iconic if eccentric Food in England from 1952. She calls it a descriptive if prosaic "Pork and Apple Pie:"
"A Leicestershire version of this pie. Line a deep cake tin with the pork pie crust, keeping a round for the lid. Fill with alternate layers of apple and pork, sprinkling the apple with sugar and the pork with pepper, and putting a few sage leaves and fine minced onion here and there. The whole is then moistened with a little mild ale, the lid put on, and baked accordingly to size, 1 or 2 hours." (Hartley 119, 120)
So Miss Hartley returns us to the premodern pie mixing savory and sweet if, that is, a significant sprinkle of sugar showers the fruit.
Your Granny's Cook Book by Sheila Hutchins, one of the earlier manifestations of the revived interest in British foods among the British during the third quarter of the twentieth century, does likewise. Hutchins predates even Elisabeth Ayrton and Jane Grigson, although her Cook Book is neither as rigorous nor scholarly as their work. Instead, it is a winning compilation of recipes contributed by readers of the London Daily Express before 1971.
5. A compassionate girl and her pie.
One of them, Mrs. E. Adcock from Arley in Warwickshire, recalls the Saturdays she spent at her grandmother's seventy years earlier, at the age of eight. They were not leisurely weekends:
" ….I used to walk the two miles to scrub my grannies [sic] white wood bedroom floors and stairs and her blue brick living room and kitchen floors, not forgetting pantry shelves, floor and four steps down to it. By the time I had finished grannies [sic] favourite Medley Pie was ready and she served it with nice mashed potatoes and greens." (Hutchins 34)
Her labor did not end with dinner; afterwards the future Mrs. Adcock "had quite a few more duties" before walking home "tired and with aching limbs." She recalls none of this with the least rancor. As she recounts, "I always felt happy to have helped my poorly old granny and to have sampled her favourite recipe." (Hutchins 34)
The favourite recipe that forms the centerpiece of this lovely vignette layers sliced potatoes, diced bacon, sliced onion, "sliced apples sprinkled with brown sugar and finally a few currants and sultanas," or raisins, within a shortcrust case. It is, as Mrs. Adcock maintains, "Very tasty."
To return to our anonymous antagonist of Peel, we may discount his description of Medley Pie as "detestable." He got his facts, in the form of ingredients, wrong and has proven to inhabit the wrong side of history in both culinary and political terms. Go with the judgment of a winning Mrs. Adcock instead.
Notes:
- For the historically impoverished, Hansard is the official record of debates in the British House of Commons.
-In French Country Cooking , Elizabeth David--ever the Francophile--considered 'beckenhoff' similar to medley pie. While that is about as much praise as we might expect from her for a homely English dish, it is misplaced.
-Beckenhof, or more properly Baekeofe or Beckenoffe, bears little resemblance to medley pie. With its rich admixture of beef, lamb, pork and pork trotters, winter vegetables and potatoes it does evoke a seventeenth century English hotchpot, although at least the English stew includes apples like most medley pies while the Baekeofe does not. And stew it is. The Baekeofe cooks beneath a lid of paste but it is a mere inedible mash of flour and water used to seal the pot so it steams in the oven (the name of the dish derives from 'baker's oven' in Alsatian dialect) rather than bakes like the medley pie.
-David's breezy fabrication should surprise nobody. Like her fellow legend Orwell, David was wont to write what she wanted without recourse to fact.
Sources:
Anon., "Medley Pie,"
www.foodsofengland.co.uk/medleypie.htm
(accessed 5 August 2014)
Anon., "Medley Pie (Derbyshire Version),"
www.foodsofengland.co.uk/medleypie(derbyshireversion).htm
(accessed 5 August 2014)
Anon., "Medley Pie (Leicestershire Version),"
www.foodsofengland.co.uk/medleypie(leicestershireversion).htm
(accessed 5 August 2014)
Anon., "Medley Pie (Suffolk Version),"
www.foodsofengland.co.uk/Medley_Pie(Suffolk_Version).htm
(accessed 5 August 2014)
Lizzie Boyd (ed.), British Cookery: A complete guide to culinary practice in the British Isles (Woodstock NY 1979)
Elizabeth Craig, Beer and Vittles (London 1955)
Catherine Dalgairns, The Practice of Cookery, Adapted to the Business of Every-Day Life (Edinburgh 1830)
George Eliot, Impressions of Theophrastus Such (London 1879)
Dorothy Hartley, Food in England (London 1954)
Sheila Hutchins, Your Granny's Cook Book (London 1971)