Holiday Gift Guide: Clothing & Accessories
Suggestions from The Editor.
Anthropologie conducted the photoshoot for its November catalog in Scotland and offers some Scottish style apparel for Fall and Winter. A tartan blanket coat costs $198; a bulky plaid pullover $138; the 'Fiona coat' in woolen windowpane $268 and a faux fur stole for it $98; and a black and white fringed dogstooth scarf $49.50. Brick and mortar nationwide in the United States; online at www.anthropologie.com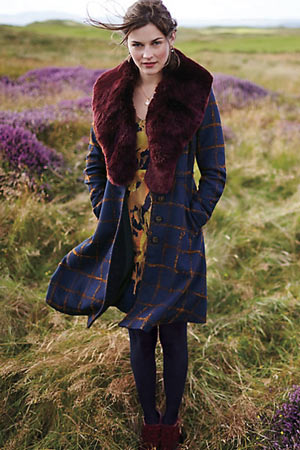 Fiona Coat – Anthropologie
J. Peterman somehow survived the ministrations of Seinfeld and rose from retail death some time ago. The catalog retains its partially Anglomanic cast; also online at www.jpeterman.com .
For women, long flouncy skirts in black & red or green & navy plaid flannel cost $158; cord trousers in floral or paisley print $128; and black & white herringbone tweed blazer with velvet collar and high lapels $259.
For men, a Scottish Mackintosh 'handmade since 1823 outside Edinburgh' will set you back a hefty $850 in olive or orange. A thoroughly English style suit in heavy black and brown tweed with a three button front and short collar costs a relatively reasonable $436. If you dare to be Donleavy or Holmes, Peterman has a grey caped herringbone coat $695. Brown twill Gurkha trousers have doble pleats, adjustable tabs at the waist and are lined to the knee, presumably for itch prevention as well as warmth. $179.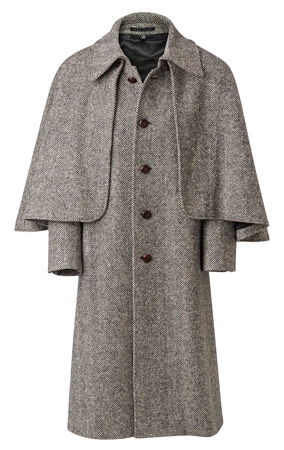 J. Peterman caped coat
Pickwick's Mercantile in Portsmouth, New Hampshire has a good selection of vintage flannel shirts from an array of makers so sizing varies but the beautiful shirts represent good value at $38. Pickwick's also stocks locally made overdyed t-shirts with hand blocked images of death's heads rubbed from the city's eighteenth century cemeteries. The striking shirts cost $30. At 64 State Street and in Strawberry Banke. Tel. 603.427.8671; www.pickwicksmercantile.com
Suggestions from Our Retail Correspondent:
Now that several British clothing companies have either a brick and mortar presence, a U.S. catalogue or both, there are more options if you would like to find items with British design or even designs that feature things British.
Boden is a case in point. Their current holiday catalogue at Boden , www.bodenusa.com , features playful, colorful clothing for adults and children under the headline "Great British Style".
Our favorite Boden items include women's pajamas in a London print that looks vintage 1950's or 60's, for $66.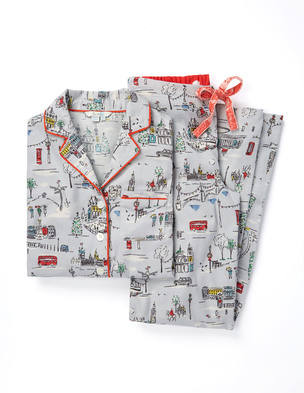 There is also a lovely scarf featuring London landmarks , $28.50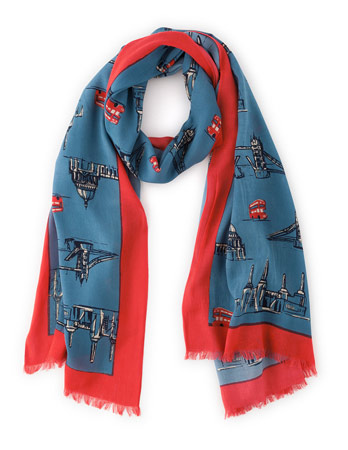 A number of items are knitted or printed with a British soldier motif - a pom pom hat and matching gloves :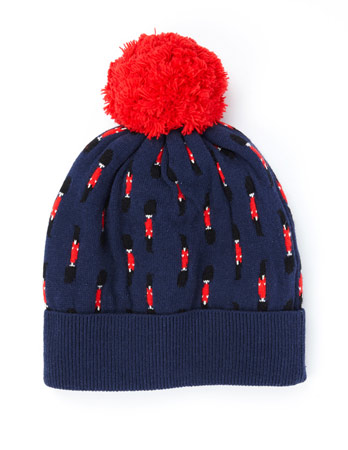 And to carry it all, there is a shopper with more marching soldiers: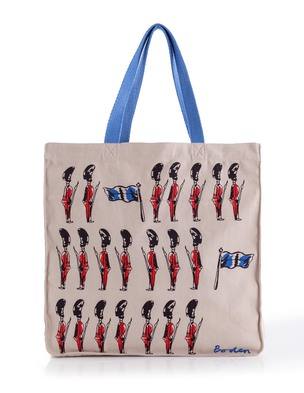 Originally a purveyor of equestrian gear, Joules ( www.joulesusa.com ) offers lines of street clothing for men, women and children, in addition to their famous wellies in dozens of designs. Women's wellies start at $63, Men's at $120. The cover page of their holiday US website also features a Scottish Highland theme.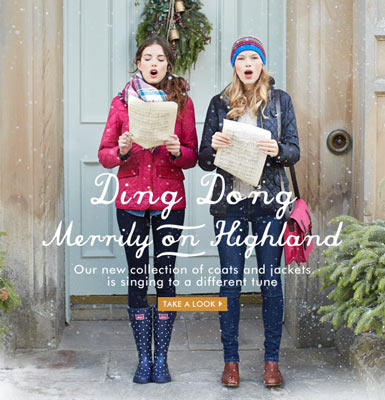 For the under 25 "university" crowd, Jack Wills (catch-phrase "Fabulously British") takes traditional British tailoring and slims it down, adding hipster touches and wink-wink references. Their holiday gift items include a Union Jack teddy bear ($49.50 – he also comes in a red tartan) and a number of tartan wallets and passport covers that would make any young Anglophile happy. There are lots of short, pretty party dresses for the young and uninhibited.