A selection of crawfish recipes
Our Rural Correspondent has alluded to the dearth of British recipes incorporating crawfish. At least one of the older cookbooks refers to the difficulty of using crawfish on the basis that, because the creatures are small, it is too labor intensive to bother with them. That, however, is not much of an explanation; shrimp, like the famous little brown ones that traditionally are potted all over England, are no bigger than the crawfish native to the British Isles, and considerably smaller than the American signals that threaten to overrun British waters.
As noted in the lyrical, Mark Hix includes two crawfish recipes in British Seasonal Food (London 2008). One, logically enough for potted crawfish, is particularly easy to prepare and results in a flavor of concentrated shellfish boosted by the traditional English pot seasonings of anchovy and mace.
Potted crawfish.
---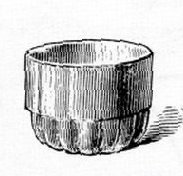 - 4 oz unsalted butter
- juice of ½ lemon
- 1 teaspoon anchovy paste or sauce
- a bay leaf or 1/8 teaspoon powdered bay
- cayenne to taste
- 1/8 teaspoon mace
- about 1/3 lb crawfish tails
- salt
- white pepper
- about 2 Tablespoons clarified butter or ghee
---
Melt the butter in a small, heavy pot over low heat and add the lemon juice, anchovy, bay, cayenne and mace.
Simmer the flavored butter for a few minutes to marry the flavors.
Add the crawfish tails to the pot, increase the heat to medium and cook until the tails curl into tight coils.
Turn off the heat, remove the bay leaf and season the crawfish mixture with salt and white pepper; allow the buttery mixture to cool but not to congeal.
Once the crawfish mixture begins to set, spoon it into four ramekins.
Melt the clarified butter and pour it carefully atop the ramekins to form a skin over the crawfish mixture.
Chill overnight before serving with hot toast and lemon wedges.
Notes:
- Hix uses considerably more butter in proportion to crawfish and omits the traditional cap of clarified butter. He also precooks the crawfish before blending it with the cooled, seasoned butter. Our version assumes that you are using thawed frozen tails; it is both simpler and better.
- An improvised if less traditionally British version of potted crawfish adds the Louisiana trinity to the crawfish mixture and substitutes Louisiana spicing for the anchovy and mace. To make Louisiana potted crawfish, add the lemon juice and bay to the butter at Step 1 along with a heaped Tablespoon each of minced bell pepper, celery and shallot, along with the cayenne and pinches of dried thyme and mustard powder; omit the other ingredients from Step 1. Cook over medium heat just until the vegetables soften, add a dash of Worcestershire, then complete the recipe by following steps 3-7. If you have any, the merest drip of liquid crab boil enlivens the dish; add it with the crawfish at step 3. We like this cultural hybrid a lot.
- Another sort of hybrid, something like a cross between a potted food and a terrine, called "cray fish cheese," appears in The Illustrated London Cookery Book (London 1851) by Frederick Bishop:
"Having washed and boiled the fish, take off the small claws and tails and set them aside, chop the meat that remains in the shells with some other fish, artichoke bottoms, sweet herbs, and butter; mix them well and put it in a dish in the form of a small cheese, round which lay the tails; cover it with bread crumbs, and colour it in the oven for a quarter of an hour."
It is difficult to know what to make of the reference to the meat 'that remains in the shells' because there really is not any; use chopped tail and claw meat instead. Proportions are up to you, but equal measures of crawfish, flaked, cooked finfish and chopped artichoke bottoms bound with half a measure of butter in proportion work pretty well. Any fresh herbs will do; add some cayenne, salt and white pepper to season the 'cheese.'
-There is a conceptual intersection of England and Louisiana in the marriage of shellfish and artichoke. Crabmeat Yvonne is a fixture at Galatoire's restaurant in New Orleans; Crawfish Yvonne does not appear on the menu (which regular customers advisedly ignore anyway; your waiter will steer you, reliably, to the fresh catch) but the kitchen always is happy to prepare it on request in crawfish season. The recipe is simple and superb; its secret is a base of what Galatoire's, with New Orleanian eccentricity, calls 'meuniere butter.' This version makes six big, rich servings and is adapted from Galatoire's Cookbook by Melvin Rodrigue (New York 2005):
---
- 1 lb salted butter
- 1 Tablespoon lemon juice
- 1 Tablespoon red wine vinegar
- 6 cooked, sliced artichoke bottoms (canned are fine)
- 1 lb sliced button mushrooms
- 1 bunch (about 1 ½ cups) trimmed and chopped scallions (both whites and greens)
- 2 lb crawfish tails
- 1 Tablespoon mushroom ketchup (our addition)
- salt and white pepper
- minced parsley
- lemon wedges
---
Make the meuniere butter by melting the butter in a heavy saucepan over medium heat until its sediment turns deep brown, "almost (but not quite) to the point of burning." You must whisk the butter continuously or burn it will.
After about 10 minutes the liquid butter will appear a deep gold; remove the pan from the heat and slowly but immediately whisk the lemon juice and vinegar into the butter: "The sauce will froth until the acids have evaporated. When the frothing subsides, the sauce is complete."
Reserve 2/3-3/4 of the butter sauce (it will keep for several weeks in the refrigerator).
Return the remaining butter sauce to medium heat until it is hot, then add the artichokes, mushrooms and scallions. Fry the vegetables until the mushrooms soften, then stir the crawfish and mushroom ketchup into the mixture.
Cook the Yvonne just until the crawfish tails curl into tight coils, season with salt and white pepper, and serve immediately with a sprinkle of parsley.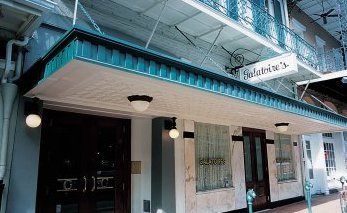 Galatoire's (Photo copyright @ Louis Sahuc)
More notes:
- Unusually for us at britishfoodinamerica, this recipe specifies salted, rather than unsalted, butter. We are following the lead of the original version.

- Quotations within the recipe appear at page 263 of Galatoire's Cookbook.
- Crawfish or crabmeat Yvonne traditionally is served with rice or toast, or as a substantial garnish for fish or, at Galatoire's, just about any grilled meat or bird. It is particularly good spooned over deep fried or sautéed soft shell crab.
- To make Crabmeat Yvonne, substitute good jumbo crabmeat for the crawfish; fold it carefully into the vegetables at step 3 so that it does not break down, and cook it briefly just to heat the crab through. Shrimp will work as well; add a generous teaspoon of garlic at the outset of step 4 and cook the shrimp, like the crawfish, until they coil. Half crawfish and half shrimp is good too.
- A variant of Crabmeat Yvonne appears in Galatoire's: Biography of a Bistro by Marda Burton and Kenneth Holditch (Athens, GA 2004). It is not as good in substituting clarified for 'mueniere' butter and in overcooking the crab. It does, however, get the proportions right and include seasoning, unlike the sloppily edited Galatoire's Cookbook, which calls for a whopping pound of butter and only half the crabmeat while omitting to mention the salt, white pepper and parsley.
- We like to Anglicize the dish slightly by substituting malt or sherry vinegar for wine vinegar; we particularly like the sherry vinegar with the crab.
- We have wondered in the lyrical why curried crawfish makes no appearance in British cookbooks and restaurants. Susan Spicer makes a delicious one that includes banana at Bayona, her legendary New Orleans restaurant, but, sadly, omits the recipe from her cookbook, Crescent City Cooking (New York 2007). A different delicious version, however, appears online at www.gumbopages.com. It is a typically western curry in omitting fresh ginger while using curry paste and diced apple; it is New Orleanian via the Caribbean in its incorporation of peanut oil, bell peppers, zucchini and pineapple juice.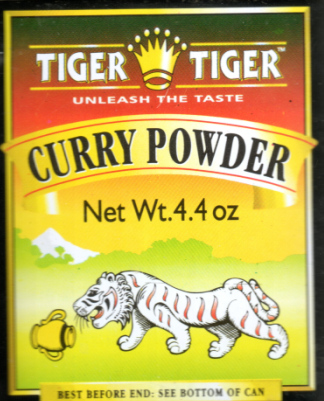 A curry of crawfish. This dish, intentionally or not, betrays a particularly British, even Scottish, influence in its most non-Indian use of flour instead of ground almonds, coconut milk or yogurt as a thickener. Many Scottish curries from nineteenth-century sources include flour, and some British brands of curry powder, including 'Tiger Tiger,' do the same. In Louisiana, where the use of a roux is second nature, the technique hews to an indigenous tradition as well. The result is not what you might anticipate, not at all stodgy; the flour allows you to use not only much less oil than in traditional Indian preparations, but also facilitates the use of shellfish stock instead of the more viscous alternatives. As a result the curry has a bright, light atmosphere. Thickened stock has an incidental benefit over yogurt too: The curry will not curdle.
4-6 servings
---
- 3 Tablespoons peanut oil
- 2 cups assorted (green, red, yellow… ) chopped bell pepper
- 2 cups chopped onion
- 1 heaped teaspoon minced garlic
- 3 Tablespoons flour (Wondra preferred)
- 1 quart shrimp or crawfish stock
- 6 oz pineapple juice
- 3 Tablespoons curry paste
- another Tablespoon peanut oil
- 1 lb crawfish tails
- a green apple, peeled, cored and cut into ¼ inch dice
- 2 zucchini ('courgette' in Britain), trimmed and cut into ¼ inch dice
- cayenne
- salt
- hot sauce
- 3 heaped Tablespoons minced scallions
---
Heat the oil in a heavy skillet, add the peppers, onion and garlic and fry them over medium heat until they acquire a tinge of pale gold, usually about 10 minutes. Stir the mixture to prevent it from scorching.
Stir the flour into the vegetable mixture and cook it, stirring constantly, for about 2 minutes and then whisk the stock, juice and curry paste into the vegetables.
Bring the mixture to a boil, then simmer it on low for at least 20 minutes until the sauce thickens.
Set the other 2 Tablespoons of peanut oil in another skillet on medium high heat; once it shimmers, add the crawfish, apple and zucchini. Cook the mixture until the crawfish tails barely begin to curl, then add the curry mixture, bring it to a boil, and simmer the combined crawfish curry for 5 minutes. Test the seasoning for salt, cayenne and hot sauce, stir in the scallions and serve hot with rice.

Still more notes:
- This is an easy and unusual dish that is suitable for company dinner because you can prepare the sauce at steps 1-3 in advance and then reheat it when it is time to cook the crawfish mixture and finish the dish. You can dice the zucchini in advance and the apple too, as long as you toss the fruit in a little lemon juice to forestall discoloration.
- The recipe at www.gumbopages.com uses slightly different proportions and is vague in spots. It also lists the zucchini as an ingredient but fails to instruct the reader what to do with it.
- Patak is a good British brand of curry paste (made in Lancashire) that is widely available in the United States. We prefer the mild to the hot version because we like to regulate the spiciness of various dishes ourselves with the addition of cayenne or fresh chilies.
- If you cannot find curry paste, improvise your own by adding enough neutral oil to a decent curry powder to make a thick slurry. Depending on the dish you also may want some tamarind pulp, tomato paste or both. The paste from Patak lists both ingredients.
- Peanut oil is not, strictly speaking, required, but it gives the curry an unmistakable southern tint. If you do not have or like it, substitute canola, corn or another neutral oil.
- Spicer likes to serve the curry the British way, with 'condiments' of toasted coconut, chutneys, chopped hard boiled egg, crisp fried onions and chopped nuts. Crumbled bacon would be traditional too.
- Commercial chutneys are perfectly good (Swad brand particularly so) and keep forever but fresh versions are easy to make at home. Spicer includes a snappy recipe for mango chutney that is as foolproof as anything that you heat can get. All you do is fry half a diced red onion with a Tablespoon of minced fresh ginger in a teaspoon of peanut (or neutral) oil over medium heat before adding a peeled, cored and diced green apple to color slightly. Then add a mango that you have peeled, seeded and diced, along with 2 oz each of raisins, sugar and cider vinegar. Reduce the chutney to a simmer for 5-10 minutes until the ingredients marry: Let it cool before serving with the curry.
- In a pinch, substitute commercial clam juice for the shellfish stock, which, however, is quick and easy to make, even if you buy shelled (but always raw) shrimp; they usually come with their tails, which make a perfectly good base for stock. Keep them bagged in the freezer. When you want some shrimp stock, put a handful of tails in a pot with a little more water than you will need stock for your recipe to allow for reduction, along with a couple of celery stalks with their leaves, a split, unpeeled onion, some parsley sprigs and seasonings of whole black peppercorns, a dried red pepper or red pepper flakes and a pinch of good dried thyme. Add splashes of hot sauce and Worcestershire, bring the water to a boil and then simmer it for as little as 20 minutes but no longer than half an hour. Strain the stock and you are ready to go.
- Sometimes in our studies we encounter a welcome reversal of roles. One such case is that of Norman Douglas and Elizabeth David, in which the debauched old libertine played platonic muse to the beautiful and talented young culinary writer (and, it must be said, fellow libertine). Shortly before his death, however, Douglas got in on the food writing act too and produced Venus in the Kitchen (London 1952), a lively little book that is as beloved of some as it is derided by others, including Alan Davidson. At bfia, we like Venus, quite a bit, but that is a subject for another essay. Douglas offers his readers two crawfish recipes, one for a soup that is more arduous and less interesting than the one from Mrs. Beeton that appears in the lyrical within our 'Diary of a Crawfisherman,' and the other with the irresistible title of 'Crayfish a la Sybarite.' Like all of Douglas' recipes, it is minimalist to the point of haiku. Its sensibility is thoroughly English and sounds worth trying:
"Fry lightly in butter two onions and three carrots already sliced finely, with chopped parsley and thyme. Throw in the crayfish [tails]. Cook the[m] on both sides, then add some spice as: a small pinch of cinnamon, a little grated nutmeg, and a pinch or two of paprika. Add a spoonful of butter, and when this is melted, throw in half a bottle of dry champagne, which must never boil. Cook for half an hour and serve hot." (Venus 30)
- Now this minor masterpiece incites a disclosure and three comments. Douglas may have been talking about spiny warm-water lobster (he warns that "you must already have cut" "the crayfish" "into pieces" before adding them to the pot), but no matter; the recipe sounds perfect for actual crawfish tails. In addition we should note that the usual pound of thawed crawfish tails sounds about right in proportion to the other ingredients for four servings, that a lesser sparkling wine should suffice for the sauce, and finally that although the cooking time seems long for crawfish, it is not unheard of and should work provided that the heat is kept to a bare simmer.
- We would serve his with toast rather than rice (or anything else) and draughts of champagne would seem to be mandatory. britishfoodinamerica will report on our findings once we try the recipe. We hope and trust that the article will not appear in 'Pizza Delivery.'