Our French Correspondent Visits The Breslin
britishfoodinamerica visits The Breslin by sending its French Correspondent into a bastion of the Old Enemy to test the dining room. She does not find Albion perfidious, at least in this respect.
First impression upon arrival: boy, is this place trendy or what? I got there at 6:15 PM, and I put down my name for a table for two at 7. The bar was packed, but not yet the dining room at that point. Forty-five minutes later, there was a wait of at least an hour -- if you had put down your name. They don't take reservations, which might become detrimental after the first few months of trendiness evaporate. This is New York, and people do not like to wait THAT much. I decided to go to the Coffee Shop next door (which, like The Breslin, belongs to the Ace Hotel) for an espresso. You can also wait in the lobby of the hotel, or, of course, at the packed bar.

The décor: Gorgeous, but, when the bar fills to capacity, the place becomes loud. The crowd is an eye-pleaser, however, and the din was forgiven.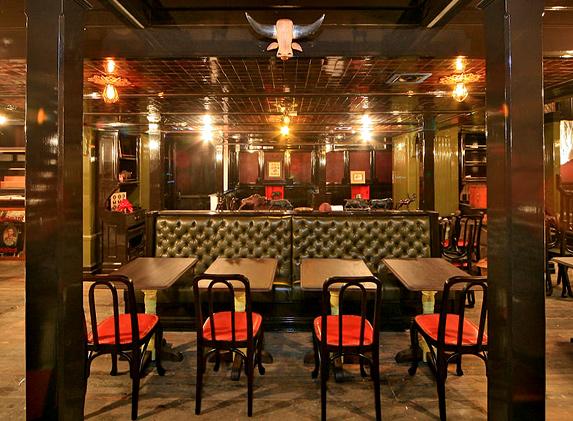 The service: Excellent. Our waitress was just perfect, our water was refilled at the right time, the drinks arrived promptly, the dishes were served in a timely manner, and the check was brought to us at the right moment, as if she read our mind. They have got serving down to a science.

The food: I tried only two different entrees and a dessert, but let me preface by saying that I will go back for sure. We had some salt and vinegar crisps to start, which were a delicious, naughty treat. I ordered the brandade of salt cod with bread salad. AMAZING. I never tasted something quite like this, it was a fascinating twist on the typical Breton brandade recipe that I am used to, and I loved every bite of it, especially the bread salad. So creative. The portion was just right too (even though I liked it so much, I would have eaten another plate of it!).
The other dish was a remarkable lambburger with feta and red onion, on a delicious toasted bun, with a side of fries and aioli. I was floored by the taste of that burger. I have had lambburgers before, but this was, by far, the best I have ever tasted. Perfect meat, cooked just right, served on a traditional English trencher, which makes for a great presentation. Kudos. The dessert was a bittersweet chocolate tart with a salty caramel coulis and hazelnut gelato, and again, what a winner. I don't typically like chocolate desserts: This one was irresistible.

The prices: Just right. I have no problem with paying between $15 and $30 for entrees that are THAT good.

The tricky part: Getting a table, but if and when you do, you're in for a great culinary treat, in a wonderful setting while being waited on by real (and real pretty) professionals. That makes it worth the wait and justifies the buzz. Long live The Breslin!