Tuna & bacon sandwiches from Ambrose Heath.
On a superficial level the combination sounds pretty weird, but cured pork is an ancient foil for seafood in just about every cuisine. The 'Russian dressing' easily made from scratch under Heath's direction is retrograde in spades and most welcome.
---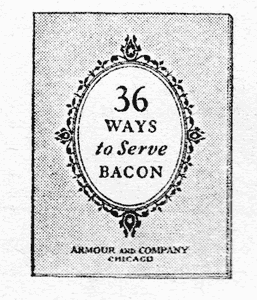 For the Russian dressing:
8 oz mayonnaise
2 teaspoons minced green bell pepper
2 teaspoons minced red bell pepper or pimiento from a jar
1 Tablespoon minced scallion greens or chive
½ teaspoon paprika or ¼ teaspoon each cayenne and paprika
3 Tablespoons bottled chili sauce or ketchup in a pinch
a mashed hardcooked egg yolk
To assemble the sandwich:
a jar or can of good tuna packed in olive oil, flaked
crumbled bacon
toast
---
Make the dressing and bathe the tuna with as much or little of it as you like, then fold the bacon into the mixture and serve on toast.
Notes:
-It is unclear whether Heath refers to something fresh or from the jar with "pimiento (red sweet pepper)." Our guess given the date of publication for our source, his Good Sandwiches & Picnic Dishes , is the jar. The book appeared in 1948, when the range of commodities available to British cooks remained restricted by rationing and austerity. We like the jarred pimiento better anyway in homage to the staple of the American south, pimiento cheese.
-As with most traditional English sandwiches, Heath will have removed the crusts from the toast and cut each sandwich into three 'fingers' or two triangles.
-A more 'traditional' Russian dressing would include a jolt of minced pickles or American-style green relish instead of the green bell.
-Hardboiled egg yolk appears in the preponderance of traditional English salad dressings.
-We have increased Heath's scallion or chive from 2 teaspoons to the Tablespoon, and added the option of cayenne.