According to Elisabeth Ayrton, this is a dish that traditionally was served as a hunt breakfast. She locates the recipe in the Cotswalds but does not divulge her source or its date. It has the feel of an Edwardian favorite, however, both for its association with extravagant hunting and for its extravagant style. Mrs. Ayrton calls her recipe "Lamb Chops Portmanteau'd," presumably for the blocky heft of each chop and its division into hinged halves. Her oven temperature (too low) and proportions (overstuffed) did not work the first time that the Editor tried the dish so she has changed them. It may not seem necessary to gild expensive chops in this way but they are in fact wonderful, especially served with one of Mrs. Ayrton's English tomato sauces for roast meat. The proportions given are for each chop and therefore remain constant for any quantity.
---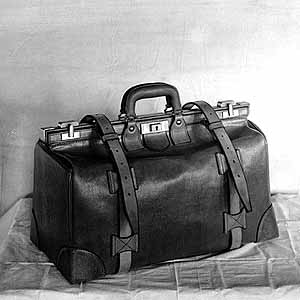 - 2 inch thick loin lamb chop
- ½ to 1 chicken liver, depending on size, chopped fine
- A button mushroom chopped fine
- unsalted butter
- beaten egg
- salt and pepper
- breadcrumbs
---
Preheat the oven to 450°.
Cut a pocket from the edge to the bone of the bigger side of the chop.
Mix together the liver and mushroom: you want equal amounts of each.
Melt a little butter in a skillet over medium high heat until foaming, then stir in the liver and mushroom mixture: Add a little salt and pepper.
Cook the mixture just until it softens, add a little parsley and remove it from the heat.
While the stuffing mixture cools, beat the egg and season with salt and pepper.
Stuff the chop and secure the pocket with a couple of round toothpicks or metal skewers.
Dip the chop all over in the egg, then press it into the breadcrumbs so they coat the chop on all sides.
Roast the chops for about five minutes on each side for rosy meat. Delicious.
Notes:

- Take care not to overcook the chops: it is worth checking them with some exploratory microsurgery on the unstuffed edge a couple of minutes after turning onto the second side.
- For those squeamish about liver, substitute breadcrumbs. For a variation that we unsqueamish souls at britishfoodinamerica like even better, substitute lamb or veal kidney.
- As noted in the introduction to the lead recipe, Mrs. Ayrton has a sublime tomato sauce that perfectly compliments these chops: