Beer (of a sort) in the City of Light
If Sarah Lyall on London plays the usual medley of perfect pitch and tone deafness that animates (or agitates) so much of New York Times travel writing, Steven Erlanger on Paris and Rachel Shteir on Chicago conjure cities counterfactual enough to constitute an alternative dystopia.
Despite grime and graffiti Paris does not resemble the filthy and frightened if prosperously dull shell recently depicted by Erlanger in The Times.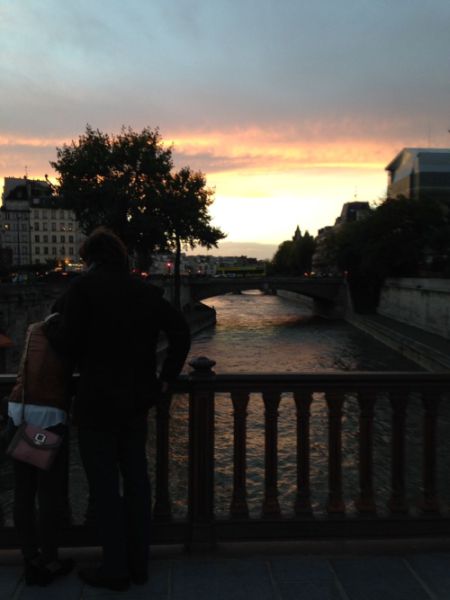 ("Reflections on a Paris Left Behind," 18 October 2013) And despite his description, the dogshit problem does not approach the gushy minefields of old.
It is true, as Erlanger claims, that the edge has left this town. It has no Hoxton or Spitalfields incubating innovation, no hipster Brooklyn bars, no urban restaurants raiding their own rooftops for seasonal crops.
The moveable feast has fled and Paris has settled upon itself. It remains a city of double-edged wonder, dazzling and deadening in turns. The beauty of its buildings and vistas, the ageless (if aged) art, the efficient Metro, farmers' markets gracing every arrondissement, oysters everywhere; all of it enthralls even the jaded traveler. And then the reluctance of its inhabitants to embrace the new, its uniformity of manner and food, even the studied indifference of its service sectors rankle the most stoic outsider.
Waiters in Paris might attend to their charges; four hours at table leeches the fun from the finest food. At one café hard by the Luxembourg garden, our waiter, set in a frown, disappears into the toilets for extended relief, ostentatiously neglecting to turn off the taps after washing his hands. That is not the sign of someone happy in his work.
Shops open today at eleven do not open at all, or open closer to two; with spectacular exceptions, their keepers treat customers like felons caught trespassing. But the exceptions shine, and that is new, from the pretty Vietnamese cashier at Monoprix, (falsely) commending the Editor's comprehension of French while (equally falsely) denigrating her own of English, to the lanky cook at Le Pere Claude & Fils who opened his shop behind the restaurant to fetch the Editor a can (!) of exemplary boudin noir. Other shopkeepers and restauranteurs, from North Africa, New Zealand or Nottingham are unfailingly friendly; they have carved a niche.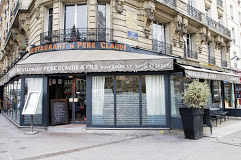 Le Pere Claude et Fils
In another respect we also might think things have changed. Happy headlines jump from the BeerAdvocate and other outlets online. A revolution of sorts has gripped the city of Aperol, pastis and wine.
After eons of dearth, good beer has begun to crowd away bad in Paris. Craft brewers sprout in the city. Shops selling good foreign bottles spring into life, mostly in the Marais and along the old Left Bank; bars that concentrate their force on beer sprout in what passes for the edgy and hipster zones that in fact no longer exist amidst the confidently bourgeois Paris inside the Peripherique.
It is a good story, and welcome. It also, alas, consists more of hope than glory, in reality fiction not fact. During a recent visit we did find two shops within the vasty metropolis that offer a selection superior to the usual limited run of harsh, watery lagers and Belgian industrial brews. The choices at either place, however, do not compare even to the package store nestled in the woods of tiny Charlestown, Rhode Island.
The recent crop of bars selling British beers, and of 'brewpubs' (horrible word we know, but in this limited context useful shorthand) purporting to brew in the British style, offer scant solace. Like any other city in Europe or North America, Paris now suffers a blight of fake Irish public houses that have nothing to do with the original species other than stout. In these faux Celtic bôites, nary a barkeep can pour a proper pint.
Cafés that pump British beer--for traditional cafés they are, not at all bars in an American sense (except for Harry's, now hopelessly horrid) or public houses in the British, inexplicably select the stranger British styles. You will find no pale ale, ESB or IPA, no porter or mild, but may encounter MacEwan's cloying Export, a hop-deprived Scottish heavy or bland Irish reds. The options are not worth your euro, or rather euros; prices in Paris would daunt a Russian mobster. This is a city that renders London or New York reasonable.
It seems the unstated ban on decent beer remains enforced in France. Take, for example, the 'Frog' chainlet of those brewpubs, five in Paris itself and two out of town. They produce beers they claim for Belgian and British styles. 'Claim' of course is a wriggling weasel, a signal sent by the Editor that something is wrong. It may not be the case that the Brewers of Frog deceive; it may be that they are clueless instead. Either way, something has veered an interstellar remove from authenticity.
The Frog and Rosbif (predicable enough name but, even so, a good one) stands in the Marais, itself edgy no more but beguiling nonetheless, on one of those corner sites created by the axial streets that make the vistas of Paris so stunning, and its addresses so easy to miss. Step a block wrong and you will vector out at increasing remove from your destination of choice.
No longer lost and back on that corner of the Marais, the weary boulevardier finds that the site gives the bar a chance to look like one of those angular Victorian gin palaces set on the quirky rather than calculated corners of Leeds or London. The owners have capitalized, and constructed a vision of England in the heart of France. It is a composition of big bright windows, purplish paint tinted with brown and grey, and London Transport letterface in tarnished brass that conjures Cornhill or Covent Garden.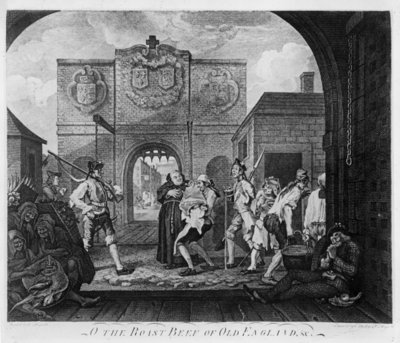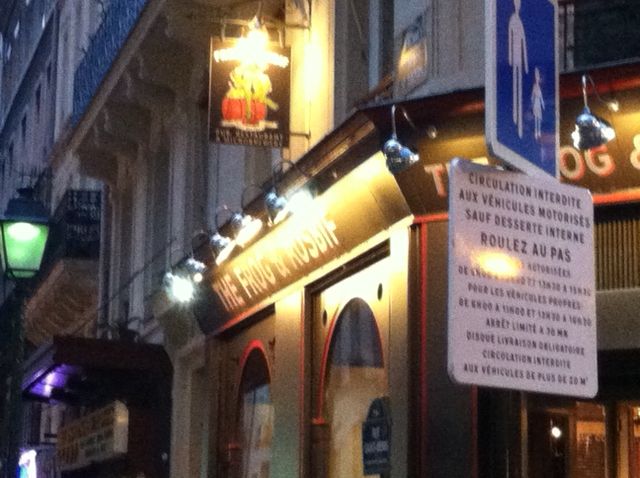 The Frog & Rosbif, Paris
Walk within and the illusion frays. The branding concept takes a page from the defunct Firkin chain of '80s London, and is about as fresh. But if the Firkins tried too hard to invoke a wan rusticity, the Frogs do not try hard enough, unless the idea is to replicate Manchester pubs of the misbegotten '70s, shabby old wonders 'periodized' with a slather of textured flock, bad smears of paint and a couple of gaudy gambling machines. Plastic menus tout tacos, hot wings and other staples of brewpub indulgence; they help not a bit.
After all, the place is ineffably French. The bartop itself is too small, and its inhabitants cannot catch the art of the barfly. They have no point of departure, for there are nearly no such structures in the cafes of France. Instead of crowding convivially to the counter, 6 o'clock drinkers sprawl across their stools, like the suit on the Lexington Avenue subway pouring himself across three seats as if the modest package between his legs holds a pair of car batteries.
No compression of souls for conspiratorial conversation, not at the Rosbif, but rather isolated men, cats in the same room ignoring each other, daring the patrons at tables beyond to meet their angry eyes.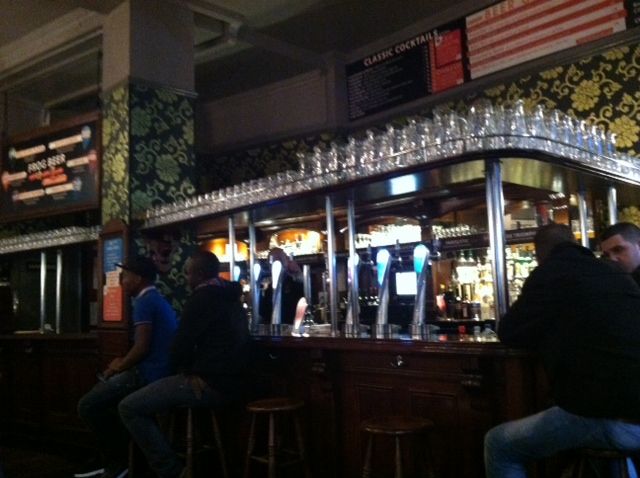 None of this anomie is alleviated by the glowering barkeep, a troll straight from the frames of the first Hobbit film. If fortune favors you, his scowl may shift to the occasional sneer, enlivened ever so seldom by a grimace. You want that empty table by the window? Tant pis.
The beers themselves sport the punnish names beloved of nerdom; Dark de Triomphe, Inseine Stout, Maison Blanc, Parislytic Ale. They taste strange enough. The bar describes the Parislytic as "strong, malty and hoppy,… a great example of a tasty bitter." It is no such thing, and smacks more of wheat than of malt, while the hoptruck must have been hijacked on the way to the tun. In fact the beers of the Frog resemble no recognized style, not British nor Belgian nor French; in this case the normal Parisian distrust of innovation would have served the city well.
These imposters are enlivened by nitrogen instead of carbonation, an unfortunate factor if the bartender cares not a whit. Our troll had no inclination toward a proper pour, so the pitcher of Parislytic arrived milky instead of bronze and took so long to clear that it flattened.
The Parisian thirst for beer is there; surveys show that young French adults favor it over wine by the proverbial mile. Despite its infirmities, the Frog & Rosbif itself pulses later at night (requiring a bouncer, in England soccer strip, for crowd control) and we understand the impulse of its patrons to give it a go. It and its sister Frogs are the only show.
You should by all means go to Paris but when you do, carry a map. Verities abide there, so do not go for the beer. Head for the markets and museums; choose to drink wine; take the Metro everywhere. And begin each conversation with bonjour, no matter how awful your French.