A celery salad for your stew.
Anchovies, celery, Parmesan and walnuts are ingredients as English as it gets, and this bright and crunchy salad adapted from a recipe by Nina Garten is the ideal foil for a soothing stew. For four.
---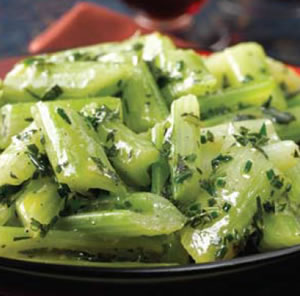 -2/3 cup chopped walnuts
-1/3 cup walnut oil
-¼ cup lemon juice
-generous ½ teaspoon anchovy paste, mashed anchovy or Gentleman's Relish
-½ teaspoon celery salt
-generous teaspoon celery seed
-1 Tablespoon lemon zest
-2 Tablespoons minced shallot
-2 teaspoons coarse salt (like Maldon)
-generous teaspoon pepper
-5 cups celery, finely sliced on the bias
-another Tablespoon lemon juice
-another ½ teaspoon coarse salt
-about ¼ lb Parmesan
-about ¼ cup coarsely chopped parsley
---
Toast the walnuts by tossing them in a heavy skillet on medium heat until they begin to smell tantalizing.
Sprinkle the celery with 1 Tablespoon lemon juice and ½ teaspoon salt.
Whisk together the oil, ¼ cup lemon juice, anchovy, celery salt and seed, zest, shallot, 2 teaspoons of salt and pepper.
Toss the seasoned celery with the dressing and chill it for at least 2 hours.
Stir the celery to even out the dressing, then top it with the cheese that you will shave into the thinnest sheets at the last moment. To finish, scatter the walnuts over the salad followed by the parsley.
Notes:
-Garten uses olive oil, a suitable substitute, and more of it, ½ cup, than we recommend. She also adds less anchovy and lemon zest, specifies whole leaves of flat parsley and uses celery leaf as well as stalks; we found the celery leaf a little bitter.
-Riesling vinegar, while expensive, is a delicate alternative to lemon juice. You can buy it from the Extra Virgin Oil Store in Mystic, Connecticut.