A new oyster bar & fish house in New Orleans: Pêche Seafood Grill.
Pêche is the third New Orleans restaurant launched by Daniel Link and there, as at Herbsaint and Cochon, he appears to have the proverbial Midas touch. It seems that diners have come to crave a sort of idealized authenticity that never quite existed. The popularity of Pêche is all the more remarkable because even though the place has been inundated with ardent diners since it first day, its opening was chronically premature.
On our visit two weeks in, decoration consultants were hanging artwork, and part of the bar area remained taped off; big doors opening onto the outside terrace had not been secured and remained braced by raw timber because the pavement for outside seating had not yet been spread.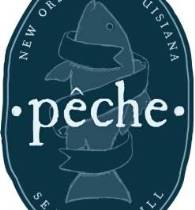 Staff was ill-prepared. They were tasting wines and negotiating with suppliers while attempting, with mixed success, to serve their customers at the bar, this during a quiet afternoon at 2 pm. They wore a hunted, even haunted, look, as if none of them felt much confidence in her competence. Service was shambolic, almost amateurish and, even for New Orleans, elegiac. How, possibly, does Pêche cope with the crush of prime time?
None of these flaws mattered much. Notwithstanding their failings, the barstaff is friendly when not feeling harassed which, however, was not much of the time. All of them appear to have been hired out of Cajun central casting, dark beautiful girls and boys clad in tartanic flannel: They provide living props to the urban fantasy that is Pêche.
As at Cochon, rustic represents the order of every day, and Link has spent a fortune on its fittings to ensure that the place resembles an elegant funhouse derived from the 'typical' bayou fishing shack. Oversized and underfinished columns, ostentatiously inelegant furnishings and nearly outsider art sustain the stagecraft.
Pêche shares its layout and formula with Cochon, except that, as we should infer from the names, most of the food at Peche had breathed with gills instead of lungs. A smallish bar stands to the side of the entrance, a smallish dining counter looks into the kitchen to the rear and a big jumble of tables jostles in between.
If all of it seems a bit too Cajun cliché, it would be unfair to leave such an impression. Pêche is a handsome restaurant that does a lot of things right, starting with oysters. While a very few other oyster bars in New Orleans will identify the precise source of east and west coast oysters (from Watch Hill, Rhode Island, or Hog Island, California, for instance), most follow the common practice of identifying an oyster from the Gulf of Mexico only as such. Not Peche; they let you know precisely where your oyster grew, and the information goes beyond academic interest.
Oysters absorb the peculiar characteristics of their habitant to an even greater extent than most products and oysters from the Gulf are no exception. During our visit we ate a dozen each of Apalachicolas, the famous oysters from Florida, and Texans from Campan Bay.
Both variants were pristine and, unlike the chewy monsters that can show up on platters elsewhere in New Orleans, of perfect size and texture. The Texas oysters looked and tasted just like a good Gulf oyster; plump, pale, creamy. The Apalachicolas, however, were altogether different and deserve their fame. They looked and tasted brighter and brinier, more like a coldwater oyster from New England than their brethren elsewhere in the gulf.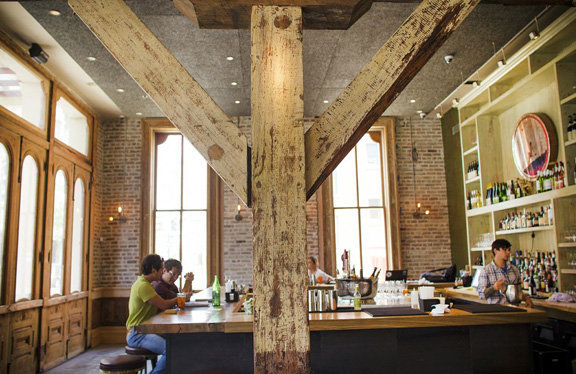 Shrimp toast, an English as well as Chinese classic, was superb but the miniscule portion did not support the $7 price. Otherwise the menu is short, eight entrees, mostly grilled, seven vegetables, some soup and a clutch of small plates in addition to the raw bar (there is, of course, crudo; a sign of the times); prices look lower than they are because everything is a la carte.
Pêche does not offer much in the way of beer but their draughts are local and good. An unlikely standout; Lazy Magnolia Jefferson Stout made with sweet potato, which makes some sense despite the apparent incongruity. It displayed some massive stout flavor with a rich, round texture and dry finish that was ideal for drinking with our oysters and shrimp toast.
Bloody Marys are serviceable, nothing more, and smallish for the price. Consistent with national practice outside New England, Pêche is clueless when it comes to chowder. Then again Yankees struggle with gumbo and, as at Cochon, the gumbo at Pêche shines.
We should give dinner a try once they finish the place and the crowds thin a little.