The R'evolution starts now
Husk in Charleston, South Carolina, justifiably has garnered extravagant praise, for both its philosophy and its food. Sean Brock revives lost southern staples by finding then cultivating landrace crops, raising heritage livestock and looking for lost recipes. He, however, is no culinary antiquarian; the kitchen at Husk trades in the reinvention rather than replication of old lowcountry foodways.
A similar buzz sounds in New Orleans if not nationwide, at least not yet, for an analogous enterprise. The lack of national attention is a shame, because as good as Husk can be, which is extremely good, Restaurant R'evolution is better. That may be in some small part because the richer and more varied Louisiana culinary tradition gives them more to work with, although traditional lowcountry cuisine is less well known and therefore may have generated more journalistic interest.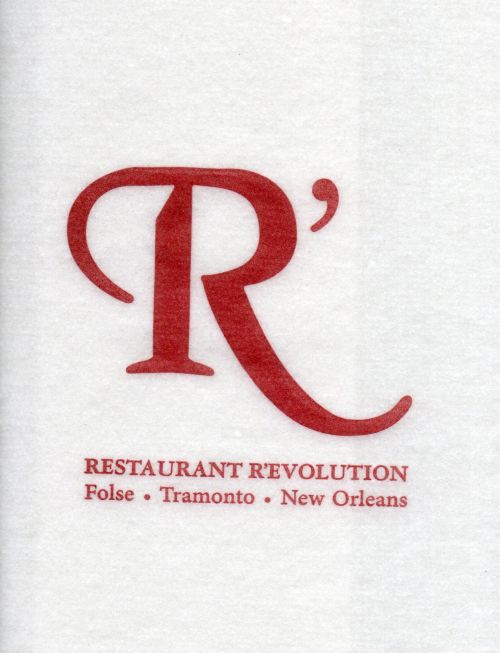 In terms both of depth and breadth, the ambition of its owners, John Folse and Rick Tramonto, is surpassing large, for their goal is to encompass all of those expansive Louisiana foodways across both time and space. You will find both Creole and Cajun underpinnings and if you want, you can have steak, then top in any number of ways true to the Louisiana tradition, including English marrow sauce.
Folse is particularly well placed for the task. For a long time he has operated an elegant restaurant in Donaldsonville and has engaged in numerous culinary enterprises at scale, including a restaurant supply business, cooking school and cheesemaking operation.
A tireless proselytizer for the cuisine of Louisiana, Folse not only has traveled extensively to promote it, but also has written a clutch of books to spread the word. One of them, The Encyclopedia of Cajun and Creole Cuisine, surveys the history of the state's polyglot cuisine by outlining in turn the culinary cultures that have combined to create it.
Some seven of them predominate, and if Folse will not win a Bancroft his historiography is for the most part sound. In a jab at conventional wisdom, for example, he identifies England as a major source of Louisiana foodways and is fearless in implementing his vision.
You therefore will find an array of potted foods at R'evolution. Here is what you get for the astonishing price of $5; potted pig's head served with a little mason jar of pickles, four different condiments, an array of roast nuts and dried fruits and, in stark departure from common practice, more toast than you need. All of it is made in the house and all of it is, well, breathtaking. The Editor would have liked more pork, but only out of greed; portions at R'evolution are perfectly calibrated to satisfy its diners rather than stuffing them.
All of the food we sampled sang. Presentation also is a treat; the triptych of quail (one southern fried and served with milk gravy; another stuffed with boudin and roasted; the other glazed with Absinthe), for example, arrives nested in the three bays of a plate designed expressly for the preparation. Snapper and pork belly face off across a porcelain plain, each one resting on a different base of vegetables. The 'death by gumbo' (andouille, oyster and quail, with filé rice) justifies the extravagance of its name, there are sweetbreads laced with the Herbsaint of Louisiana, all manner of oysters raw and cooked, a flounder stuffed with crawfish floating on a stew of artichoke and oyster. A crunchy housemade ice cream of blueberry crumble, happily reminiscent of its British brown bread ancestor, proved particularly pleasing.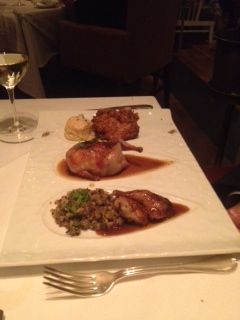 Three quails at R'evolution
We could go on and on, but lists may be boring and besides, the menus appear online. Instead we advise readers to order anything; everything was good.
The name R'evolution is both clever and apt, because tradition melds seamlessly with innovation within the dishes served. It might apply equally as well to the setting as to the food. The raw space should have proven awkward to use, Siberian in scale and stuck with a vast central steppe deprived of windows. The designers of R'evolution, however, took the least promising part of the layout and made it the best room, surrounded by four narrower ones of equal size. The boxy central space opens on opposing ends, and the arcade of tall arched windows on Bienville Street is visible on one of them, the orangery in an interior courtyard on the other.
The central room features that rarity, a good modern mural. It depicts scenes of Louisiana life from the early nineteenth century, interrupted only by the voids and a big welcome mirror on the wall across from the bar. We know the bar flanks the other side because a whimsical gash of horizontal glass exposes some of its shelved bottles, just big enough to betray some of the barroom bustle but not big enough to distract.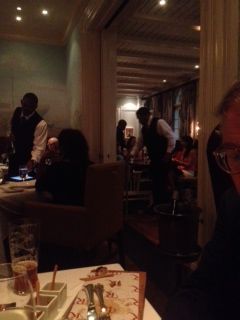 The designers made the wise decision not to construct a uniform décor. Instead, each room displays a singular personality that sympathizes with the others. That decision also honors a Louisiana tradition; the series of rooms at warhorses like Antoine's or Arnaud's, and stalwarts like Commander's Palace, sport disparate designs as well.
The central space is the most formal, followed by the one on the orangery, then the streetside. Last, least formal but not least lies a second space with no external light; and there, beside it, stands the open kitchen. The designers delight us again.
Only the dark bar disappoints, a bit stodgy and staid, perhaps the burden of its alternate function; the building writ large is an expensive hotel. But there is draft beer and it is local, drinks are superb, and the magisterial wine list posts fair prices. If all is not forgiven in architectural terms, we find it hard to care.
Service could be considered revolutionary as well, if in a reactionary way. It is urbane, friendly and unobtrusive all at once, homage to an elegant if imagined era when waiters took tremendous pride in their performance and even appeared concerned for the existential welfare of their customers. The pacing of the courses is perfect; captain and waiters appear as if out of telepathy just as each diner thinks something else might be nice. Service, in fact, is so good that R'evolution has spoiled the experience (at least to some extent) at every upscale restaurant we have visited since.
These observations are all the more remarkable because our dinner coincided with the New Orleans Jazz and Heritage Festival, a fortnight when the city is overwhelmed with visitors serious about their fun, in terms of drinking, shopping and food as well as music.
The most competent restaurant at quieter times (and when it comes to serious dining in New Orleans, any other time is quieter) mismanage their bookings. Parties with a reservation can wait more than an hour past the allotted time, service becomes ragged, even frantic, the kitchen loses ground and long gaps or rushed overlaps in the service of courses become routine.
Because of the nature of its food and service, the task of the staff at R'evolution is not easy, yet we found no such evidence of overbooking to mar the serene enjoyment of dinner there. Drink orders go down right away, as they should, wine materializes before the food, and the breads themselves are worth a visit. Each diner gets an amuse-bouche before the starter, which appears a momentary interlude later.
Main courses follow when they should and each diner gets each course simultaneously, served by a team as big as required. They will not rush you through dessert, after dinner drinks are more than reasonably priced and then Melchior's box arrives on the table. Instead of licorice alone, the little drawers shelter an array of cookies and petit fours, these last treats on the house to square the circle with the amuse-bouche. All of it comes off like a merry human machine. None of it requires a home equity loan; the cost of dinner, including drinks before dinner, wine with dinner and after dinner drinks (apologies to Wainwright pere), starters, mains, coffee and shared dessert (no more room) tops out at just over $200 with a generous tip.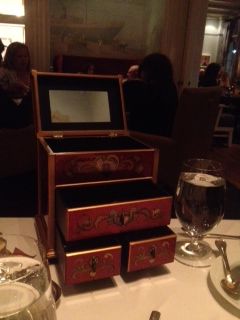 Our sole concern; how, possibly, can they keep this up?
Restaurant R'evolution
777 Bienville Street
New Orleans, LA 70130
504-553-2277