Cooking with Worcestershire, featuring an Appreciation of Marcel Boulestin.
The first of all Things We Like posted at britishfoodinamerica, back in our inaugural Number more than three years ago, was Worcestershire sauce. Our enthusiasm remains undimmed, and as it transpires that is something we share with the great Marcel Boulestin.
None other than Elizabeth David revered Boulestin, and she wrote a lovely essay on him called "Having crossed the channel" for Wine and Food in 1965 that later appeared in An Omelette and a Glass of Wine. Boulestin himself wrote a series of deservedly popular cookbooks during the interwar years that remained in print into the 1950s, and maintained an excellent restaurant, 'Boulestin,' in Covent Garden. He is a wonderful figure, a Frenchman who "fled the malicious gossip, the dramas and scandals" of his Parisian circles to find fulfillment in London. ( Omelette 162) He was "popular" on both sides of the Channel "for his cheerfully sybaritic approach to life." (Allen)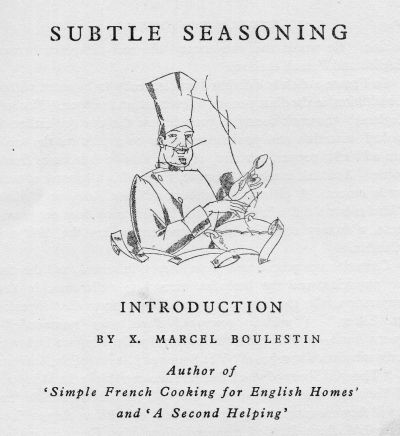 Boulestin was something of a polymath who served (for France as a translator to the British Expeditionary Force) for five years in the First World War. He wrote novels, including Fréquentations de Meurice, a serial that explored gay themes for the French magazine Akademos ; it was, according to David, a "succès de scandale" in France, but British publishers found it too explicit to print. ( Omelette 164)
Previously he had translated Beerbohm, then worked as an art dealer (he turned a profit on Modigliani) and interior designer (his shop, Decoration Moderne, was too progressive to prosper) before turning to the kitchen in his cookbooks and at 'Boulestin.' Food columns followed for Country Life, Daily Express , Harper's Bazaar, the Evening Standard , Spectator , Manchester Guardian , Morning Post , Daily Telegraph and Vogue . In 1937 he broke new ground by conducting the first televised cookery demonstration. (Allen; Firuski xv)
To David's evident surprise, Boulestin exhibited a "serious anglomania which extended even to our food," from mutton with mint sauce to "the anglo-oriental romance of curry." ( Omelette 162) He spent most of his life in Britain, but remained proudly French and never renounced his citizenship; he called his autobiography Myself, My Two Countries. In David's hands his personality leaps from the page, and she makes a good case for the lasting impact of his work.
Boulestin emphasized simplicity and innovation that soared from classic French--and English--precepts that his less precocious culinary rivals overlooked. In a wonderful passage, David decides that "[h]is special gift was to get us on the move," metaphorically and intellectually, as well as physically: "He was nothing if not open-minded, adapting English ingredients to his own purposes and forever exercising his gift for fantasy." ( Omelette 170, 171) Nothing could have been more appealing to David herself, and her enthusiasm for him sweeps us in.
Boulestin's own enthusiasms extended to Worcestershire and in 1926 he wrote the preface to a promotional booklet prepared by Lea & Perrins--the only authentic Worcestershire--extolling the virtue of their famous product. In Subtle Seasoning: A Collection of Recipes for Epicures and Others , he explained that if a French friend visiting England for the first time were "to express the desire of tasting English food," he would take him from London, which he thought was "daily, hourly becoming less characteristic," out to remotest Cornwall or Devonshire for things like squab pie and Apple-In-and-Out. ( Subtle Seasoning iii)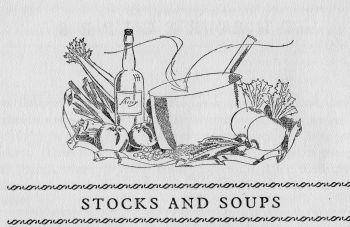 Back in London, however, Boulestin still could take his friend "to places where he would have whitebait, dressed crab, grilled sole, steak, cutlets and mixed grill…. He would then understand the real difference between English and French cooking." One difference was the proliferation of bottled sauces that, in contrast to David, Boulestin thought was no bad thing. ( Subtle Seasoning iv) It was an ancient and admirable English tradition: "Centuries ago people took great interest in sauces, and the chef, the physician, and the herbalist seemed to collaborate in their preparation."
Citing "letters written about 1720 to the 'ingenious Dr. Lister' '( medécin gourmande d'une reine gourmande'-- Queen Anne--as Brillat Savarin puts it),… we find many herbs mentioned apropos of 'The Soups and Sauces of the Antients.'" ( Subtle Seasoning iv) One of these sauces, for lamb, infused honey with juniper, mint, parsley seed, 'Peneryl' or pennyroyal, pepper, rue (a bitter herb) and dried thyme. This "elegant sauce" did double duty as an electuary, or medicine, confirming Boulestin's assertion that at least as late as the eighteenth century the borders between medicine and cuisine blurred.
While the electuary for lamb may sound strange, it in fact embodies an unbroken line of English culinary practice that combines apparently dissonant tones of bitter, sweet, sour and hot. Dr. Lister's combination of ingredients is no more outlandish than the constituents of Worcestershire itself, which includes anchovy, chili, clove, garlic, molasses, onion, sugar, tamarind, vinegar and the undisclosed "natural flavorings" that render it impossible to duplicate.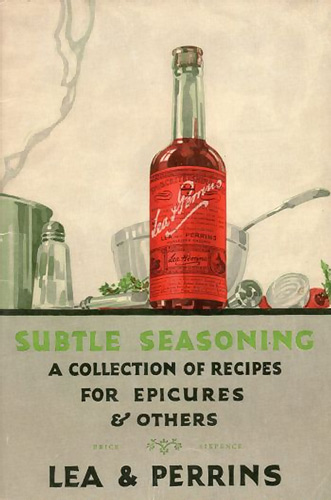 Subtle Seasoning includes a lot of recipes for so small a volume, but most of them may not belong to Boulestin; they had "been personally tested at the Good Housekeeping Institute by Mrs. Cottington-Taylor." In teaming her with Boulestin to promote their product, Lea & Perrins did not stint; she was a reliably prolific specialist in writing cookbooks tied to various companies, including Cannon Metalworks, Sunkist and Vulcan Stoves. One of the more endearing titles was Fifty Ways of Serving Sausages sold "with the compliments of W. P. Cook, wholesale and retail pork butcher, Sudbury, Suffolk."
Not a sausage in sight in Subtle Seasonings , but there Mrs. Cottington-Taylor did dose nearly everything else with Worcestershire, but not applesauce, which she unaccountably includes in the booklet.
Her kedgeree is bland (no curry and not much else, not even smoked fish) but the recipes for "new mulligatawny" and tomato soup are beyond reproach. The mulligatawny is a clear infusion of mutton or chicken fried with apple, carrot, celery, leek and onion, then simmered with curry and finished with lemon juice and Worcestershire before straining for service with a dollop of rice.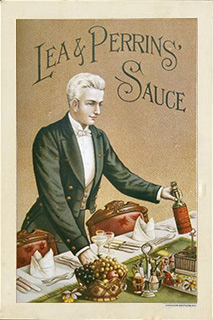 Mrs. Cottington-Taylor's tomato soup is prototypically English in its use of bacon, thyme, turnip and Worcestershire in addition to the customarily Italian onion and parsley. It sounds something like a traditional sauce that Elisabeth Ayrton included in The Cookery of England.
Boulestin himself found Worcestershire particularly congenial to "Pilaffs, Hachis, Fricassées," and we are fortunate that he does provide a handful of his own recipes in Subtle Seasoning . Like any English cook, he understands Worcestershire's affinity for mutton or lamb and adds it to his shepherd's pie, which he flavors with bacon and calls Hachis Parmentier in the French fashion.
There also are embodiments of that "anglo-oriental romance," a "Maltese Curry" that sounds odd but tastes good and Boulestan's "Sauce à l'Indienne," actually an English curried cream to accent just about any cooked vegetable or grilled meat.
Worcestershire is nothing if not versatile. It was the first bottled sauce that enjoyed widespread success in the United States, beginning soon after the first commercial batches hit the shelves of British grocers in the 1830s. By 1926, it had crossed into the Continent. "There [was] n enormous demand for Lea & Perrins' sauce in France, where the chefs use[d] it in preparing those admirable flavourings which have made French cooking famous all over the world." ( Subtle Seasoning 14)
By the Second World War boundaries had blurred again, this time between the culinary and martial. According to Rick Stroud in The Phantom Army of Alamein (London 2012), the Camouflage Unit of the British army combined spoiled flour with rancid Worcestershire to pattern everything from helmets to trucks and armor during the North African campaign of 1943.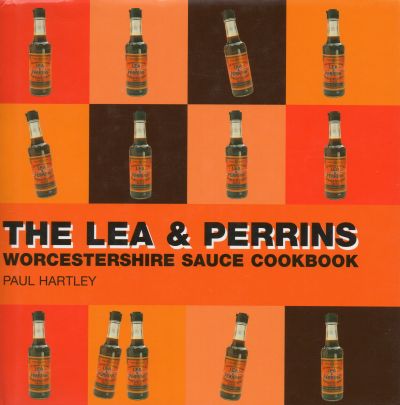 Mrs. Cottington-Taylor, dedicated shill that she appears to have been, advocated adding the sauce to virtually all things savory. It therefore is somewhat surprising that four decades later another hired gun provided his readers with a comparatively paltry number of uses for Worcestershire at the behest of Lea & Perrins.
Paul Hartley, previously commissioned by two other icons of British cuisine, Colman's mustard and Marmite yeast extract, includes as much fluff as guidance in The Lea & Perrins Worcestershire Sauce Cookbook . Not only the name pales compared to its prewar predecessor, but so do the recipes. One of them, "Worcestershire Mint Sauce," sports a name nearly as long as its instructions; combine the sauce with some torn mint and a pinch of sugar.
Padding, taken to the edge of inanity, appears much in evidence. A sidebar to "Worcester Roasties," potatoes imaginatively roast with butter, olive oil, salt and the sauce, demonstrates the phenomenon:
"Lea & Perrins Worcestershire Sauce is unmistakably Lea & Perrins Worcestershire Sauce. It's become one of the most instantly recognisable store-cupboard icons in the world, which owes much to its distinctive orange label and signature. Orange is a high-visibility colour. The colour of the Golden Gate Bridge is International Orange. In English heraldry, orange denotes strength, honour and generosity. Orange is also the national colour of the Netherlands." (Hartley 41)
Perhaps Hartley has taken 'Statement of the Obvious' as his theme, but you do not need a book to sprinkle Worcestershire on your steak, spike some chili with it, add it to a hotpot, dose your barbecue sauce or to notice the "high visibility" color of a bridge. His book does, however, include some nice illustrations of old labels, advertising and ephemera.
When it comes to Worcestershire not all contemporary cookbooks exhibit a lack of imagination. It appears on the grand tables of Old School restaurants like Galatoire's in New Orleans, and Louisiana cookbooks reflect the fact that it also is a staple within the Cajun as well as Creole kitchen.
Jamie Oliver's Great Britain , published during 2011 in Britain and 2012 in America, includes a short description of the author's visit to the Lea & Perrins factory where he was hospitably received. A single recipe dominated by Worcestershire follows a two page photospread but the sauce finds its way into other dishes elsewhere.
Oliver does not appear acquainted with Subtle Seasoning ; if he is, then he has ignored one of its precepts, to "only use a little of the sauce, so as to bring out the flavours of your original ingredients, not to drown them." ( Subtle Seasonings 14)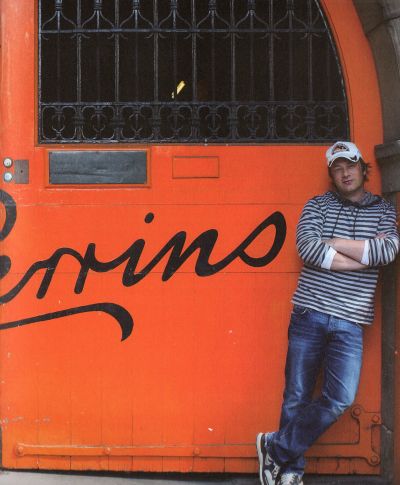 Jamie at the factory.
Too much is never enough for the enthusiastic, even manic Oliver, who treats Worcestershire itself as one of his 'original ingredients' rather than as a garnish or tone. His steak and kidney pudding absorbs 4 tablespoons of the stuff; double the amount flavors a dish of asparagus and mushrooms on toast to serve six; and Oliver likes to simmer brisket of beef with a whole bottle. A less extravagant but still assertive amount of Worcestershire flavors a 'Kinda Bloody Mary' mignonette for oysters; these are good and balanced recipes despite the apparent excess.
Lea & Perrins brewed their first commercial batch of Worcestershire in 1837, and during 1997 the company marked a century of production at its Midland Road plant in Worcester. We can only hope that the iconic sauce marches on in perpetuity.
Sources:
Brigid Allen, "Boulestin, (Xavier) Marcel (1878-1943)," Oxford Dictionary of National Biography Online (Oxford 2004; accessed 9 February 2013)
Marcel Boulestin (introduction), Subtle Seasoning: A Collection of Recipes for Epicures & Others (Worcester, England 1926)
Elizabeth David, An Omelette and a Glass of Wine (New York 1985)
Elvia & Maurice Firuski (ed.s), The Best of Boulestin (Kingswood, Surrey 1952)
Paul Hartley, The Lea & Perrins Worcestershire Sauce Cookbook (Bath, England 2005)
Jamie Oliver, Jamie Oliver's Great Britain (New York 2012)