Chicken & green olives braised in Madeira.
This is another one of Noël Cossart's recipes from Madeira: The Island Vineyard. His version is a little eccentric and not a little unclear, so the Editor's version takes a certain tangent from it. If you dislike olives, replace them with little onions or just leave them out, but the recipe will lose its piquant potency. About four servings, three if your guests are hungry.
---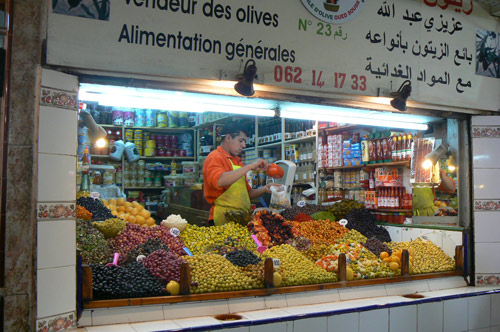 scant 2 tablespoons lard (preferred) or neutral or olive oil
2 oz diced salt pork, pancetta or bacon
a 3-4 lb chicken cut into 10 pieces
pepper
2 Tablespoons flour (preferably Wondra)
1 cup chicken stock
½ cup dryish Madeira (Sercial or Rainwater)
4 oz pitted green olives
---
Melt the lard or oil over medium low heat in a big heavy skillet and cook the salt pork or its alternative until it turns crisp and gold: Remove the pork from the skillet.
Increase the heat to high, generously season the chicken with pepper (you should not need salt) and brown it.
Scatter the flour into the skillet and flip the chicken pieces to ensure all of the flour meets some of the fat, then pour in the stock, wine and crispy pork product.
Bring the sauce to a boil, lower the heat, add half the olives and simmer everything until the chicken is tender and its sauce has thickened, usually in about 40 minutes or a little less.
Serve the chicken with its sauce and the remaining uncooked olives.
Notes:
-We usually enumerate the changes that the editor has made to a received recipe and why, but in this case the original instructions seemed to confusing and unlikely to achieve a good result that we never attempted to follow them.
-Of course you need not buy a whole chicken; if nobody like white meat use an equal weight of thighs, or conversely breast split in four.