A Bermudan salad from Outerbridge's
'Outerbridge's Original Sherry Peppers Sauce' may have an awkward name but it is a Thing We Like. Along with many commercial enterprises, Outerbridge's has a cookbook, theirs self published in Bermuda during 1991. It is of course promotional; all the recipes include an Outerbridge's product, which is no bad thing because their products all are good. These proprietary cookbooks are a mixed bag; Busha Brown's version is dire enough to have earned a posting on our Wall of Shame, but Outerbridge's sits happily with the book from Sarson's vinegar on the useful shelf.
This salad from the Outerbridge book will sound strange to most people unacquainted with the hardcore cookery tradition of the Caribbean, for though, like the Bahamas, Bermuda is not of that sea, the foodways of all these islands share certain similarities. Staple vegetables grow year-round, but the lucrative returns from the sugar culture and other monocrop economies pushed the planter societies of the seventeenth and eighteenth centuries to import rather than use tillable soil to grow many of their foodstuffs. Much was preserved which, before the era of refrigeration or even ice ships, meant that much was salted, pickled and, later, canned. As in Portugal and Atlantic Canada, a taste for these robust and often pungent flavors outlived their necessity to remain embedded in our broadly defined Caribbean cuisines. Rice was never grown to any extent in the islands but it was feasible to ship cheaply and island palates developed a taste for it too.
Our classic Caribbean composition starts with rice and bell pepper before moving straight to the larder for salami, canned tuna and cured aromatics; capers, olives and pickled onions. The salad is brightened with lemon zest and whatever fresh herbs you have got, then bound with a little mayonnaise lightened with yogurt and, of course, some Outerbridge's. It is easy to assemble and, as the only notation to the original recipes says: "Absolutely scrumptious!"
---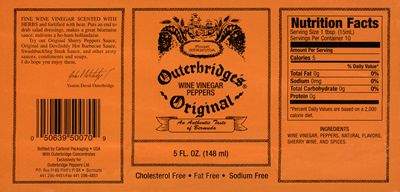 -2 cups cooked rice
-¼ lb salami, either thinly ribboned or finely diced salami
-1 can tuna
-3 Tablespoons capers
-about 15 stuffed olives, sliced into thin rounds
-scant ½ cup chopped pickled onions
-zest of a lemon
-2 Tablespoons chopped herbs (anything green, preferably more than one kind)
-3 Tablespoons mayonnaise
-3 Tablespoons yogurt
-2-3 Tablespoons Outerbridge's Original Sherry Peppers Sauce.
-salt and pepper
---
All you do is separate the tuna into flakes or shards, dump everything into a biggish bowl and toss it together.
Notes:
- While uniquely Caribbean in this guise, the Outerbridge salad descends straight from the extravagant salamagundies beloved of the eighteenth century English. These visual stunners arrayed proverbial serried ranks of all manner of cold ingredients; vegetables, meats, anchovies….
- The original recipe uses a third less capers and half of our lemon zest. It also calls for a full half cup of cocktail onions; we found that they tend to dominate the salad so use a little less.
- Other pickled onions work at least as well, including expensive (in the United States) British onions pickled in malt vinegar or Portuguese onions pickled with white vinegar and hot red pepper flakes. Antonio's is a good brand and cheap.
- The size of tuna cans varies to a surprising extent; look for about 6-8 ounces. Goya tuna with chilies and aromatic vegetables is excellent here, even though packed in water. Otherwise any good tuna from Italy, Portugal or Spain packed in olive oil works well in this Bermudan salad.
- Do not use nonfat yogurt; it only separates and waters the texture of the salad; not good. Get as much fat content as you can; it will still not be much, this is yogurt. Greek style yogurts are the clear choice.
- Outerbridge products have become harder to find; our jumbo 750 ml bottle came courtesy of Brian, bartender extraordinaire at The Mooring in Newport, Rhode Island. If you do not know him, various internet sources can send you some Outerbridge.
- The Editor is particularly partial to Outerbridge's Original Sherry Rum Peppers Sauce. It has all the snap of the basic sauce enlivened with the spice tones of good dark rum. If you cannot find it, use basic Outerbridge with a dash of rum.
- A similar salad from the Outerbridge book is good too, but not as… Original, and less uniquely Caribbean.. This one rests on a foundation of beans and tuna. Toss together a can of red beans "drained of all but 2 tablespoons of liquid," about 12-13 oz good canned tuna, a thinly sliced big onion, 2 coarsely chopped tomatoes and a pair of diced celery ribs with 2 Tablespoons of extra virgin olive oil, and a Tablespoon each of wine or sherry vinegar and Outerbridge Sherry pepper sauce.
- You need not spend a ton on the olive oil but should use something interesting. Goya extra virgin is superb value for money.
- Both salads are good served over greens and garnished with minced chive or scallion.
- If you cannot get any Outerbridge make these salads anyway. Substitute a little hot sauce with or without a drip of Worcestershire. The salads will be good, just not as good.
- Alternatively, make your own sherry pepper sauce by steeping chilies, whether fresh or dried, in Sherry of your choice, but never sweetsweet cream. The heat of the sauce will depend on the heat of your chilies, and the longer you steep the chilies the more flavor and heat they will impart to the Sherry. A cautionary note; dried chilies take the Sherry to an extreme level of heat fast.