In Number 19 of britishfoodinamerica, we offered readers formulae for Bajan falernum, a beguiling infusion based on overproof rum, citrus and Caribbean spice. Jamaica has its own tradition of rum infusions that would be unfair to neglect; these two are based, one of them loosely, on instructions from Norma Benghiat's odd and appealing Traditional Jamaican Cookery. (London 1985)
An allspice dram.
-a handful of whole allspice berries
-a big cinnamon stick
-1 cup lime juice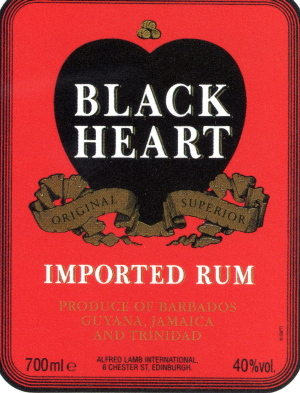 -2 cups overproof rum (the Editor has Forres Park Puncheon smuggled from Trinidad via Tobago)
two weeks later…
-½ cup midbodied rum (like Angostura's Royal Oak, Mount Gay Eclipse or Westerhall)
-1 cup simple syrup
Dump the four early ingredients into a clean jar and let it stew for two weeks.
Strain off the solids, add the two later ingredients and either sip over crushed ice or mix with double the amount of rum.
Gingered rum.
-1 cup of relatively light rum, like Depaz, Ten Cane or Westerhall, which verges in flavor on middleweight
-2 Tablespoons ginger juice or 3 of grated ginger
-peel of a lime
Put these three things in a jar for the customarily Jamaican fortnight (Barbadians work their infusions faster), strain off the solids and drink the gingered rum, chilled and neat, over ice or in a punch or cocktail. Be creative.
Notes:
- Miss Benghiat calls her allspice infusion "Pimiento Dram," which could prove confusing for our readership. She also uses a little over six times our amount of simple syrup to make a dramatically sweeter and weaker cordial than our muscular variation.
- Save the allspice berries. Dry them, grind them and use them as you would their sober cousins. The elusive flavor of the rum will delight you.
- Miss Benghiat calls her version of our gingered rum "Essence of Ginger." Our roles have reversed since the first Jamaican infusion; she goes postal and uses overproof rum instead. Her intent would seem to be to use the Essence as a seasoning for foods or flavoring, a species of bitters, for drinks. We drink ours. To make ginger bitters get some grain alcohol, or your overproof in a pinch, and pour it over a jarful of minced ginger. Strain off the gunk after two weeks, first through a strainer and then a coffee filter. This second phase will take forever but you need to endure the delay because you do not want cloudy bitters.
- It can be hard to find overproof rum so you may need to go slumming and submit to the purchase of a Bacardi product, '151.' It will do.
- Miss Benghiat includes a Jamaican version of the anciently excellent Bajan sangaree but, apostasy, lacking in rum. It is Sherry of an undisclosed sweetness further sweetened with sugar to taste, seasoned with a little nutmeg and peel of lime, then diluted with double the water for service over ice. Refreshing but a bit weak for the buzzed up taste of our staff. A little lime juice could cut the sugary edge.
- Attentive readers will note that we have failed to recommend Jamaican rums for these Jamaican rum infusions. If authenticity is an irrespressible urge, go ahead and use one. The excellent Coruba is darker than our recommendations for these infusions and a Thing We Like: Myer's dark is good, but lacks the nuance of Coruba.