Sangaree & Other Rum Drinks
Sangaree. This recipe has evolved from Jessica Harris's Rum Drinks (San Francisco, 2009). Primary sources date a similar mixture to eighteenth century Barbados. It is billed as a drink that West Indian planters would have served in the midmorning, but for those of us who do not spend the entire day drinking various rum concoctions, it makes for a nice aperitif or brunch drink. We add less water than Ms. Harris and insist upon the bitters she makes optional. One drink.
---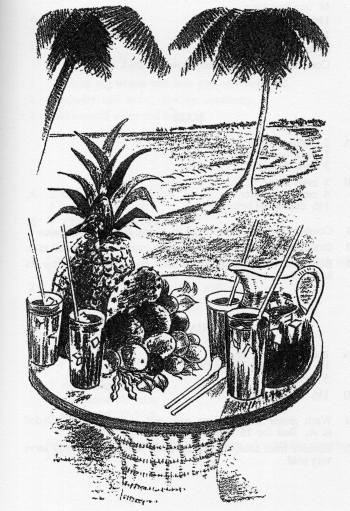 - 2 oz cold water
- 1 ½ oz dark rum (we like Coruba)
- 1 oz Madeira (dryish Verdelho recommended
- ½ oz freshly squeezed strained lime juice
- 1 teaspoon sugar
- freshly grated nutmeg
- ice cubes
- dash of Angostura bitters
---
Combine the water, rum, Madeira, lime juice, sugar and nutmeg in a cocktail shaker. Shake well, and pour into a tumbler over ice. Top off with Angostura bitters and serve.
Notes:
- The recipe from Ms. Harris uses a lot more water, enough to fill a highball glass, and she calls for a 'dark, Barbadian style rum like Mount Gay,' but Mount Gay is not that dark. It is, however, an excellent pale amber that also makes an interesting Sangaree.
- If you want to try the drink our way and cannot find the elusive Coruba, Meyer's is an acceptable substitute, but it is neither as smooth nor as interesting as Coruba.
- Ms. Harris does not specify what style of Madeira to use, which is a bit of a problem because the fortified wine ranges from off dry to quite sweet. Sweet wines were more popular during the eighteenth century, so that if authenticity is your game you might try substituting a Malmsey Madeira… and skip the bitters, which at some point did not yet exist. Our use of less water, however, probably comes closer to the original flavor balance of the drink; rum was strong, particularly Barbadian rum, in the seventeenth and eighteenth centuries.
- 'Sangaree' may or may not be a corruption of 'sangria.'
Sangaree another way. The Barbados Cookbook, a compilation of local recipes complied in 1983 by Peggy Sworder and Jill Hamilton, omits rum per se in favor of falernum, which sits in for the Madeira in the Harris recipe, and Madeira in turn replaces her rum. Although it is possible to find nonalcoholic falernum, its better manifestation is as an alcoholic cordial based on rum that does work better for sangaree. Falernum formulae vary with the producer, but in general it includes almond extract, ginger and variously combinations of allspice, clove, lime and vanilla.
One drink.
---
-½ oz falernum
-3 oz Madeira (as dry or sweet as you please)
-½ oz simple syrup (see the Notes)
-cracked ice
-lime wedge
-soda water
-grated nutmeg
---
Shake falernum, Madiera andsimple syrup into a 6 ounce glass, fill nearly with ice, squeeze and drop the lime into the drink, top up with as much soda water as you like and add a grating of nutmeg.
Notes:
- Simple syrup is… simple. Just boil up sugar and water briefly in a ratio of 2:1. Some writers warn against boiling the simple syrup; you do not, in this case, want any hint of caramelization. They advocate simply shaking the sugar and water together but we have found it difficult to admix the sugar and water without heat.
- To make falernum, follow a simple two-step process. Mix together 3 oz overproof rum (at least 75% alcohol) and the zest of about 5 limes, then add ¼ teaspoon or so allspice, about 20 whole cloves, and a hefty Tablespoon of minced or shredded ginger. Leave the mixture overnight, then strain it, squeezing the residue with excessive force to extract all the juice. Now add a very scant ¼ teaspoon of almond extract, 3 oz strained lime juices, more or less, and simple syrup to taste (most recipes would add about 7 oz here; the Editor does not have such a sweet tooth and adds considerably less). Shake it all up and you are ready to go.
- If you do not have any overproof rum, make some falernum anyway with a greater proportion of less deadly distillate.
- Alternatively, follow the simpler recipe derived from LaurelAnn Morley's Caribbean Recipes "Old & New" (Bridgetown 2006) to make falernum a plainer way. Heat 1 lb sugar with 5 cups water and let the simple syrup cool, then add 5 more cups water, a couple of drips of almond essence, about ¼ cup lime juice and a generous cup of white rum, preferably but not necessarily overproof. Shake it all together.
- If you are desperate to murder a drink, or simply impatient and would like a taste of history after you have made your falernum, corn and oil is another Old School Barbadian drink. Shake up equal parts falernum and a good rum of your choice, then dump the mixture over ice. If you want something less sweet, decrease the proportion of falernum; Ms. Morley uses half as much of it as rum in her corn and oil. The drink inevitably appears as 'corn 'n oil, but the Editor cannot bring herself to adopt the forced informality.
- Falernum may or may not date to the eighteenth century; written references start to appear during the nineteenth.
- The Editor is most partial, to both Madeira and rum. On an evening when IQ scores are unimportant she therefore likes to drink them in the style of a Martini. Take enough good rum almost to fill your Martini glass, dump it in a picher or shaker over scads of ice, add a little Madeira and some (small amount of) lime juice, to just cut the sweetness of the booze, and strain over a peel of lime. It's up and it's good.