An Appreciation of Ronald Johnson, his poetry & The American Table, with a note on batter puddings.
1. The loss of a pudding in America.
The casual traditionalist might take a stab at Yorkshire pudding for a holiday dinner or special occasion, but otherwise batter puddings are nearly nonexistent in the United States. We find the occasional dessert in the form of fruit clafoutis but not something savory for supper itself. That was not always so, at least on the evidence of the English imprints that remained so popular on the American cookbook market at least until late into the nineteenth century.
Batter puddings have become mysterious to Americans; people do not tend to realize that Yorkshire pudding is a version and they may consider the term Toad in the Hole as an example of British obscurity. It sounds weird so people think that it tastes bad.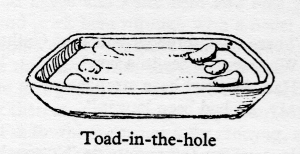 2. Its poetic champion amidst the beats.
In The American Table, Ronald Johnson emerges as something of a champion for the batter pudding. Johnson is himself one of those lost figures, a poet celebrated among a very few poets who is not so much forgotten as never known among the educated population more generally. His work is out of print.
Johnson came from Kansas, moved to New York, visited England, settled in San Francisco and went back home to die. His is a story at once stirring and poignant, and emblematic of an American bohemia that nurtured the beats.
It was the age of heroic New York, not only at the pinnacle of postwar power but also an incubator of the avant-garde, of abstract expressionism, unmetered verse and leftist ferment. Poets and painters could afford to eke out existence in lower Manhattan, and many of the greats took the city up on its grudging largesse.
It was the heroic age of the Cedar Tavern too, from the early fifties until about 1963. Johnson got his degree from Columbia and idled there with edgy New York. Those were the days, of the New York School; de Kooning, Guston Kline, Motherwell, Pollock, Rothko and the rest; and Ginsburg, Kerouac, O'Hara, Oppenheim and Jones, poets and writers underground. All of them argued at the tavern, which lingered in faded myth until the outset of the twenty-first century. The Editor always liked it there.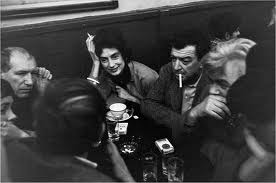 Artists arguing at the Cedar Tavern.
Many of these people were quietly gay before Stonewall, Johnson among them. He took up for almost a decade with Jonathan Williams, who also served as 'cicerone and mentor.' Williams was six years senior, at their young age "just enough older for that relationship to work." (Jargon 2) He would go on to become an accomplished photographer and poet, and to publish his own work and the work of others through his esteemed poetry house, the Jargon Press. By every account a charming and gregarious man, it was Williams who introduced Johnson to those avatars of the avant-garde.
3. Aesthetes in England.
In his awkwardly artsy but moving obituary of Johnson, Williams comes across as a self-conscious aesthete, still wistfully jilted three decades on. He writes that their "relationship of nearly a decade was always much more peripatetic than restricted and passionate. Roving legs meant roving eyes" and Johnson "packed his bags one day and got a ride to San Francisco with some mysterious amoroso." (Jargon 3)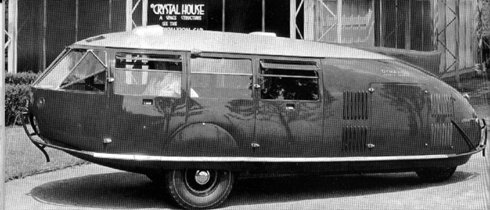 Off to San Francisco…
Johnson would spend some twenty-five years in San Francisco living 'hand-to- mouth.' The two kept in touch but, according to Williams, "saw each other only very rarely." Johnson would teach for the briefest spells separated by gashes of time, in the 1970s at Kentucky and Washington, in the nineties at Stanford and Berkeley, but more often "would report that he was bartending in a club for bikers and leather boys; or, that he had established a little catering business." (Jargon 3)
Before the breakup they wrote and they hiked, the Appalachian Trail, the Rockies, then Britain. They walked and walked; through the Lake District, out to Land's End, up the Wye Valley and everywhere else.
4. An unremembered artist.
Johnson lived with Williams there for a couple of years from 1961, in Hampstead of course. The sojourn produced The Book of the Green Man, a long poem in four parts corresponding to each season. Johnson composed it through the reuse and recombination, both of older texts and tropes within the poem itself ('reweaving, line by line'), to explore the themes of inquiry, creation, transition and transformation that would preoccupy him for the rest of his life. It brought him fleeting fame, at least within the poetic cloister; Harold Bloom wrote to Johnson in praise of Green Man. On the flyleaf of the book's first edition, Christopher Middleton observes:
"It is a remarkable piece of work. The surprise is this: he presents an image of England, or, to be precise, of sundry English scenes, with a vividness and strangeness beyond the reach of any English poet…. Ronald Johnson has unearthed an England which most people have forgotten."
To be more precise, it is an England that never existed except in Johnson's imagination, but otherwise the blurb sounds fair.
Hampstead then was cheap like New York; the flat Johnson and Williams rented from Barbara Jones cost twelve guineas (so Old School) a week. (Jargon 2) She and they knew nearly everyone in artistic London. Jones attended the Royal College of Art along with Edward Bawden, John Piper and Eric Ravilious, and if history remembers them more than her, she was equally celebrated in her time and deserves recognition.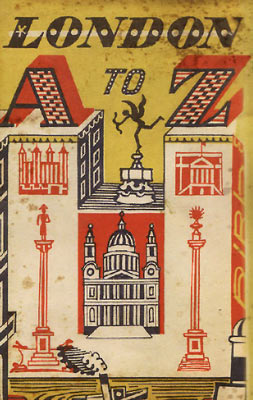 Illustration by Bawden
Jones could flaunt an array of talents; muralist, illustrator, author. She painted arresting murals for hotels, restaurants, schools, even national celebrations like the 1951 Festival of Britain and the P&O line onboard Orcades, Oriana, Oronsay and Orsova. Back on land she curated exhibitions and illustrated some three dozen books. Her own included The Unsophisticated Arts on the English vernacular; Design for Death, a gruesome and funny inquiry about the "beautiful, vulgar, frightening and proprietary things that people make when confronted by that shocking and welcome reminder, the death of another," including coffins, crematoria, flowers, hearses, relics, shrouds and more; and seven other volumes. (Jones)
These included Follies and Grottoes, a guide to the pointless, impractical and otherwise enchanting frivolities of English architecture. Williams took it along on the travels that Johnson described as their search for things "most rich, most glittering, most strange." (Jargon 3) At home in Hampstead they loved her parties; Jones introduced them to luminaries like Stevie Smith, and through his own connections the affable Williams made sure they mingled with R. B. Kitaj, Mervyn Peake, John Wain and their friends in turn.
5. An unremembered author.
Wain is another unfairly forgotten figure, whose Oxford trilogy justifies his contention that "[i]f it's happened in England it's happened in Oxford," not only the city of dreaming spires but also of thrumming factories, incubator of the motor industry as well as of boffins and dons. The books, set from the thirties until 1956, are rowdy and randy; family conflict, sexual longing (and heaps of sex), bad behavior, disappointment, redemption and death people these pages. Worth the time it takes to read some thirteen hundred of them in Where the Rivers Meet (1988), Comedies (1990) and Hungry Generations (1994).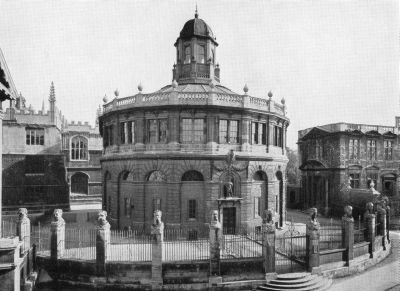 6. A great writer, her husband and the rocket man.
Williams and Johnson lived in a visceral world; they did more than argue and observe, and sought the best tables. Lucky them; they met Geoffrey and Jane Grigson, who cooked for them, and found their way to the celebrated Miners Arms in Somerset. Its proprietor was Paul Leyton, whom Williams describes with a degree of understatement as "an ex-academic… serving very good food." (Jargon 3)
In fact, as his obituary attests, Leyton was "one of those rare, remarkable Englishmen who are slightly eccentric without realising it and who have a versatility close to genius." (Leyton) When he was seventeen, Leyton became an apprentice at Austin Motors, then improbably taught for a while; he had no degree. Leyton got his wings from the RAF in 1936 and transferred to the Fleet Air Arm in 1938. His war was eventful; Leyton ferried fighters to Malta aboard HMS Argus in 1941, earning a DSC, and coordinated attacks on Tirpitz in its fjord as Air Engineer Officer of HMS Furious in 1944, when the carrier also sank some 25,000 tons of German shipping off the Norwegian coast.
After the war he opted out to refit a double decker bus with an Aga and all the amenities of home. He, a wife and three sons lived the mobile life there for nearly five years; Leyton indulged a passion for composing poetry and music with "an amiable irreverence to it." (Leyton)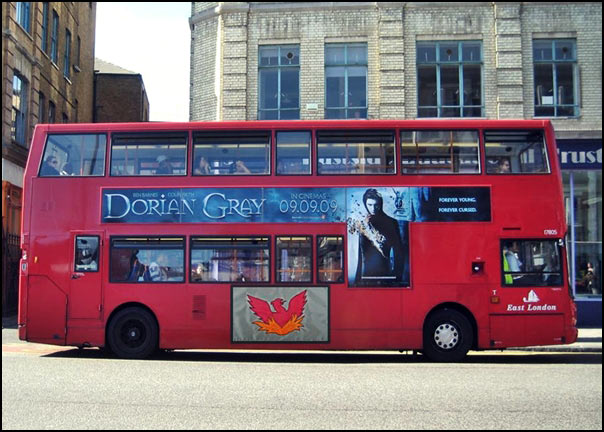 Home sweet home
To follow that hand, Leyton upped the ante by designing Black Knight for Britain, in 1958 the first successful spaceshot since Sputnick; he launched the rocket on a L5 million shoestring at a time when American efforts costing exponentially more reaped repeated failures. A subsequent Labour government did not care and cancelled the program.
On to Black & Decker, where he served a stint as UK Engineering Director for a couple of years before once again "looking to opt out of the rat-race." (Leyton) Neither Leyton nor his wife had ever run a restaurant so they bought a derelict one, the Miners Arms, in the Somerset town of Priddy. It became famous and added to Leyton's mystique. Ever observant, he noted that local miners had been eating snails, which they called wallfish, for a century. The practice was widespread in France but unknown elsewhere in England so Leyton jumped right in, to start farming snails in an abandoned swimming pool. His Mendip wallfish, made appropriately enough with Somerset cider (no garlic please), became a famous fixture on the menu at the Miners Arms.
7. Tiddy and then Priddy oggies.
Leyton was, as the wallfish would indicate, a creative cook. He 'invented' the Priddy Oggy, a pasty made with a cheese dough that he filled with pork, ham or bacon, and more cheese; it has become a British favorite. The name is Leyton's wordplay on 'tiddy oggy,' a traditional Cornish survival food for lean times that was a handpie filled solely with potato. The name had come to delineate pasties more generally by the 1960s, when Leyton ran the Miners Arms.
The derivation of the original terms is not quite clear. Most likely, 'tiddy' derives from the vernacular in Cornwall and Devon for potato, 'taty,' similar to the Scottish 'tatties' for mashed potato. According to some sources, however, "tiddly was naval slang for 'proper,' as used in the navy and dockyards, especially Devonport, so tiddly oggy can be translated as being a proper pasty." (cornishpasties) Oggy itself is less controversial. The Cornish Language Fellowship explains that it comes from 'hoggan' and 'hogan,' old words for 'pasty.' (cornish-language)
Leyton did more than farm and cook. He pioneered the mail order business for kitchen products with his 'Leyton Tempstick,' a device that indicated whether food had thawed and refrozen to present a danger, and other inventions. Closer to the Editor's heart, he also anticipated the craft beer movement in establishing Britain's smallest brewery at the Miners Arms, where he bottled his 'Own Ale.'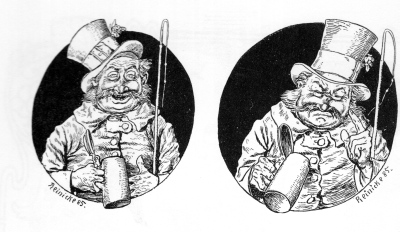 Why is the craft beer always gone?
Everybody travelled to the Miners Arms, including Anthony Hopkins, Malcolm McDowell, Delia Smith and Egon Ronay, who featured the restaurant in his Good Food Guide. Years after his visit, Williams recalled the wallfish and oggie but "what that was I have forgotten… The name is unforgettable." (Leyton; Jargon 3) One night after their return to London, Johnson cooked dinner for his companion, William Burroughs and Buckminster Fuller. Williams could not forget that encounter because Burroughs ate an entire lemon pie meant for more than four. (Jargon 3)
8. The poet as cook and cook as writer.
If Johnson would struggle to find remunerative day jobs in San Francisco, his cooking skills always served him and he never ceased to write. Before the breakup, Johnson ran a restaurant, the Copper Kettle in Colorado, where the couple had moved for a time when Williams earned a post as scholar in residence at the Aspen Institute. (Jargon 3)
Then those wandering eyes took Johnson from Williams and on to the west coast. He learned to dine well notwithstanding destitution, by transforming the cheap and the plain into the great and the good; dishes like bacon and parsley pudding or an onion pie, souffléd grits, an elaborate mashed potato salad and 'Thing,' essentially homefried potatoes topped with cottage cheese and scallions.
Almost two decades after they parted, Johnson gave credit for the name to Williams, "who insisted it was his favorite breakfast dish." (American Table 212) Johnson himself liked Thing too:
"I have never grown tired of its pleasant contrasts, and served with hot coffee, or cold beer, its usefulness as a brunch or late supper dish is undeniable. It is perhaps the meal I most often sit down to when alone." (American Table 212)
It was not all subsistence starches in San Francisco, however, and Johnson studied hard. There was a briefly successful stint as the chef at Bistro 1600. He became an authority on southwestern food, then on all the American regions and published four cookbooks, two on the simple fare he developed through necessity, another on that southwestern food (his grandmother had taught him to cook it), and The American Table, the best of them all. It can do for you what its subtitle promises, "make accessible… the full richness of American regional cooking."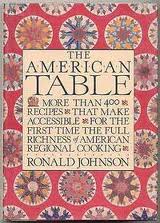 In a way the homely Thing is emblematic. Johnson shies away from both haute cuisine and affectation; in his 'Forward' to The American Table, he writes that
"I have an eye for recipes that put a twist on the classic tried and true, without trendy kiwi salsas and pesto made from grass. [Editor's note; it is unlikely that the countercultural Johnson is referring to the lawn.] I'm what both Flo Baker and Marion Cunningham call 'a home cook.'" (American Table xii)
The American Table opened doors if not hefty bank accounts; through it he met M. F. K. Fisher and then Cunningham, giants of the twentieth century American food scene. He writes that both became mentors, probably in connection with the subsequent Simple Fare ("a survival manual for living on the edge with a family to feed") and Company Fare ("on how to seem almost as if the cook has just left a little repast to warm up sort of thing") but that is unclear.
These books are good, but while we admit to an outsized affection for cookbooks, we also should admit that by rights Johnson should be remembered most for his poetry. Fate, however, is unfair, and he is not, although guardians of his flame at the University of Chicago and elsewhere would like to see that change.
9. A poetry of reason.
Johnson is unknown in part because such is the fate of most poets, but a pair of contrapuntal reasons also explain his neglect. Johnson's poems each create their own cosmos, both self-contained and veering to infinity. The work is long; his opus, Ark, is immense, an epic in three books of thirty-three sections each that Johnson took over twenty years to compose. It is not just long but sprawling; as Williams observes, "William Blake is there; the land of Oz is there; the Bible is there; Simon Rodia's Watts Towers are there." (Jargon 4)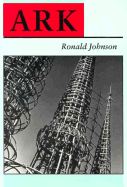 More to the point, Whitman is there; Ark justifiably has been called a Leaves of Grass for its age. So the poem requires a commitment that few are willing to make; "it will," quoting Williams again, "require readers not easily daunted, who have untrammeled imaginations." (Jargon 4)
For all of that, Johnson's poetry is not inaccessible, at least not in an intellectual sense, although his books suffered small print runs and can be difficult to find. Critics consider the work 'collage poetry;' it draws not only on existing sources but also includes quirky illustrations and conventional imagery. The collage reference is not mere metaphor; early on, Johnson says, he "took snippets from newspapers that sounded strange." (Hair 21)
Williams considers Ark architectonic and others have called Johnson's poetry a series of 'generous vernacular masterpieces.' The appealing humanity of the work, Johnson's willingness to borrow or bend, and his refusal to engage in obscurantism for the sake of itself do him no favors with the pedants of postmodernism. If in addition (Williams again) Johnson is less didactic than aesthetic, then all of these traits combine to give academic obscurantists comparatively less gristle to gnaw than more unorthodox forms.
So on the one hand Johnson lacks popular appeal and on the other he is too much fun for the structuralist crowd. Johnson died in 1998--he was only 62--and it took a decade until major appraisals of his work would appear. They are good ones, a series of essays in Ronald Johnson: Life and Works, then Ronald Johnson's Modernist Collage Poetry by Ross Hair two years later. Hair identifies many influences, or "touchstones," including Blake, Thoreau, outsider art and the demotic Americana of Charles Ives.
Johnson's mind was nothing if not a sponge; he did not just cook for Bucky Fuller but also conceived of one poem, Radi Os, as a geodesic dome or "ceiling of light" for another, the epic ARK. (quoted in Hair 196) Neither poem relies on the other; each cosmos is complete, but Radi Os serves as Johnson's creation myth. Unlike his other work it is not collage, but rather a breathtaking redaction; as Johnson describes it, Blake's concept of etching or cutting away. He took Paradise Lost and left most of the film on the cutting room floor; the new title even is a fragment of the old.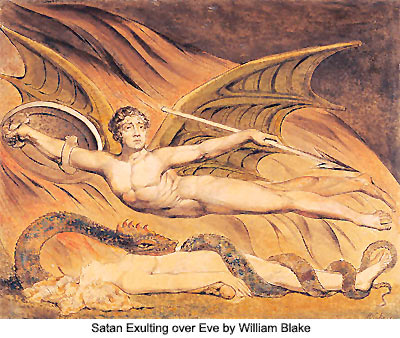 The etching is beautiful; according to Peter O'Leary, Johnson's literary executor at the University of Chicago, the poetic cook liked to say that "the old God may have had his home in church, but the new one lives at M.I.T." (O'Leary) He cut Paradise Lost to render it secular: In Johnson's compression, the Fall becomes an inquiry into the origin of song and sight, and a celebration of human sensation.
Hair likes to consider each Johnson poem an 'Eden Project' preoccupied with the imperfect present and its promise of utopia. He has a point; musings on creation, consciousness and contingency recur, like this playful portion of 'Beam 29' from Ark:
"no where
now here
no where
now here."
Johnson is nothing if not a skeptic, one of those dreaded secular humanists decried by the idiots of the American right. He is deliciously subversive; the Bible may be worth our attention but, as Barbara Cole explains, "Johnson urges his readers to follow his example… in more actively rejecting stories like The Fall and The Flood that privilege ignorance, obedience and inequality." (Cole 120)
Cole identifies the poet engaged in this process as an Eve resolved to sample the fruit of knowledge, suffer the consequences and then move on. The Editor likes to think of him as a beneficent Lucifer, fallen from a realm of autocratic superstition but redeemed in one with a cold and gentle eye. The Fall is not so bad; again from 'Beam 29,' it is
"balanced descent-enlightment
on abysm bent."
Knowledge is power and joy rather than sin, and if its price is imperfection, then the price is right. As Cole observes, Johnson believed that we could "build a new Eden, a new ARK as opposed to the same old ark that set sail before." (Cole 131)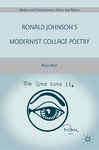 10. Back to the kitchen.
The exigencies of a life on the edge repeatedly forced Johnson to rebuild the ark of his own life. Toward the end and deathly ill, he completed a circle of sorts by returning reluctantly to Kansas to cook. In "Up Till Now," a kind of memoir, Johnson confides that
"I've come back to Kansas to live with my father, where I cook for my supper and work on a government programme [sic], half time at minimum wage, in a beautiful park, where I bake loaves of bread and cookies. Rather a comedown, but satisfactory all the same. As Pound remarked, 'Ovid had it a lot worse.' If I've outstripped my early appreciative audience, they'll catch up some fine day, I trust." (quoted at Hair 5)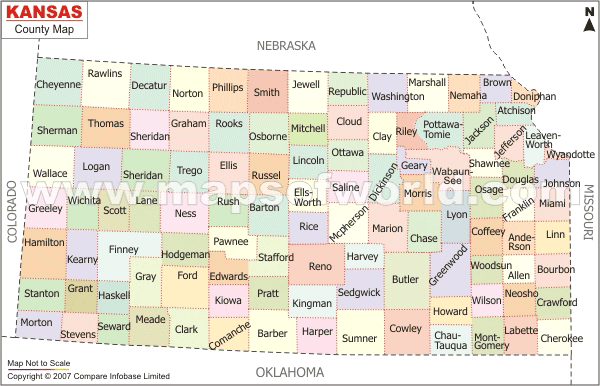 As others also have noted, it is the cooking that has given Johnson any current claim to fame. Our particular interest lies with The American Table, Johnson's historical trawl of regional recipes; like his poems it reveals an affinity for recasting tradition and the vernacular, as the quotation from Johnson's 'Forward' to the cookbook cited in Section 8 indicates.
Although we should not overstate its influence, much that is early and regional in Johnson's hands is British, although he is not unconditionally enamored; "If so much of our food has stemmed from England at its dullest, there is no reason not to choose again from the best." (American Table 43)
There is after all much to like; Johnson offers recipes for puddings and pies, seafood and shellfish, offal stuffed or sauced in Madeira and other dishes with a recognizably British cast. Here he is on deviled kidneys: "This recipe seems to be of British descent (they dote on deviled kidneys of any stripe) and comes from a pretty little ladies' club cookbook with unusually good recipes"--an indication that British foodways had endured in at least some American domestic kitchens. (American Table 138)
Johnson's innate curiosity, and his willingness to exploit serendipity, served him well in compiling The American Table. They provided his introduction to Theodora FitzGibbon, for example, and Johnson had the discerning taste to appreciate the quality of her work. He introduces her instructions for crispy sole with anchovy cream, a classic English preparation, by explaining how he found it: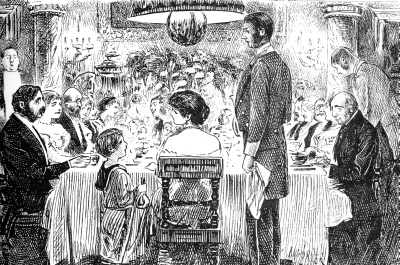 "This is a recipe from Theodora Fitzgibbon's Country House Cooking I picked up once, thinking it would be about American food, and promptly became enchanted by this British writer…. Theodora Fitzgibbon, though not so well known as Elizabeth David, is surely one of the best writers on food we have. Perhaps only rivaled by France's Edouard de Pomiane for brevity and shine and sheer usefulness, the book above is a revelation of the best family receipts and stout cooks long dead, obliged to hustle a sudden tea for Queen Victoria on a swoop, or edify a whole weekend of city guests such as Henry James. But any of her books, though difficult to find, are worth the price." (The American Table 43)
These judgments are doubly impressive, for Pomiane had not yet returned to print and to vogue when Johnson made them. The style itself is indicative of Johnson's prose; a little strange, barely grammatical and charming for all that.
11. A promise kept; our return to the batter pudding.
Back to the recipe front, the most impressive facet of The American Table may be its advocacy on behalf of the batter pudding; in this we come round to our initial topic, much as Johnson himself returned to the home of his birth at the time of his death.
These puddings are easy to make, difficult to wreck and healthy despite their use of pastry. The batter includes eggs and flour but little or no fat. The puddings also use a relatively small proportion of more expensive items like meat or cheese, and so comport with Johnson's ethic of tasty thrift.
All you do is select the filling of your choice, preheat an oven to about 425° and pour a Tablespoon or two of lard, olive or another oil into a shallow pan (butter would burn) and allow it to become extremely hot for ten minutes or so. Pour the batter into the pan, distribute the filling within it and bake the pudding until the batter rises, firms and browns. Johnson offers the reader four variations, five if we include Yorkshire pudding; bacon and parsley, beef, chicken, and sausage, or Toad in the Hole.
The term itself was not always associated strictly with sausage; its cousin the fraise, like Yorkshire pudding originally cooked in the dripping pan placed beneath a spitted roast to catch its juices, got islands of bacon or other small bits of meat. It is a technique Lizzie Boyd dates to the fifteenth century; she surmises that cooks found meat tasted better coated with batter before it was plunged into the sizzling fat. (Boyd 34)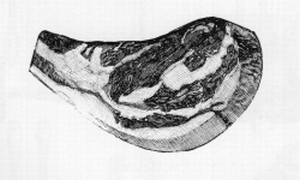 The derivation of 'Toad in the Hole' is obscure and the Editor has not found a satisfactory explanation of it; chalk it up to English eccentricity. Sarah Edington places the earliest reference to the term itself at 1787, to describe 'meat boiled in a crust,' and according to Mary Norwalk it traditionally "was made with lamb chops or tender steak;" Mrs. Beeton's recipe from the mid-nineteenth century calls for steak with kidney. (Edington 81; Norwalk 64)
Nigel Slater rolls bacon or other slices of cured pork around his sausages, and Hugh Fearnley-Whittingstall does the same for pigeon breasts stuffed with prune accompanying naked sausages for his 'Flying toad in the Hole;' equally good variations.
Batter pudding in general got a bad name in Britain during its postwar decade of austerity because cooks whose skill had eroded as the result of rationing found them easy vehicles for leftover meat. The result was overcooked filling and soggy dough, leather boots mired in curing cement instead of savory stuff framed in billowing pastry.
In hands with the slightest skill, in other words for cooks who can read the simplest instruction, Johnson's batter puddings are both novel, at least to the American diner, and excellent, and deserve the revival that he champions. As he comments about one of them, it "seems a trusty dish to bring back for family suppers--it's easily prepared, fairly economical, and best of all, crusty and savory." As he says of another, the batter pudding is good enough for company too. (American Table 88, 149)
Recipes for sole with anchovy cream, for kidneys and for batter puddings appear in the practical.
Sources:
Anon., "Cornish Language Fellowship Online," www.cornishlanguage.org
Anon., www.cornishpasties.com
Lizzie Boyd (ed.), British Food (Woodstock NY 1979)
Barbara Cole, "To Do as Eve Did: Johnson's Dickinsonian Poetics of (Not) Choosing," Joel Bettridge & Eric Selinger (ed.s), Ronald Johnson: Life and Works (Orino ME 2008)
Sarah Edington, Complete Traditional Recipe Book (London 2006)
Ross Hair, Ronald Johnson's Modernist Collage Poetry (New York 2010)
Ronald Johnson, The American Table (Weston CT 2000)
ARK (Albuquerque 1996)
The Book of the Green Man (London 1967)
Radi Os (Chicago 2005)
Barbara Jones, Design for Death (London 1967)
Julian Leyton, "Obituary: Paul Leyton," The Independent (December 1998)
Mary Norwalk, English Puddings Sweet and Savoury (London 1981)
Joshua Marie Wilkinson, "Peter O'Leary: an interview," Evening Will Come: A Monthly Journal of Poetics, Issue 8 (August 2011)
Jonathan Williams, "Ronald Johnson (1935-1998)," http://jargonbooks.com/rjobit.html