A batter pudding of bacon, goat cheese & zucchini.
Batter puddings are easy, economical, nutritious and comforting. As Ronald Johnson writes of one made with chicken in The American Table (Weston CT 2000), "[c]onsidering this pudding seems a common one in colonial days, and is so particularly delicious, it is curious that it is seldom served these days." (Johnson 150) Follow his advice, and ours, and join the revival movement. For four.
---
For the batter: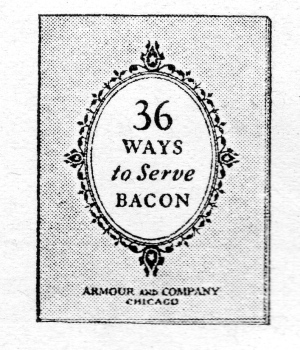 -1 cup sifted flour
-½ teaspoon coarse salt (we like Maldon)
-½ teaspoon baking powder
-2 beaten eggs
-2/3 cup milk
-2/3 cup water
-a generous teaspoon of dried thyme
-2 teaspoons Dijon mustard
-2 teaspoons wholegrain mustard
For the rest:
-2 small zucchini, trimmed and sliced lengthways about 3/8 in thick
-a small summer squash trimmed and sliced the same way
-about 1 Tablespoon olive oil
-salt and pepper
-another tranche of olive oil; 2 teaspoons this time
-about 1/3 lb bacon, trimmed of excess fat and cut into about 1½ in pieces about ½ cup soft goat cheese cut into little clumps
---
Make the batter by mixing everything together until frothy with a hand blender or in a conventional blender.

Preheat the oven to 425°.


Let the batter rest for 30-45 minutes (time your preheat accordingly)
Season the squash strips with salt and pepper.
Put a griddle with ridges on high heat; when it is really hot (enough to send a drip of water into a beaded frenzy before evaporating fast) film it with the Tablespoon or so of oil and grill the squash.
Cook the bacon until nearly crisp.
Put the 2 Tablespoons of olive oil in a 12 inch oval oven dish or something of similar volume and stick it in the oven for 10 minutes.
Stir half the bacon and half the goat cheese into the batter, then pour it into the oven dish: Be careful not to splatter yourself with the hot oil.
Push about 2/3 of the squash down into the batter, lay the rest on top and top it in turn with the bacon and cheese.
Bake the pudding until the batter puffs up and turns gold, usually in about 35-40 minutes.
Notes:
- This recipe originates in an exemplary cookbook that has a grating title, gorgeousvegetables by Annie Bell (Lanham, MD 2010). As the title infers, this is a compendium of food porn but do not let the gimmickry deter you; the color glossies take up more space than text, but the text is good and Bell is no wailing fanatic on the issue of vegetables, as the inclusion of bacon in the recipe demonstrates.
- Bell's version uses more bacon, either it or the cheese, not both ("It easily translates into a vegetarian main course…. "); calls for a harder cheese if you choose that option; and specifies fresh rosemary instead of the Editor's dried thyme. We also added the baking powder to help the pastry along.
- An herbed goat cheese is fine here; if you use it, it is your choice whether to add the thyme (or rosemary) or not. The Editor adds it.
- It is entirely acceptable, even appealing, to use shredded Cheddar, grated Parmesan or a combination of them instead of the goat, especially on a winter's night.
- Johnson makes a more traditional bacon and parsley pudding that, it must be said, is equally good. Follow the bfia recipe but boost the amount of bacon to ½ lb, forget the squashes (obviously, we know) and thyme; and mince about 3 Tablespoons of parsley for our version of his recipe. Stir all of the parsley into the blended batter and do substitute Cheddar or Parmesan or both for the goat.
- Wait until you have frothed up the batter to add the parsley or you will wind up with a sickly green pudding.
- Sausage works too. As Johnson notes in his clunky and endearing prose:
"A descendant of Yorkshire pudding that makes a good quick light supper with a green salad and a glass of wine or beer. It is an equally good breakfast or brunch dish with fresh fruit or coffee. If you like, it can be prepared with ½ pound of sausage cooked in tiny balls rather than the bacon." (Johnson 208)
- Johnson's version of the pudding differs from ours in several respects; less fluid (a cup), all of it milk, and no powder or mustard in the batter; only 2 Tablespoons of parsley; and smaller (half inch) slices of bacon. He uses less cheese as well, an unspecified amount of parmesan tat he just sprinkles over the batter with the bacon. Only the parsley--all of it, like ours--is incorporated into the batter.