A Country Captain, southern style.
4 Servings
Our notes on Country Captain in the lyrical identify two distinct strains of the dish, and while we have considerable relish for the Anglo-Indian one, we cannot choose sides to pretend the version that arose from the American south is anything but delicious either. There are countless southern recipes and, like Sam Sifton in The New York Times, britishfoodinamerica cheerfully has stolen from most of them in developing its own version.
---
For the Captain: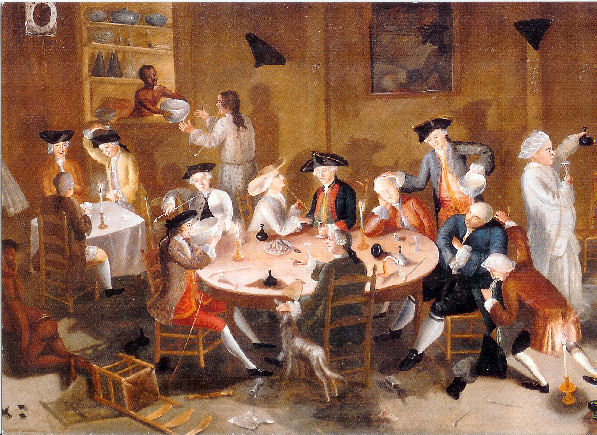 -a few Tablespoons flour seasoned liberally with salt, pepper, cayenne, and ground coriander and cumin
-8 skinless chicken thighs on the bone
-2 Tablespoons ghee or unsalted butter
-4 bacon slices cut into ½ inch squares
-1 ½ cups chopped celery
-1 ½ cups chopped onion
-1 cup chopped bell pepper (any combination of green, red and yellow)
-2 teaspoons smashed and minced garlic
-2 teaspoons dried thyme
-2 bay leaves
-3 or more heaped Tablespoons curry powder
-¼ teaspoon cayenne (optional; see the notes)
-2 Tablespoons dried currants (preferred) or raisins
-1 heaped Tablespoon dried shallots (optional)
-28 oz can San Marzano tomatoes
-hot sauce
-salt and pepper
-about ½ cup minced scallions (green tops alone)
To accompany the Captain:
-toasted blanched slivered almonds
-assorted chutneys
-chopped hard boiled eggs
-diced ham
---
Preheat the oven to 325°.
Dust the chicken with the seasoned flour, melt the ghee or butter until brown over high heat in a heavy ovenproof pot and quickly sear the chicken until golden.
Remove the chicken from the pot, reduce the heat to medium and drain all but a film of the fat.
Scatter the bacon into the pot, cook until golden and remove the bacon to the chicken.
Add the celery, onion and peppers to the pot and cook, stirring occasionally, until the vegetables just begin to acquire gold edges.
Stir the curry powder, cayenne and currants into the vegetables for a few minutes, then increase the heat to high, add the tomatoes and bring to a boil.
Break up the tomatoes, reduce the heat to medium low and continue boiling until the sauce thickens, usually about 5 minutes in our experience.
Return the chicken and bacon to the pot, stir everything together, and check for hot sauce, salt and pepper.
Cover the pot tightly with its heavy lid, or with foil, bake for about half an hour, then uncover the pot until you have a thick stew, usually about 10 minutes longer.
Stir in the scallions, serve with rice and various of the accompaniments.

Notes:
- Sifton does not dust the chicken with flour but we like the texture that it gives the finished dish.
- If some of your guests dislike currants in their Country Captain, accommodate everyone by plumping them in some of the juice from the San Marzanos and serving the sauced fruit at table with the other accompaniments. Just bring the juice and currants to a simmer over low heat or microwave them for a couple of minutes.