Bobby Flay's Country Captain.
Restauranteur and television celebrity Bobby Flay has prepared his own version of Country Captain on the CBS 'Morning Show.' Its inclusion of southwestern seasonings is typical of Flay's meticulous promotion of his brand. In this recipe it all seems to us more than a little gratuitous and self-indulgent, but adventurous cooks may enjoy the extension of the American Captain tradition beyond its southeastern style.
---
For the Mesa Curry Mix:
-3 Tablespoons ancho 'chile' powder
-2 teaspoons ground cumin
-2 teaspoons ground coriander
-2 teaspoons ground fennel
-2 teaspoons ground turmeric
-1 teaspoon ground cardamom
-1 teaspoon ground cloves
-1 teaspoon ground 'chile' de arbol
-1 teaspoon ground black pepper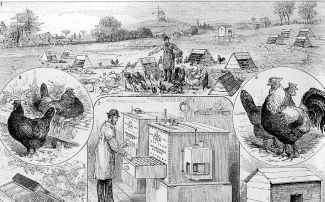 Combine everything in a small bowl.
For the Captain:
-2 teaspoons canola oil
-6 slices bacon, diced
-2 Tablespoons unsalted butter
-an additional Tablespoon canola oil
-1 ½ cups flour
-salt and pepper
-8 skinned chicken thighs on the bone
-canola oil
-1 Spanish onion sliced into thin crescents
-1 large bell pepper, thinly sliced
-2 cloves garlic, smashed and minced
-1/2 serrano 'chile', finely diced
-1 cup dry white wine
-2 cups chicken stock
-1 heaping teaspoon Mesa curry powder
-1 28 oz can plum tomatoes, drained well and coarsely chopped
-1 ½ Tablespoons chopped fresh thyme
-scant ¼ cup golden raisins
-honey
-1/3 cup coarsely chopped fresh flat leaf parsley, plus more for garnish
-slivered almonds, lightly toasted and chopped
---
Preheat the oven to 325°
Heat the oil in large skillet over medium high heat. Add the bacon and cook until golden brown and crisp. Remove and drain the bacon on paper toweling. Add the butter and 1 Tablespoon of the canola oil to the pan and heat until it begins to shimmer.
Dust the chicken with the flour, seasoned liberally with salt and pepper. Sear the chicken on both sides until golden and remove it from the skillet.
Add the onion and bell pepper to the skillet, season the vegetables with salt and pepper, and cook until soft, about 5 minutes.
Add the garlic and the 'chile' and cook for 1 minute.
Add the wine and reduce it by ¾. Add the chicken stock, bring it to a simmer and reduce slightly.
Stir in the tomatoes, raisins, thyme, 2 teaspoons of honey and check the seasoning. Return the chicken to the skillet, cover it with a tight lid and bake for 35 minutes.
Remove the lid and bake the Country Captain for another 15 minutes.
Remove the chicken and keep it warm. Return the skillet to high heat and bring the sauce to a boil, reduce it slightly and stir in the parsley. Serve the sauce over the chicken and top it with the bacon, almonds and more parsley.
Notes:

- Flay betrays both the disdain of serious food poseurs for commercial curry blends and a fundamental misunderstanding of their rationale in supplying his viewer with a recipe for his own curry mix. In theory, the constituent spices that form a curry obtain their optimal flavor through different roasting or cooking times, so merely combining them out of the bottle and adding them to the pot together defeats the purpose of using individual spices rather than another blend of them. britishfoodinamerica sees no problem whatsoever in using commercial curry powders, especially in a dish like southern, or southwestern, Country Captain with no claim to Indian authenticity.
- The inclusion of the recipe for curry does, however, serve Flay's branding purpose: 'Mesa Grill' is one of his restaurants and southwestern accents are its signature touch. Similarly, he employs the Spanish 'chile' rather than English usage and specifies inclusion of the Mexican ancho and arbol varietals to remind us once again of the brand. It is not that Flay cannot cook or explain how to do so; his tireless and gimmicked self-promotion, however, has become tedious.
- The golden raisins, and obviously the honey, sweeten Flay's Captain considerably in comparison to other versions. We do not particularly like the inclusion of the honey and prefer to use currants or ordinary raisins.
- In the end, if Flay has not overworked a good, traditional recipe with the manic overcomplication of a Gary Rhodes, he has only added a few insignificant steps to its preparation. If you want a southwestern Captain, go ahead and add the ancho and arbol to your favorite curry blend.
- We do not mean to be unkind to Mr. Flay; culinary branding has become widespread, and we cannot find fault with anyone capitalizing on fame and good fortune, which in Flay's case is deserved. Despite some fripperies, he is a legitimately innovative cook and his restaurants are good. He also has softened the rougher edges of what originally was an abrasive, even cruel television personality to become… personable.