Cecily Brownstone's Country Captain.
The only 'true' Country Captain according to Cecily Brownstone, its self-appointed twentieth century guardian.
---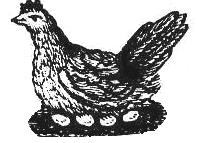 -a chicken (cut into 8 pieces)
-¼ cup flour
-1 teaspoon salt
-¼ teaspoon pepper
-4 Tablespoons unsalted butter
-1/3 cup diced onion
-1/3 cup diced green pepper
-1 clove garlic, smashed and diced
-1 ½ teaspoons curry powder
-½ teaspoon dried thyme
-1 can (1 lb) stewed tomatoes
-3 Tablespoons dried currants
-blanched toasted almonds
---
Preheat the oven to 350°.
Dust the chicken pieces with the flour, salt and pepper.
Melt the butter in a large skillet over medium high heat and brown the chicken.
Remove the chicken from the skillet, reduce the heat to low and add the onion, green pepper, garlic, curry powder and thyme. Scrape the skillet to loosen any debris that resulted from browning the chicken.
Add the stewed tomatoes with their liquid and return the chicken to the skillet. Cover and cook slowly until tender, usually about 30 minutes. Stir the currants into the sauce. Serve accompanied by the almonds.

Notes:
- It is easy to toast almonds. Buy sliced blanched almonds, spread them in a single layer on a cookie sheet and bake them at 350° until pale gold. This should take less than ten minutes.
- Brownstone's recipe lacks bacon, which subtracts a lot of flavor and balance from the dish: It is nice to let the smoke and fat blunt the acid of the tomatoes.
- When this recipe was written in the 1960s, 'stewed tomatoes' meant, as it still means, domestic ones cut into pieces… and stewed, or processed longer than other canned tomatoes, for heating and eating rather than primarily for incorporating into other dishes. They are a sort of culinary artifact that has fallen from widespread use. Stewed tomatoes do, however, remain available in smaller cans than their unstewed domestic cousins and Italian counterparts. Plums from San Marzano now are widely available at competitive prices and we prefer them. The stewed tomatoes do give this dish a distinctly different flavor, however; if you would like to replicate mid-century taste then use them.
Preheat the oven to 325°.