Autumn Salad with Honey-Broiled Apples
A somewhat unusual warm salad pairing browned apples and honey, both locally plentiful in Quebec. This comes from Julian Armstrong's A Taste of Quebec and is attributed to Chef Claude Lépine's restaurant, La Rabastalière in Saint-Bruno.
---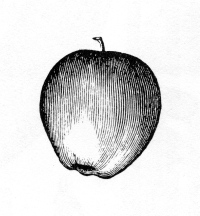 For the salad:
-1 medium head Boston lettuce
-a few leaves of red chicory or red leaf lettuce
-2 large endives, cored and separated into leaves
-4 apples (he suggests Melba, Spartan or MacIntosh)
-1/4 cup liquid honey
-Cider Vinegar Dressing (see below)
---
Tear the Boston lettuce and chicory or red leaf into bite-size pieces.
Separate the leaves of the endives.
Wash and dry the salad greens and place in a salad bowl.
Peel and core the apples, then slice them into 4 equal rings.
Arrange the apples in a baking pan or sheet, and brush them with the honey.
Place under a pre-heated broiler and broil them, turning once, until they are lightly browned.
Arrange the endive leaves pointing outwards on 4 salad plates. Pour the dressing (see below) over the salad greens, toss them, and arrange them in the center of the plates.
Top the plates with the hot apple slices, and serve.
---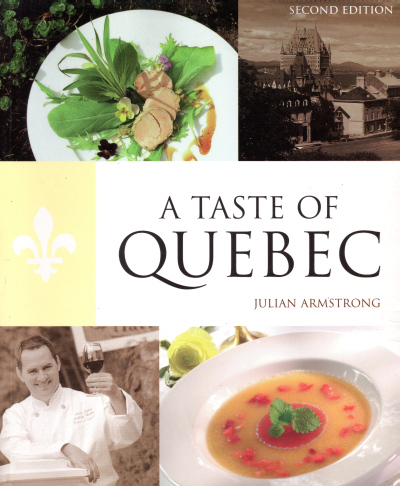 For the Cider Vinegar Dressing
(about 1/3 cup):
-1 Tablespoon cider vinegar
-1 Tablespoon apple cider
-1 teaspoon chopped shallots
-Salt and freshly ground pepper
-1/4 cup extra virgin olive oil
---
In a bowl, combine the cider vinegar, apple cider and shallots. Season with salt and pepper to taste.
Whisk in the olive oil, and pour the dressing into a jar with a tight lid. Refrigerate the dressing if you are making it ahead.
Return the dressing to room temperature and shake it well before serving.
Note:
- The dressing may be refrigerated, covered, for up to 2 weeks.