A French inflected mulligatawny
Constance Spry, a bestselling British cookbook author from the mid-twentieth century, includes four mulligatawnys and a "Potage Pondicherry" that is no more distinct from the mulligatawnys than they are from each other. All differ, but only by degree. The Pondicherry soup is a quick and easy variation on the lighter species of mulligatawny.
---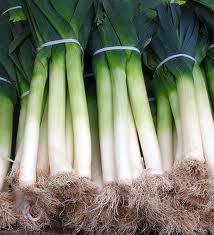 3 or 4 leeks, trimmed, washed and sliced quite thin
2 Tablespoons unsalted butter
1 heaped teaspoon curry powder
2½ cups chicken stock
1½ oz rice by weight
½ cup milk
salt and pepper
---
Blanch the leeks in boiling water.
Drain them (save the stock for something else).
Melt the butter in a heavy pot over medium heat, add the leeks and cooking them, shaking and stirring the pot, until dry.
Stir the curry powder uniformly into the leeks, then add the stock, rice and milk.
Simmer the soup for about 30 minutes, then puree it with a hand blender, food processor or blender, check for salt and pepper, then reheat the soup and serve it.
Notes:
-It is by no means clear why Spry considered this soup a creature of Pondicherry, the French enclave in India; its ingredients and technique are indistinguishable from the Anglo-Indian.
-Spry adds a liaison of egg yolk and a Tablespoon of cream to enrich the soup at the end of step 5. If you choose to follow her lead, do not allow the soup to return to a boil after adding the liaison or it will curdle. As a less fraught alternative, Spry suggests stirring some butter into the soup immediately before service.