Go to Gravy, but only for Mr. Hollins & the food.
No other place in New York resembles Gravy. It is difficult to comprehend what the designers of this lofty space had in mind. The massive back wall, a sort of fifties inflected de Stijl pastiche of leathery panels in primary colors, is nothing if not jarring. Bordello banquettes curl under de Stijl around a rear corner of the space. Weathered dun brick supports that side of the restaurant; opposite, the brickwork is a matte black glaze.
Four giant classical columns, ringed on the ceiling with incongruous round lightbulbs, dominate the interior of the room. White spheres dropped at varying heights cast more light through circular cutouts angled up in another nod to 1952, keeping time with ovoid hexagons that cover the glassy streetfront.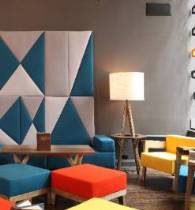 Gravy
32 East 21st Street, New York, New York 10010
212-600-2105
It is not a dance club in science fiction theme, nor a novelty spot serving rehydrated NASA rations with Tang or Tab, and not retro-Dutch. Gravy in fact aspires to bring New York the serious side of food from the American south.
According to the maître d', the architectural jumble intends to evoke a region; bare ceiling bulbs and brick for Charleston, some mumbles about the fifties side of things and a notion that the Mondrianic monster means to give a Broadway welcome to this southern starlet. Perhaps the scarlet banquettes are meant to evoke… O'Hara? Perhaps these juxtapositions are meant to symbolize the diversity of the twenty-first century south. None of it works.
Things do not start out well. We get water and wait, a good half hour, for a waiter. Then three in turn ask for our order of drinks before one of them settles in as our main man. He forgets to retrieve the cocktails, which we can see idling over on the service bar. The waiter blames the bartenders anyway; they are 'backed up,' but quite obviously not by our order. It turns out to have been properly neat and balanced Sazeracs along with the kind of Hurricane that you cannot find on the streets of New Orleans, that is to say a good one made with light and spiced rums, fresh juice and bitters.
We rush them as the starters arrive, but not the wine; our waiter has neglected that too. In younger incarnation the Editor is out the door at this point, but the night is cold, the company is pleasant and this, after all, is our sole shot at a serious southern restaurant in New York.
As we start to explore the first course, the main one arrives followed at a short interval by the wine. With some rapid choreography we find turf on the table for all the plates and sigh. Service, you see, is bad. The main man by now is that proverbial deer in the headlights, who proceeded to compound his own discomfiture by alternating between the hundred mile gaze and too many visits to inquire about the quality of our food.
Deer, however, can be adorable, and so was he. Infected with a sort of benign strain of Stockholm Syndrome, we were loathe to sustain any kind of animosity toward someone so earnest and underwater. Two other things helped us in the task; the sommelier and the food. They both were superb.
Neither the wine list nor menu is long, but each item on either one was chosen well. We selected an obscure South African Viognier, to, it turns out, the delight of Mr. Hollins. The restaurant has stuck him with the silly title "Beverage Director" but he knows his wines. He is friendly but never obtrusive, and imparts his knowledge with humor and grace but not hauteur. Of course he may have been trained to spot the problem table, but that was not the case; smiles broke out on the diners around us when he stopped to chat at those tables too.
Gravy borrows from all around the south with nods to New Orleans and Acadiana, the Low Country and the hills. Mixing your methods can blow up in your face, but not here. The kitchen is sufficiently bold to attempt a number of iconic preparations and they succeed.
A certain species of snobbish southern chef is snide about regional standards like, for glaring instance, fried green tomatoes. The dish, the thinking runs, is overexposed to the point of cliché, and possibly even evocative of the dreadful Paula Deen.
Those people are fools, for fried green tomatoes are difficult to properly prepare but delightful when prepared well. The ones at Gravy were beyond reproach, and so were the 'Louisiana gumbo fritters.' Now this latter may sound like hokey, but the concept is sound, more like good jambalaya (otherwise never found in good guise 'out;' this ordinarily is food for the home) formed into little balls and deep fried. Really, really good and lighter than you would think.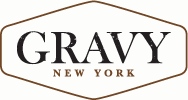 Main courses were equally good if not slavishly southern, but nobody should shy from taking local ingredients into any cuisine. Big northern sea scallops were simply, and suitably, seared; that is what they need, and the grits beneath them worked well. The three different riffs on grits at Gravy are good.
The main man, or deer, asked the Editor how the kitchen should cook her duck and the kitchen complied; it was rare just past bloody. The crispy skin is a restaurant rarity, alone worth a return. As usual these days all you get is boneless breast, except that Gravy makes confit of the legs to make hash. It comes with the dish and comes with an egg. The egg might have been runnier and should have been duck's, but was good for all that, a suitable comfort foil for the hash and the meat.
Finally here there was bog. We like bog and liked this one. Gravy calls it a "Sullivan Island Bog," a name both mysterious and unexplained. It must be a Low Country place because this one is based on red rice, a tomato tinged Carolina staple. There was charred tomato too, and andouille, but shellfish is the star; a big grilled prawn, tiny crawfish, mussels and squid and more Yankee scallops. All of this was quite a distance beyond reproach.
We did not dare risk dessert; it was getting late and anyway portions were large.
Gravy has been operating for nearly a year, so either we found them on an unfortunate night or they still have some lingering kinks to uncurl. There is nothing wrong with this kitchen or bar, however, and prices are fair for wine as well as food. They also have several species of Abita beer, all hard to find in New York, on tap. We will return in patient hope.