Our French Correspondent goes anatomically Proustian on us, despite the absence of Madeleines or purplish asparagus, at Tea & Sympathy.
As I walked into the tiny space that is Tea & Sympathy in New York, I was instantly transported back to St-Austell, England, where I spent my first summer outside of France. It was of course my first experience of British food: The cuisine was not esteemed in the France of my childhood. I was only 11, and at the time my palate was about as developed as my breasts. Yet, the food turned out to be the most memorable part of my stay, for both bad and good.
My host family cooked me some dishes that went beyond bad to the truly traumatizing. I now know, for example, that there's a way to cook lamb with mint so that it does not taste like feet, but could not have imagined anything else based on their effort. My hosts also took me to a few restaurants where I ate British pies for the first time, however, and they made up for the trauma.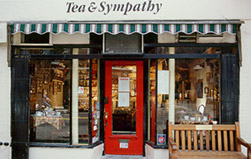 Tea & Sympathy
108-110 Greenwich Avenue
New York, New York 10011
212-989-9725
Pies are what you want to order at Tea & Sympathy. They are authentic and delicious, especially the chicken and leek pie. It's nothing fancy, but it's done perfectly and it won't leave you hungry. They serve good renditions of cottage pie, as usual mislabeled shepherd's pie (properly, beef in the first pie, lamb in the second), steak & Guinness pie (sadly no kidney) and Tweed kettle, a traditional pie of cod and salmon in parsley sauce under mashed potato. They have both cheese and Cornish (meat) pasties and a Scotch egg that the Editor finds irresistible. Not me. Welsh rabbit is misnamed 'rarebit.'
There's not much else on the menu that is worth mentioning: My friend had a very boring salad, and wished he had dared to order a pie instead. Both of us also found it galling that they charge $5.95 for half a can of Heinz tomato soup, but I guess it's comfort food for the expats. Still, they could get a can themselves for a lot less money around the corner at Myers of Keswick or next door.
The T&S store next door sells whimsical teapots and tea cozies, teas, and British goods at high prices; the soup, Atora suet (but only vegetarian), Bird's custard, Bisto gravy granules, Paxo stuffing....
The restaurant is cozy, 17 seats if I counted right, so it can be hard to get a table at times, and it's hard not to listen in on your neighbors' conversation, which, like that food back in St-Austell, can be bad or good. Either way the conversation will most likely have a British accent. And that's how you know that this place is the real deal. Most of the customers are expats, homesick for a good old pie. The service was absolutely fabulous, literally. As in the British sitcom. We were waited on by two wonderfully eccentric British ladies who made our dinner experience fun and original.
No booze.
And that's enough for me to want to go back there, and to recommend this little jewel and its bloody brilliant British pies.