For four.
A lost recipe that deserves revival, most likely an Anglicized variation on Chinese food created for the use of ingredients available to cooks in eighteenth century Britain. It is, as Dorothy Hartley notes, pleasant food for a summer's evening. This is our bfia adaptation, rather radically modernized. One consideration, however, remains constant. You must serve China Chilo with white rice. It is a pretty green and white presentation.
---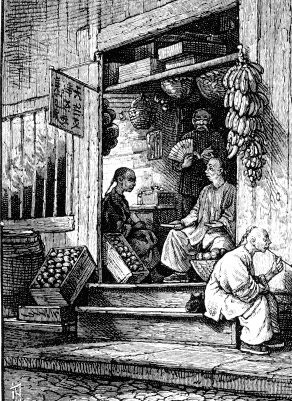 -1 ½ lb ground or finely chopped lamb
-2 Tablespoons lard (preferred), unsalted butter or neutral oil
-about 2 cups onion sliced into thin discs-a minced hot chili
-about a cup of roughly chopped mushrooms
-about ½ cup lamb (preferred), chicken or beef stock
-1 package frozen baby peas (see the notes), thawed
-head Boston lettuce, cored and shredded fine
-generous cup of peeled, seeded and chopped cucumber
-about ¼ teaspoon cayenne
-1 Tablespoon soy sauce
-salt (be careful)and generous grind of black pepper
-rice for service
---
Get your fat of choice quite hot in a heavy skillet over high heat and stir in the lamb. Flash it until it just stars to brown.
Reduce the heat to medium low and stir the onions and chili into the lamb with a little salt (onions like salt): Cook until the onions begin to wilt.
Add the mushrooms until they stop sweating and start to color.
Add the stock, bring the mixture to a boil, reduce the heat to low (you want more action than a bare simmer and cook for a minute or 2 more.
Stir the peas to the lamb mixture and cook for about a minute, then carefully fold the lettuce into the pot.
Sprinkle the soy, then cayenne and pepper over the Chilo and check for salt.
As soon as the lettuce begins to wilt, remove the Chilo from the heat.
Serve immediately with a sensible amount of fluffy white rice.
Notes:
- As hinted in the introduction, the Editor has taken certain liberties with the eighteenth and nineteenth century recipes. They do not brown the meat. Instead, they dump all of the ingredients into a pot and simmer the Chilo ever so gently for tan interminable two hours, which produces a more homogenous but less sprightly dish. We have treated the Chilo more like a stir fry, and this version fosters an excellent effect that requires considerably less time.
- The use of lard, however, is entirely authentic and takes the Chilo far from China and into the realm of western flavor.
- Fresh chillies do not appear in the original recipes, probably because they were not widely available in Britain. The cayenne, which of course was, does however appear. We like the depth of heat that the combination produces.
- The soy sauce is not original either, which is a bit of a puzzle because bottles of it were widely available to the Georgians. Leave it out if you like but in context it would be at all inauthentic to include it.
- We often sneak a dollop of oyster sauce, which they probably did not have, into the Chilo at Step 4 with the peas. Alternatively, 4-6 chopped oysters add some sass at the same point if you are feeling flush, and the eighteenth century did like to flavor their lamb, and beef as well, with them.
- Most of the original recipes consider mushrooms optional. Mrs. Beeton omits both them and the cucumber entirely: that goes too far.
- One recipe from the internet based on an undisclosed source adds a Tablespoon of sugar to the simmering pot. We do not find that a bad idea if, however, you add half that amount of sugar at the end of step 1. The mystery version also adds a handful of shredded sorrel to the Chilo with the lettuce, a nice if inauthentic touch if you can find the ever elusive fresh sorrel. In addition, one inch slices of blanched asparagus go into that variant of the finished Chilo before serving. We like asparagus but that is gilding things.
- If you can get perfect peas in season and want to shell them, please proceed. We agree with Fergus Henderson and any other sane cook, hoever, that good brands of frozen peas outshine anything fresh that you are likely to find unless you tend your own garden. Our favorite frozen variety is Bird's Eye baby, formerly 'le Seuer,' peas.
- The original recipes use water instead of stock: You can too.
- Elizabeth Acton posted an alternative recipe during the middle of the nineteenth century. It substitutes more on and a little curry powder for the lettuce and peas, but to us that would resemble a most feeble curry more than a variant of China Chilo.
- None of the original recipes mention pork, but these days it is a leaner, lighter and legitimate alternative to the lamb.