For two.
Another recipe from Mrs. Ayrton that we subsequently also found elsewhere. She says a Southampton innkeeper served this dish to sailors on shore leave, who would spike the dish with their own rum rations at table. The recipe can be increased infinitely: There are no proportions to recalculate. This is a light and soothing solid 'soup' that has not fat. The pungent smell does not at all reflect its delicate taste. Perfect after a cold day outdoors. Particularly recommended.
---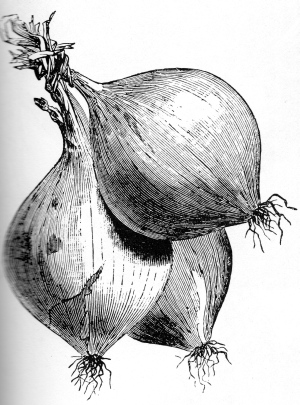 -a large onion, peeled, topped and hollowed out to fit a lamb kidney
-1 lamb kidney, trimmed and cored
-salt and butter
-beef or lamb stock
-a shot of rum
-chopped parsley
---
Preheat the oven to 350°
Parboil the onion just until it begins to soften, about five minutes.
Generously salt and pepper the onion inside and out, do the same for the kidney, push the kidney into the onion and cover with the lid you cut from the onion.
Scatter the onion's scrapings around it in an ovenproof dish deep enough to allow a cover over the onion(s) and fill with stock halfway up the side of the onion(s).
Bake covered for an hour, then pour the rum over the kidney, replace the top and cover, and bake for another 30 minutes.
Serve the onion(s) in bowls with a sprinkle of chopped parsley, a ladle of the broth and hot buttered toast.
Notes:
- Mrs. Ayrton's cooking time is too short.
- The original recipe does not include step one. If, however, you do not parboil the onion, the dish takes forever and the kidney gets overcooked. You can also sear the kidney briefly over high heat before stuffing the onion with it.
- The easiest way to hollow the onion is by cutting the perimeter of the hole with a sharp paring knife and then scooping and scraping the center of the onion out with a spoon.
- A squeeze of lemon at serving time does not hurt.
- They do not really even need the parsley (or the lemon). Beguiling.
- Margaret Costa includes a similar recipe in her Four Seasons Cookery Book (London 1970,2008):
"Kidneys are delicious, too, baked inside an onion, or pastry crust or even inside an onion that's inside a pastry crust. If you decide to try this, first parboil the onion and 'sweat off' (another vivid chef's phrase) the halved kidney in a little butter so that is doesn't take quite so long to cook. If you're no cooking them in a pastry crust, surround the kidney stuffed onions with the chopped up pieces you have taken out of them, pour in enough stock to come halfway up them, and simmer them on top of the stove for 1 ½ hours." (Costa 197)
Ms. Costa does not offer instructions for the version in pastry crust.