The Salad in Winter--and Spring
It is Spring, or at least that is what the calendar tells us. So we run in shorts and tee shirts, and get stinging purplish limbs. We put on flowered sundresses, but pile on heavy sweaters too, with thick tights and boots to survive the day. And we very much want to make some light, green salads to herald the season. We should know better.
Spring is trouble. When it arrives we expect to fresh greens and other produce in the markets, but here in the northeastern United States at least, none really appear until June at the earliest. It is tantalizing to see and smell tulips, pansies, lilies and daffodils at every bodega in New York City but we cannot eat them (marigolds are different…), and still have to choose between plastic tomatoes and unflavored mesclun from somewhere else in America, but that is all we know.
It is tempting to try to rush the season, but if we are serious about finding local sources for our food, then we must be patient. Until local produce becomes available, we stick to salads composed of greens and vegetables typically available in winter months.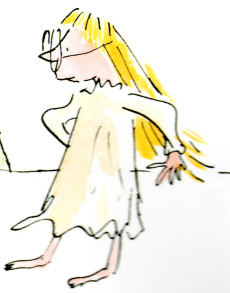 Young Sophie, in The BFG, prepares to eat a snozzcumber.
The British are great at this winter salad stuff. I came across an article about Sophie Dahl in the New York Daily News last March when the weather was as awful as it gets. Ex-model and granddaughter of Roald Dahl, she has written a cookbook called Miss Dahl's Voluptuous Delights (London 2010), inspired by the way her paternal grandmother cooked with an emphasis on seasonal and sustainable foods. While not all the recipes in Miss Dahl's cookbook are English or even British, there is an English sensibility at work. The article included a salad recipe that had me at the name. The britishfoodinamerica version goes like this:
Serves 2.
Warm Winter Vegetable Salad
---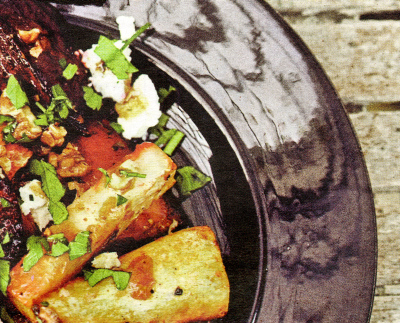 1 red onion
1 sweet potato
2 carrots
2 parsnips
1 celeriac bulb
2 beets
Salt and pepper
Olive oil
A handful of chopped walnuts
A handful of crumbled blue cheese
For the dressing:
2 Tablespoons olive oil
1 handful of fresh parsley, chopped
1 Tablespoon balsamic vinegar
1 teaspoon Dijon mustard
1 squeeze of lemon juice (optional)
---
Preheat the oven to 425°.
Peel and chop the vegetables into big wedges.
Put wedges into a roasting pan (do not crowd them), season them and film them with olive oil.
Cook the wedges for almost 30 minutes, turning them a couple of times. Five minutes before they are ready, put the walnuts on a cookie sheet, pop them in the oven and toast them.
Dump the wedges into a dish and sprinkle them with cheese.
Make a dressing by whisking together the olive oil, parsley, balsamic vinegar, mustard and optional lemon juice if you. Fold the dressing gently amidst the wedges and sprinkle the warm toasted walnuts on top.
Delicious with any roast: Think lamb, think Spring!.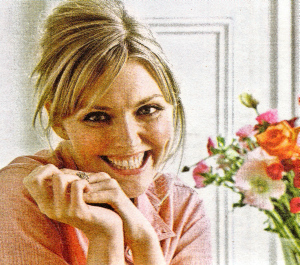 Sophie now, in real life, in good health. It must be the salads.
If you prefer a cold Springtime salad, this recipe, although adapted from the problematical Martha Stewart, is also most English (more walnuts) and good: Perfect for this betwixt and between time of year.
For 4.
Escarole and Walnut Salad
---
2 Tablespoons Sherry or malt vinegar

2 teaspoons Dijon mustard

2 shallots, finely chopped

scant ¼ cup extra virgin olive oil

2 Tablespoons walnut oil

5 cups sliced escarole

½ cup minced scallions (optional)

1/3 cup toasted walnuts, coarsely chopped

Coarse salt and freshly ground pepper
---
Stir together vinegar, mustard, and shallots in a small bowl. Gradually whisk in oil. Toss escarole and optional scallions with vinaigrette and sprinkle with walnuts. Season with salt and pepper. That, as Mr. Batali says, is the dish.
Notes:
- Photographs of Sophie Dahl and her salad by Jan Baldwin
- Sophie in The BFG , Illustration by Quentin Blake from Josie Fison and Felicity Dahl, Roald Dahl's Revolting Recipes (London 1997)