Mushroom mousse with fried mushrooms
A typically nontraditional recipe from Paul Rankin, who put Belfast on the culinary map in 1989 with his late lamented Roscoff. Much of his work represents food that happens to be cooked in Ireland rather than Irish food in strictest terms, but authenticity and innovation may, at least at times, coexist. Rankin is so talented that it would be a shame not to introduce some of his dishes to readers of britishfoodinmerica. At least this recipe relies on ingredients indigenous to Ireland, and there is a certain tenuous connection to an earlier Irish innovation, Snaffles mousse. Six robust starters.
---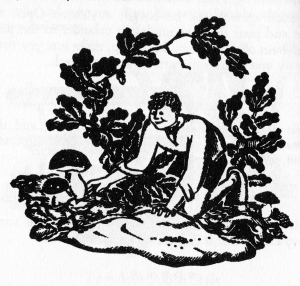 For the mousse:
-2 eggs
-2 egg yolks
-butter to grease 6 ramekins
-3 Tablespoons unsalted butter
-1 oz dried porcini mushrooms, soaked in warm water for 1 hour and then gently squeezed fairly dry
-about 5 oz roughly chopped cremini mushrooms
-a biggish minced shallot
-1 cup heavy whipping cream
-salt
-white pepper
For the fried mushrooms:
-2 Tablespoons olive oil
-2 Tablespoons unsalted butter
-about ¾ lb assorted mushrooms of any kind cut into more or less uniform slices
-salt and pepper
-2 generous Tablespoons minced chives or green scallion tops
---
Preheat the oven to 275°.
Break the eggs and yolks into a bowl.
Butter the ramekins with generosity.
Melt the butter in a heavy skillet over medium low heat gently fry the porcini and shallot together.
Cook the mixture until the mushrooms soften to a supple texture: You do not want much residual moisture.
Add the cream, bring it to a boil and reduce it to a syrupy texture.
Let the mixture cool to room temperature.
Dump the mixture into a food processor or blender and zap it until seamlessly smooth, then season it with the salt and pepper.
Slowly add the eggs and zap the mousse for another 10 seconds, no more.
Fill each ramekin with mousse and cover it with aluminum foil. Put them in a roasting pan, pour boiling water halfway up their sides and bake until the mousse sets, usually in about 40 minutes.
Take the roasting pan and keep the mousse warm in the bathwater.
Heat the olive oil in a big heavy skillet over high heat until it shimmers, then whisk the butter into the pan.
As soon as the butter melts, throw the sliced mushrooms into the skillet. Shake the pan to keep them from scorching but do not stir or the mushrooms will steam to a rubbery goo instead of frying to a lovely sear.
Fry the mushrooms until they have cooked as much as you like; the Editor likes hers just streaked with deep golden tones.
Season the mushrooms with salt and pepper.
Flip the mousse out onto plates, strew a portion mushrooms about each one and top off each plate with a share of chives or scallions.
Notes:
-The unthinking will scoff that porcini are not authentic Ulster ingredients but they are wrong. Traditionally known as pennybuttons from their shape and size, porcini are as prized in the British Isles as much as they are in other soggy climates where they flourish. British and Irish foragers also have a tradition of drying them.
-Rankin uses a combination of shallot and garlic instead of shallot alone. The Editor never has much liked to fry mushrooms with garlic.
-As Rankin also notes, you can make the mousse in advance and then reheat it rather than running kitchen sprints after the arrival of your guests. We take utility a step further and serve the mousse at room temperature, which gives a nice temperate contrast to the fried mushrooms…
…which in reality are optional; you could serve the mousse with toast or crackers instead. Then you do need even need to dump each mousse out of its pot, which can be tricksy. By adding the fried mushrooms to the plate, however, you get that Paul Prudhomme layering effect from the different flavors that arise out of different cooking techniques applied to the same ingredient.