Clarissa Dickson Wright does it again with The Haggis: A Little History.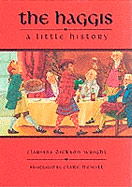 In June of 1826, the legendary Blackwood's Magazine in Edinburgh reviewed a revolutionary new book called The Cook and Housewife's Manual. The reviewer was quick to realize that its author aimed at considerably more than cookery alone, and gave her what, apparently, was Blackwood's highest compliment:
"The individual who has so ingeniously personated [sic] Meg Dods is evidently no ordinary writer, and the book is really most excellent miscellaneous reading. Here we have twenty or thirty grave, sober, instructive, business-like pages right on end, without one particle of wit whatever; then comes as many more, sprinkled with facetiae --and then half a dozen of broad mirth and merriment. This alternation of grave and gay is exceedingly agreeable--something in the style of Blackwood's Magazine. "
At the same time The Monthly Review found The Manual so remarkable that it gave its author what was, beyond the offices of Blackwood's, what then was literary Scotland's greatest conceivable compliment:
"We have no hesitation in saying that if the humourous introduction is not written by Sir Walter Scott, the author possesses a singular talent of mimicking his best comic manner…. "
The author's imitation of Scott was so authentic that over the myth briefly took hold that he was the undoubted author of her introduction to The Manual. Dods did start her fictional life as a character of Scott's, in St. Ronan's Well , but he did not write The Manual. Its author, was, however, a member of Scott's circle who shared his enthusiasm for the nationalist project he came to embody.
As Peter Brears observes with characteristic prescience, "most aspects" of Scottish culture "were subjected to a massive re-branding exercise inspired and driven by Sir Walter Scott" at the outset of the nineteenth century.
"In culinary terms, the propaganda for Scottish national cookery was led by Mrs. Isobel Christian Johnstone, wife of Sir Walter's publisher. Her Cook and Housewife's Manual… published under the pseudonym of Mrs. Margaret Dods of Cleikum Inn, St. Ronan's is as much fictional nationalist journalism as recipe book." (Brears xxiii, xxiii-xxiv)
Brears was writing this in 2005, but his identification of Mrs. Johnstone as the author of The Manual was no bombshell. During 1999, Alan Davidson also fingered her as the alter ego of Dods, or rather fingered Dods as her alter ego in The Oxford Companion to Food . Duality, it would appear, looms large in the literature of Scots, and not just in the work of Robert Louis Stevenson.
Seventy years earlier, in 1929, F. Marian McNeill had chosen to introduce her landmark Scots Kitchen with an essay on the founding of the Cleikum Club, a fictitious society of gastronomes first conjured by Scott, from The Manual . McNeill notes at the outset that "the book was actually compiled by Mrs. Isobel Christian Johnstone, the wife of an Edinburgh publisher, the author of The Edinburgh Tales and other works, and in after years the editor of Tait's Magazine ." (McNeill 15n2)
NcNeill might have gone on to mention that Mrs. Johnstone also worked as a noted political journalist and wrote three novels, but then The Scots Kitchen engages in strictest terms with the culinary rather than the polemical, or, perhaps, not.
Enter Clarissa Dickson Wright, with The Haggis: A little history.
It is a mystery why publishers encourage any author to entitle her book "A Little" anything. Perhaps attention spans are now sufficiently short to sustain a gamble that the public will readily take two leaps of faith. First, that a 'little book' can confer any wisdom at all and second, one with the adjective in its title can be anything but bad.
The gamble is even riskier with Dickson Wright, a television celebrity. A self-styled "expert on food history," she is a self-righteous, bitter old scold who has displayed an unconcerned arrogance and lack of rigor before, in both her meanspirited memoir and her spurious, snobbish History of English Food. (Dickson Wright rear flyleaf)
Dickson Wright's treatment of The Manual runs apace. According to her,
" ….Meg Dods produced The Cook's [sic] and Housewife's Manual. She was the landlady of the Cleikum Inn, in St. Ronan's, near Peebles, which housed the gatherings of the Cleikum Club, one of the many dining clubs that flourished at the time." (Dickson Wright 22)
Is any of this ironic, knowing, playful? No, no and no. Dickson Wright is both sloppy and witless.
At the outset Dickson Wright has got the title of the cookbook wrong; mistaken fiction for fact; and demonstrated that she, a self appointed expert on Scottish culture, is utterly unfamiliar with Scott, arguably the most important figure of the period she has chosen to examine.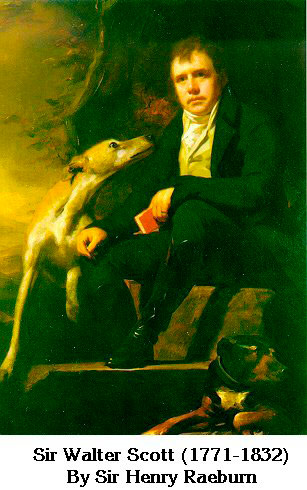 Things get worse, or better from the perspective of schadenfreude, when Dickson Wright intones that "Sir Walter Scott was among the founders" of the Cleikum Club. In a sense that is true, for he imagined it, but only in a fictitious parallel universe. (Dickson Wright 22)
There is more to decry or enjoy, depending on your point of view. As an example, Dickson Wright blithely adds:
"Mistress Dods is a mysterious figure about whom rumours abound. It is quite firmly believed by many in the food world that Scott was the author of her cookery book…. or suppose her to have been Scott's mistress." (Dickson Wright 22)
The writing itself gives Dickson Wright away: Always beware the unattributed omniscient passive pronouncement. It invites wonder about the identities of these 'many' who, in common with her, have not bothered to consult Brears, Davidson, McNeill and others. Beware also reference to an undefined (possibly extraterrestrial?) 'food world' inhabited by the putatively superior but in reality unprofessional likes of Dickson Wright.
Then there is her speculation about Scott's authorship, which in fact had been debunked immediately upon publication of The Manual , not to mention the juicy reference to a mistress. Perhaps Dickson Wright has subconsciously run afoul of the most ancient of marketing ploys. Sex sells, and Sir Walter's apocryphal association with The Cook and Housewife's Manual cannot have harmed its sales. None of this, however, can excuse her cynically conceived little history of haggis.
This Fenway has been earned in spades despite the slight not to say flimsy 59 pages of its foundation.
Sources:
Peter Brears, "Introduction," Elizabeth Cleland, A New and Easy Method of Cookery (Prospect Books facsimile 2005; orig. publ. 1755)
Alan Davidson (ed.), The Oxford Companion to Food (Oxford 1998)
Isobel Christian Johnstone writing as Meg Dods, The Cook and Housewife's Manual (1969; orig. publ. 1826)
F. Marian McNeill, The Scots Kitchen (Edinburgh 1929)
Clarissa Dickson Wright, The Haggis: A little history (Gretna LA 1998)