Holiday Shopping Suggestions
The cavalry rides out, or britishfoodinamerica sorties to the aid of our readers with suggested holiday shopping.
I. Prologue.
At least for those of us who inhabit the world of britishfoodinamerica, Christmas requires nothing so much as stamina and organization. For the Americans among us, it entails a variable but cheerily extravagant degree of material consumption in terms of shopping for presents. For those of us with children it also requires skill in the logistics of scheduling performances of 'The Nutcracker,' visits to Radio City and to The Tree In Rockefeller Center or their equivalents across the country. These goals compete with choosing the perfect household tree, sneaking in a few days to ski, school pageants, college applications, obligatory visits to scattered relatives and more of the same or at least similar, depending on the age of your kids and the scope of your ambitions.
For those of us who are British, the holiday rounds are different, exhausting in a different way. Despite 'Punch and Judy' and the pantomines, the holiday season in Britain strikes us by comparison as more of an adult affair. Seasonal excess entails the consumption of food and drink more than the exchange of gifts. The office party, a fading fête in the United States, chugs along in Britain, and firms tend to invite outsiders too. If you have work in these melancholy times, and sometimes if not (your friends may) then you will have been invited to a round of office parties, either to enjoy or endure depending on your attitude and luck. Again, however, our analysis discerns a comparative rather than contrapuntal distinction.
Last year, as we struggled to launch britishfoodinamerica and survey the landscape of our chosen field, we considered it useful if not merry to set some records straight about the quality of traditional British foodways as well as their contemporary manifestation. The result was our acclaimed if not seasonal 'Killjoy' number exposing the fallibilities of publications ranging from The art of Eating to The Economist and Saveur on the subject of British food. We lacked either time or inclination to offer our readers guidance with either Christmas shopping or cheer.
This year, to make a sort of amend (and take liberties with the title of Fergus Henderson's first book), we are posting not only holiday recipes suitable for a crowd that should not stretch the straightened cook, but also some other suggested means to keep the day without excessive stress. Notes and recipes that we hope will prove helpful appear elsewhere in the practical and, in recognition of a holiday spirit honored too frequently in the breach, even over at the lyrical. In the more prosaically practical regard, we have decided for the first time to share some shopping insight, for whatever modest value in tranquilization it may be worth, with our readers.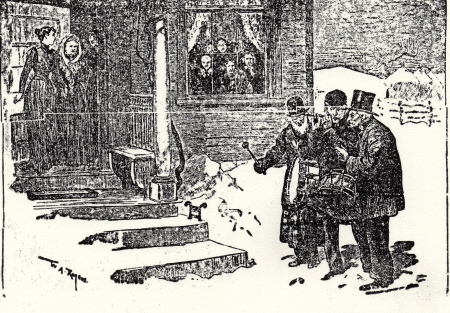 II. Presents.
This, as they say, is it, and it in turn is divided into more or less rational categories of purchase. Some things are available either in shops on the ground or through delivery only in the United States or the United Kingdom, and as necessary we have attempted to note those restrictions.
1. Tools.
It is possible to cook a broad range of British dishes with the standard American kitchen battery or, for British readers, to do so without specialized equipment. Sometimes, however, something cooked in Old School vessels looks appealingly arresting.
A pudding, whether savory or sweet, may be steamed in any sturdy bowl, but the shape of the traditional ceramic basin is special. A 5 ½ x 3 inch pudding basin that holds 2 ½ cups costs $10 at Dean & Deluca. A large selection of Mason Cash basins ranging in size from 2 cups to four quarts and priced from $10.50 to $22.50 is available online from amazon.com.
Amazon also sells lidded metal steamed pudding molds with fluted sides for figgy and plum puddings in various sizes priced from $19.95 to $37.95.
Falcon makes traditional oblong pie pans enameled in white with a black stripe around the rim. They look uniquely British and come in a range of sizes. You will need to source them in the UK. The enameled products from Falcon are inexpensive, and the prices at surplusandgarden.com run to about half what they get at upmarket shops like labourandrest.co.uk.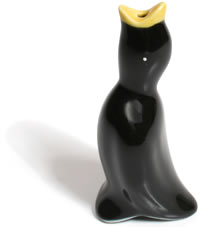 Pie birds are practical: They vent the steam from the filling that rises during the baking process out of the pie to keep its crust from getting soggy. They also are pretty and collectible (the Editor is an addict) and come in fanciful shapes. There are various species of birds, but also everything from giraffes, locomotives and mermaids to gnomes and Scotties. Older, nonanthropomorphic 'birds' made in Britain advertised various products including pastry flour and malt extracts. A good, reasonably priced selection is available online via Australia from a personable proprietor at www.piebird.net. Ordinary charming blackbirds are available at Kitchen Kapers for $3.99; as usual, Dean & Deluca charges more.
You can bake prototypically British raised pie in a standard round springform pan, and for something like a pork pie the shape is traditional. For game pies, veal and egg pies and others, however, the traditional fluted pie molds that look like the hulls of Teddy Roosevelt's Great White Fleet are something impressively special. They are hard to find and expensive, so make for a special gift. Ironically, the sole surviving manufacturer is a French company, KitchenCraft. The modern incarnation looks properly authentic and has the indispensable addition of a nonstick coating. This fabulous product is available at an almost dizzying number of prices from several British websites but stocks are low. The cost at alacook.co.uk is £89.95; ludlowcookshop.co.uk, which calls the mold a "very rare item," charges £96 and brookfoodshop.co.uk wins the Gordon Gekko Award at £119.99.
Similarly, any bowl or bucket can hold a trifle but the traditional straight sided glass bowl on a pedestal sets off the colorful layers of this most British dessert. Reed & Barton manufactures attractive trifle bowls that are available online from Bed Bath & Beyond, CSN Stores and Amazon at prices that range from $52.95 to $80.75 depending on location, tax, shipping charges and the greed of the retailer.
Another traditional British dessert, one frequently mistaken for French, is burnt cream, or crème brulee in translation. Chicago Metallic makes a handy crème brulee set that includes a handled rack holding for ceramic pots. The rack seats in a nonstick tub to make an efficient bain marie. The set is available all over the internet; do not pay more than $20.
Speaking of Chicago, we recommend the unfashionable carbon steel blades from Chicago Cutlery. Carbon steel will dull, but unlike other alloys you can sharpen it yourself to a razor edge. Their knives are both practical and good value for money, and we like the feel of their hardwood handles.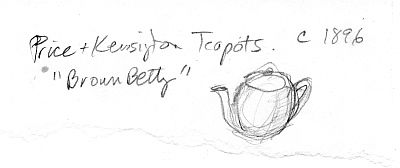 Price & Kensington's chunky and iconic Brown Betty teapots, the workmanlike standby of the working class, now come in lots of colors in addition to the traditional deep teastain brown and may be found at numerous sources in both the UK and US. It is so iconic that a Brown Betty features in the latest Harry Potter film; you can see it in the well-accoutered tent Harry and Hermione use as a hide-out. Their spherical shape was designed during the era of loose tea to create a vortex to swirl the leaves when you poured water into the pot
In the UK, the elegant Labour and Wait shop in East London carries them and will ship to you for a fee. Less aesthetically ambitious merchants sell them at lower prices. There are a number of sizes: Labour and Wait charges £12 for a 6 cup pot; £14 for 8 cups and £16 for 8. In the United States, solid colors range from $15 to $25 online at www.thefind.com/kitchen/browse-kensington-teapot.
You will want to heat the water for your tea and a good way to do it is to do as the English do. Every British household that is not domiciled in a crack den or lean-to has an electric kettle that boasts great advantage over the unpowered models Americans tend to purchase. Electric kettles work considerably faster and do not clutter your stovetop, let alone require a burner or get splattered with cooking grease. Really nice ones from Kitchen Kapers include a beautiful 'H2O plus' glass cordless safety kettle from Capresso for $59.99 (list price is $100) but they will require regular cleaning to keep them attractively clear. A lazier and more traditional alternative by Cuisinart costs $80 (off a list price of $130). Available at any of the fourteen Kitchen Kapers locations and from kitchenkapers.com.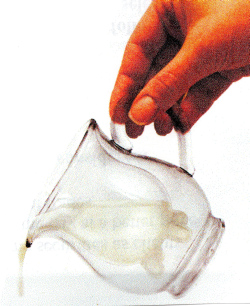 If you are British you probably take your tea with milk, and if you are American you should. The Bodleian Library Shop has pitchers, as well as 'tea for one' sets, teapots, mugs, plates and egg cups, all emblazoned with "SILENCE PLEASE" in sans serif; good gifts for your resident scholar. Prices range from £10 to £38; most items are available online. A different kind of pitcher comes from Fred. Its double walls are made of clear glass to keep the milk cold or warm a little longer; the inner wall looks like an udder. The 'Fred Calf Creamer' costs $19.99 at Kitchen Kapers.
Oxo is a British maker of crisply designed kitchen equipment. A range of products from them is available at kitchenkapers.com. Their mandoline costs $69.99 and they make pretty and practical potholders ribbed with silicone that will withstand temperatures up to 600°. The "goodgrips" mitten costs $14.99 and a standard square potholder $9.99.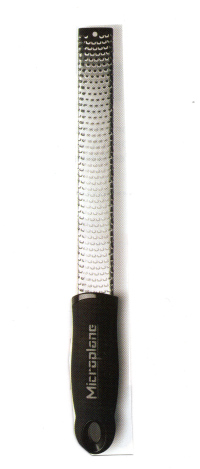 Citrus zest is a flavoring found extensively in both savory and sweet British preparations, and you can do the skin of your friends' hands a favor by giving them a Microplane zester. They are available just about everywhere and cost under $20.
British cooks traditionally roast a lot of meat and British diners traditionally like their gravy. That is why an Amco 'easy release fat separator' may provide solace to our readers. Unlike other equipment that is intended to separate stock from fat, it has a trap door to drain from the base. Another gift idea under $20.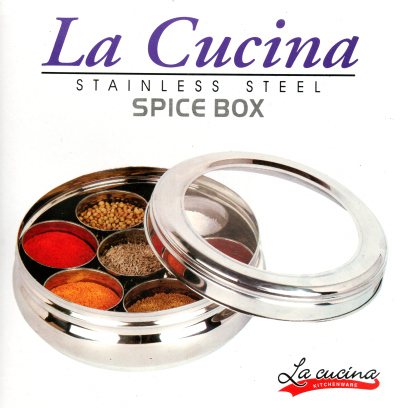 If you like to mix your own curry blends, La Cucina offers a line of spice boxes. Model number 8 is a round metal bucket holding seven little spice pots beneath a transparent lid. The set includes two little scoops and costs $19.99 at Kalustyan's, where you also can get any Indian or Middle Eastern spice imaginable to fill the pots.
2. Gear.
It will be apparent to readers that we are not quite gearheads at britishfoodinamerica. Nor do we pretend to an adequate level of technical competence. We remain sufficiently tactile to prefer books and cuttings to computer screens and Kindles, but do find some technical equipment congenial. The division of the world into copyright zones is uncongenial and inconvenient. American viewers are denied DVDs of Hugh Fearnley-Whittingstall and the late Floyd, British viewers miss Anthony Bourdain because the entertainment industry encodes the offerings to render them unplayable on standard video equipment outside the arbitrary zones they have established. The practice is as ineffective as it is annoying, now that a large selection of multiregion code free DVD players from an array of producers will allow you to watch British programming. Over four hundred models are available from amazon.com alone at prices from about $45 to $2,200.
Back in the kitchen, we happily ride the KitchenAid bandwagon. Their tilting stand mixer comes in lots of colors but that is beside the point; this is a sturdy and versatile piece of equipment worth its relatively steep price of $300. They also make various models of hand mixers, the outboard motors of the kitchen, in various cordless and plug-in versions.
We have been late converts to the food processor, and believe that it is unsuitable for many applications, but recent models are less annoying than their forbears. Lids are now sealed to prevent the messy spray of soups and other liquids at the higher settings and hardware is available that is less brittle than it was in the past. Our processor would be prized for the labor savings associated with the fabrication of pastry alone. It is hardly unconventional to recommend Cuisinart food processors, but its equipment is good. The Elite range of models have extremely high list prices that frequently are discounted. Kitchen Kapers offers the 12 cup model for $249, a $201 discount; the 14 cup model goes for $299 there, a savings of $246.
3. Personalty.
We realize that things like watches and shoes ordinarily are not edible, although underwear are available that give you the (somewhat messy) option, but things like watches and shoes are handy in the kitchen for the obvious reasons. If, like eating, you need to tell the time or protect your tootsies anyway, you might as well accomplish the task with a little style.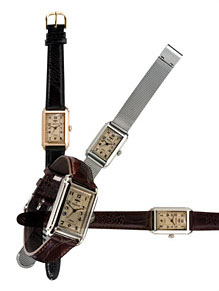 Cobra & Bellamy has closed both of the shops that they once operated in London and no longer deals in antique jewelry (their Bakelite pieces from the interwar years were astonishing) but they still sell their peerless costume jewelry online. Deco inflected watches for both women and men range in cost from £50 to £159.
Stacy Adams has a deserved reputation as purveyors of pimpwear, but the Florsheim underbrand does other, good, things too. They make an Old School 'Madison' line of shoes that we find irresistible. The dressy mens' boots at the bargain cost of $125-130 are objects of our desire and will be coveted by Young Fogeys, steampunkers and anyone with superb timeless taste. Twelve variations on the same last are for sale online, including sedate black and brown finishes along with faux lizard and classic spectator. The boot has a 'biscuit' or long rounded captoe with wingtipping on the band. The leather is kid, so the boots take no time to break in. They look and feel luxurious. It is hard to figure how the company can sell this good a product at this low a price.
Khakis deserve their association with the Ivy League and Andover, but the British did create them for the climate of India. You will find variously friendly and forbidding salespeople at the three Save Khaki shops in Manhattan (the people on Greenwich Avenue are more reliably friendly). Their innovative takes on standard trousers are cut low over the hip and come in various fabric weights, from the classic to a heavier blue and white microstripe railroad cap material. They also make lovely stripey and solid shirts that, of course, button down. Bags and footwear round out the traditional stock with a twist. Their artisanal trousers run a reasonable $100 to $150.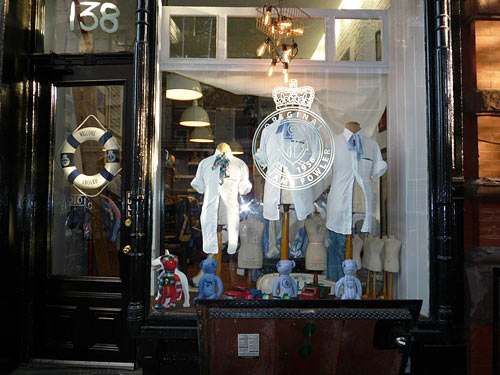 Farther up the price point food chain, we previously have disclosed our admiration for the tailoring and whimsy of Graham Fowler in Manhattan. Go there after reading about the shop in our archive.
At the Working Class Emporium in Manhattan's Tribeca, the flamboyant owner, whose day job in reality is advertising (if, in fact, that is a species of reality) buys what he likes, so the selection is reasonably eclectic and never dull. On a recent visit the stock included antique china, cutlery and glassware; an Edwardian travel box; robust antique metal cabinets priced at $7,500 and $8,500; coronation memorabilia involving a number of monarchs; and the signed R. S. Lowry print of "The Pond" still remains mounted behind the counter, still available for $7,500. Not everything is expensive, however. Working Class has a number of 'Keep Calm and Carry On' items and clever cufflinks, along with its own tees (good graphics)and a perfume 'line' consisting of "Day Shift" and "Night Watch" at $25 each.
For considerably more money you can indulge in No. 88, the peerless unisex fragrance from Czech & Speake of Jermyn Street.
Speaking of shops, we do not have time to catalog all the ones we like but should mention a couple of them in addition to Mr. Fowler's. Lucullus in New Orleans sells museum quality culinary antiques including china, cooking equipment, cutlery, glassware and furniture but do not be intimidated. The staff is friendly and engaging, and if there is little evidence of British artifacts, the place is worth a visit for the sheer pleasure of the experience.
4. Foodstuffs. We do not recommend purchasing prepared assortments of foods or "Christmas hampers" as they are known in the UK--unless you are a member of the
Wine Society, which will ship its gift packs of Christmas cake and pudding, lemon shortbread, sugared nuts and the like just about anywhere. The quality of all the goods is good.
Due to the irrational nature of the FDA, it is illegal to import the excellent Macsween's haggis into the United States, but fortunately a number of companies make it in Illinois, New Jersey and Texas. The Highland, a restaurant that we like in New York, sources its haggis from Andrew Hamilton in Plainfield, New Jersey. We consider Hamilton an artisanal producer for the quality of his haggis, which substitutes liver for the traditional lung that is illegal in the US. The telephone number is (908) 822-1369.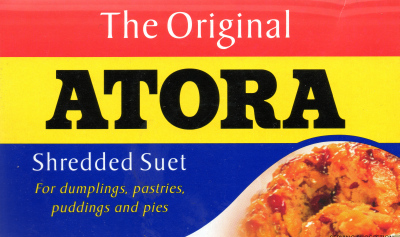 Shredded Atora suet also is banned in the United States, but the company makes a vegetarian 'suet' that is a more than passable alternative if you do not want to scrape your knuckles shredding the real thing. It is available at Myers of Keswick in New York and by mail through their eponymous website. Myers makes their own sausages and savory pies, and sells a small selection of British packaged foods at high prices, including Shippam's crab spread ($2.95 for 75g), Gentleman's Relish ($5.95 a pot), Bigga marrowfat peas ($1.50 for 300g), Paxo sage and onion stuffing mix (yes it tastes like it comes from a box but an easy guilty pleasure nonetheless; $3.50 for an 85g box) and jars of peerless Opie's pickled walnuts at a breathtaking $10.95 (you will, however, spend even more for them at Dean & Deluca).
Upmarket grocers and supermarkets carry Walkers Christmas pudding and sixpacks of their little mince tarts during the holiday season; prices usually are not bad.
Most of the time the British cheeses found in the United States are either industrial glop posing without much enthusiasm as heritage varieties or sadly neglected specimens of the real thing. DiBruno Brothers, however, is a trustworthy retailer of superb British cheeses that has an accessible online store at www.dibruno.com. You will need to visit one of their two shops in Providence, Rhode Island to get it, but The Farmerie takes careful care of its cheese and stocks a number of English ones, including (at least on occasion) the irresistible new Stichelton blue.
5. The Word. Recipes are among our stocks in trade at britishfoodinamerica and in addition we have reviewed, and referred to, a number of cookbooks during the course of our first year. With the advent of online booksellers used and new it has become relatively easy to find the many excellent British cookery publications that used to remain beyond the reach of Americans who did not visit the United Kingdom. Some of the best are out of print but widely available through sellers like the advanced Book Exchange at www.abebooks.com.
To predictably hysterical and misplaced fanfare, Jill Norman has repackaged a number of old, and often unreliable, Elizabeth David recipes with large food pornography photographs under the title At Elizabeth David's Table. Skip it, but if you or yours like glossy cookbooks choose the one published this year for the Canteen restaurant and design miniglomerate in London. Canteen by Patrick Clayton-Malone, Dominic Lake and Cass Titcombe provides a solid introduction to cooking British cuisine and has lots of artsy pictures.
If you would like to introduce someone to Elizabeth David choose the best collection of her shorter pieces, which are better than her lengthier efforts, compiled as An Omelette and a Glass of Wine.
Persephone Books specializes in pretty reprints of neglected British cookery titles: A browse through their online catalog should provide you with plenty of ideas. We particularly like Kitchen Essays by Agnes Jekyll and Good Things in England by Florence White.
During the 1960s and 1970s, the redoubtable Theodora FitzGibbon embarked on a series of books about the regional cooking of the British Isles. The recipes are clear and good; each one is illustrated with an appropriate black and white period photograph. Her Taste of... series included volumes on each of the archipelago's four nations, on The West Country, Yorkshire and London, along with companion books on the traditional cooking of Paris and Rome. The series was reprinted in various editions; some of them are available for as little as $1 at www.abebooks.com.
If you would like to introduce someone to British food, and are not obsessed with the latest publication, then you have a lot of options, so many that it is a little difficult to select one or two recommendations; difficult, but possible. Candidates include Mrs. FitzGibbon herself, Eliza Acton, Darina Allen, Elisabeth Ayrton, Maxime de la Falaise, Jane Grigson, Mark Hix, Simon Hopkinson, Nigel Slater and Florence White. Other authors including 'Meg Dods,' Fergus Henderson, Mrs. Jekyll and Hugh Fearley-Whittingstall have written delightful books but theirs are less comprehensive surveys than relatively specialized monographs.
It would be difficult to choose between Elisabeth Ayrton and Jane Grigson. Both wrote extensively and brilliantly about British foodways; both drafted recipes that are literate and clear. Mrs. Ayrton is a lot more comprehensive, in The Cookery of England; Mrs. Grigson is a little livelier (but not much) in English Food. It would be easy to lose yourself happily in either of them. Both date from the 1970s but only Mrs. Grigson remains in print so, somewhat arbitrarily, she gets the nod. Buy many copies and give them to your friends.