A nineteenth century recipe for beef boiled in beer from Elisabeth Ayrton.
A nineteenth century recipe for beef boiled in beer from Elisabeth Ayrton. Mrs. Ayrton's discussion of this dish is as irresistible as the dish itself:
"This is a North Country recipe from the early nineteenth century. The tradition in the household was that the dish had been prepared in the past by their parsimonious ancestors for the hay-making supper for tenants, because part of an old ox that had been kept to work all winter could be used, since the beer helped to tenderize the meat. The tenants liked the taste of the beer and considered the dish a grand one."
So do we. Eight servings; the amount may be increased (or decreased) using the same proportions.
---
- a bundle of fresh herbs in any combination but not including mint or tarragon
- 6 cloves
- ½ teaspoon mace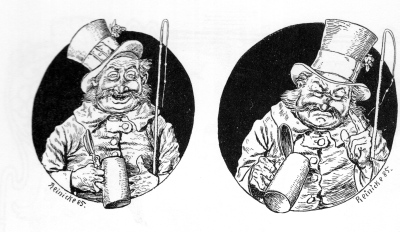 - 1 teaspoon turmeric
- about a dozen peppercorns
- about 1 teaspoon coarse salt (like Maldon)
- ½ cup malt vinegar
- ½ cup dark treacle (see the Notes)
- a 4 lb piece of lean beef like brisket, chuck, round or shin, boned and 'well tied'
- 3-4 lb onions sliced into crescents
- about a quart of good pale ale
---
Stir together everything but the beef, onions and ale.
Put the beef and onions in a deep nonreactive container or, better, a freezer bag enclosed in another freezer bag. Marinate the beef for at least 12 and as long as 24 hours.
Dump the beef, onions and marinade into a stewpot and pour in enough beer to cover the meat.
Simmer the beef until tender, usually in about 3 hours.
Serve the boiled beef in thick slices with a strained reduction of the boiling liquid.
Notes:
-If you cannot find dark treacle, Steen's cane syrup or molasses would be serviceable.
-Dinner is complete with the addition of "boiled potatoes, red or baked cabbage, and a sweet chutney." Cheap and cheerful indeed.
-Anything but the most demure IPA would probably be too bitter here. Choose a pale ale instead, even one of the bigger American West Coast styles.
-Is this the 'barbaric' and 'heavy' combination of sugar and meat that Orwell derided in his writings on English food? If so he never tasted the dish.
-The quotations in the introduction to the recipe and the Notes are from The Cookery of England by Elisabeth Ayrton (London 1975) 53.
-Dorothy Hartley describes something similar in the earlier Food of England, first published in London in 1954, but it would not appear that Mrs. Ayrton lifted the recipe from her without attribution because, weird as it sounds, Miss Hartley maintains the recipe originates wit a British army cook in the Transvaal during the Boer War. She recommends using "an excessively tough piece of beef" and believed that the recipe "would soften a frozen mammoth." Like Mrs. Ayrton, she would serve the boiled beef with boiled potatoes and cabbage but recommends hot boiled beets as well; no mention of chutney.