A good crab salad from the Fanny Hill Cook Book, or, 'Marquise d'Salade with crafty ebbing undressing'


(huh?). All the sexual references in the Cook Book are farcical, including this one, but this recipe with a recognizably British cast should not be overlooked. Six starters.
---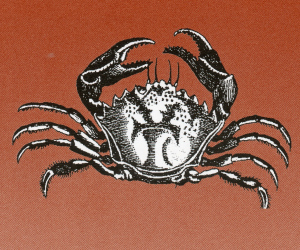 For the salad:
1 lb good crabmeat
1 head romaine, cut to ribbons and quartered
2 celery ribs sliced into ¼ inch crescents
generous ½ cup watercress
2 tomatoes, seeded, stripped of glop and cut into dice
generous ¼ cup fino or amontillado Sherry
For its dressing:
1 cup mayonnaise
½ cup sour cream
2 teaspoons anchovy paste
¼ teaspoon cayenne
¼ cup minced chives or scallion greens
1 Tablespoon lemon juice or malt vinegar
heaped ½ teaspoon or more mustard powder
¼ cup minced parsley
1 Tablespoon Worcestershire
salt and pepper
---
Carefully fold the salad elements together, whisk up the dressing and toss the salad gently with it.
Note:
-The original version omits the cayenne and citrus or vinegar as well as the Worcestershire. It also uses ½ cup of (an unspecified grade of) Sherry, only ¼ teaspoon mustard, an amount you would never notice, and adds ½ teaspoon tarragon.