Richard Bradley's instructions "To boil Fresh Salmon."
The visionary eighteenth century polymath created the concept of ecology, although he did not call it that, wrote a prolific number of essays, treatises and books, became the first professor of botany at the University of Cambridge and earned the eternal enmity of an unscrupulous rival whose unexamined attacks have unfairly fogged his reputation. We Appreciate him in the lyrical . Among his broad body of work are cookbooks containing commentary on all manner of creatures and plants along of course with recipes. This robust example is both obscure and spectacular with or without its " grand Sauce ." From 1731.
---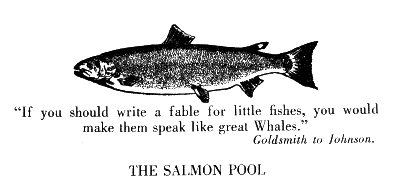 For the salmon:
2 cups water
3 oz white wine vinegar ( see the Notes)
a roughly 2-inch long hunk of peeled and grated horseradish
salt
salmon filets of equal size
For the (optional but wonderful) grand sauce:
2 Tablespoons water
about a dozen oysters (more if small) with their liquor
2 blades of mace ( see the Notes)
some whole peppercorns
6 Tablespoons unsalted butter
3 Tablespoons flour (preferably Wondra)
about 10 oz strong chicken or veal stock or a combination of them
2 Tablespoons white wine
1 teaspoon anchovy paste
1 teaspoon mushroom ketchup
---
Bring the two cups of water, vinegar, horseradish and salt to a boil, simmer the liquid for about 15 minutes and strain it.
Meanwhile simmer the oysters and their liquor in the water with the mace and peppercorns just until their edges start to curl: Remove them immediately from the liquid.
Let the liquid simmer while you make a roux by melting the butter in a heavy pot whisking it together with the flour until uniform and smooth.
Whisk the stock, wine, anchovy and ketchup along with the strained oyster liquid and heat it through: Keep the sauce warm while you cook the fish.
Put the portions of fish in a shallow pan just big enough to hold them without crowding and cover them with the horseradish courtbouillion.
Bring the liquid to a simmer and cook the salmon as much, or as little, as you like; test to see how well done it is by slipping a small sharp knife between two of the emergent flakes. We like the salmon still an opaque deep orange in the center; others prefer it cooked through to a uniform solid pink.
Notes:
-Our preferred white wine vinegar is Riesling, but Champagne also is good and anything white including clear grain vinegar will do in a pinch. The grain vinegar, however, obviously will add no vinous notes. It will add no notes at all.
-Mace is the lattice that surrounds a nutmeg; a blade is the lattice itself. If you cannot find a blade of mace (but you can; Penzey's sells them online at a reasonable price) use a heaped ¼ teaspoon of powdered mace instead.
-We have found no other recipe for poaching salmon in horseradish, which seems odd because both items are foundation ingredients of English foodways and the combination of them.
-Bradley left his horseradish whole and just threw it in a pot with the fish. Shredding it--you may use the biggest holes of a box grater--and infusing the cooking liquid in advance boosts the flavor.
-Bradley literally boiled his salmon, and boiled it whole, so notes that "according to the Fashion, leave all the scales on, though some take them off, to prevent that trouble at the Table; for the Skin of the Salmon is the fattest part of the Fish, and is liked by most People."
-While Bradley cooks his salmon on a full boil he does not do so for long; the fish "should be boiled pretty quick." It is not a bad method. Test for doneness during the rolling boil as you would on the simmer.
-The original recipe refers variously to the addition of "pickled mushrooms" and "mushroom pickle." Even though Bradley was aware of mushroom ketchup and could have called for it he chose the pickle or pickles instead. To us, the ketchup does the better job if you can find some. Otherwise chop some pickled mushrooms fine or omit mention of the mushroom altogether.
-Bradley's recipe for the grand sauce is somewhat discursive, incomplete and difficult to follow but he is aiming his reader toward what would become a traditional English shrimp or oyster sauce for fish, even if a highly seasoned one. His sauce, at least this interpretation of it, is none the worse for that. This version began with a simpler version of the same sauce from 1747 by Hannah Glasse--updated in 1974 by Elisabeth Ayrton with Bradley's additional flavorings added to the mix.
-Mrs. Ayrton uses her foundation white stock made from both chicken and veal.
-The sauce is grand indeed, good, as Mrs. Ayrton recommends, "with any grilled fish or with boiled turbot, halibut or cod" as well as with Bradley's salmon.
-The substitution of a single ingredient will transform the grand sauce. To make a grand shrimp sauce select ¼ lb cooked tiny or chopped shrimp; for a grand mussel sauce use 18 or so of them; to make a grand crab or lobster sauce ¼ lb of either shellfish.
-Bradley himself appears to contemplate a combination but again his prose on this occasion is uncharacteristically unclear:
"Take a Pint of Shrimps, a Pint of Oysters and their Liquor, and half a Pint of pickled Mushrooms; or else take Shrimps, and the Bodies of two middling Sea-Crabs, or of a couple of Lobsters, the Tail of the Lobsters to be cut in Dice, but use which you have by you. If you have Oysters…. "