Smoked Haddock & Shrimp Terrine
Phillipa Davenport's favorite fish terrine, at least circa 1982. Her own, we think, and utterly English in its bold simplicity. You will need a food processor. This is one of the Editor's favorites.
---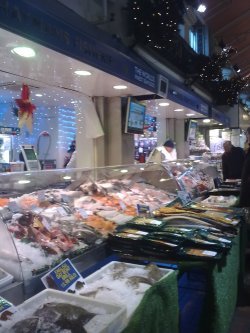 - about ¼ lb peeled raw shrimp (either small or cut into about half-inch cubes)
- about 2 Tablespoons lemon juice
- zest of about ½ lemon
- ¾ lb skinned smoked haddock, coarsely chopped
- 2 eggs, beaten
- about ¾ cup fresh white breadcrumbs made without crusts
- 4 Tablespoons melted, unsalted butter
- ½ cup chopped parsley (flat or curly, your preference on this one)
- a little salt
-pepper
---
Preheat the oven to 325°.
Toss the shrimp with half the lemon juice, a little salt and a lot of pepper.
Combine the rest of the lemon juice, zest and haddock in a food processor and puree until the mixture is smooth and homogeneous.
Stir together the breadcrumbs and butter, then the eggs, and transfer the blended mixture to the food processor.
Process the breadcrumbs mixture with the pureed haddock until they in turn are amalgamated and then gently spoon the shrimp with its juice and parsley into the puree.
Butter a terrine or bread pan, spoon in the haddock and shrimp mixture. Butter the inside of the lid or cover the terrine with buttered and perforated foil (to allow steam to vent).
Put the terrine or pan in an oven proof dish big enough to allow boiling water to rise half the height of the terrine and bake for about 1 ½ hours, or until the center is firm.
Chill, at least overnight, slice and serve with greens or bread or crackers or all of them and some chunks of lemon.
Notes:
- Phillipa Davenport's recipe, in Cooking for Family & Friends, uses half the amount of eggs, but when the Editor tried it, it tended to fall apart. She doubled the proportion of eggs and also used a little less lemon peel. You can double this recipe – hers is doubled – and if you do, you may not need to double the eggs. Make it three.
- You also could add a packet of gelatin dissolved in about a Tablespoon of hot water stirred into the puree at step 4. The terrine will not fall apart so easily but will be somewhat jiggley: Your choice.