Canned peas cooked with bacon & lettuce
Fergus Henderson likes canned peas: "For me, tinned petits pois are among the finest things to have up your sleeve and even finer than frozen peas." This recipe is based on his. Two generous portions.
---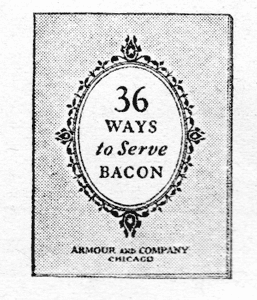 about 1 Tablespoon unsalted butter
3 sliced shallots
some chopped bacon
a can of peas, drained of all but a little liquid
3 heads little gem lettuce stripped of their flimsy outer leaves
---
Melt the butter on medium head and soften the shallots.
Add the bacon and fry it until it begins to crisp.
Stir the peas with a little of their liquid into the pan along with the lettuce.
Cook the mix until the lettuce barely softens and check the seasoning: You should not need salt but will want pepper.
Notes:
-Romaine is a good enough substitute for the little gem if you cannot find it.
-You could swirl another Tablespoon or so of butter into the mix at the end of the braising time.
-Henderson makes something more akin to soup by using all the liquid from the can.
-In fact he likes to eat his peas with bacon and lettuce as a soup or serve it with lamb.
-The quotation and recipe originate from a story in the Financial Times. "Kitchen cabinets," Weekend FT (4-5 April 2015)
-According to the story, Henderson also always keeps malt vinegar and suet in his pantry, bravo.