Edward Lee's curry pork pies
Lee claims that childhood memories of a bakery in New York's Chinatown inspired these handpies but their ingredients are thoroughly British, right down to the curry powder and the soy sauce that was ubiquitous in eighteenth century larders. The bfia recipe draws from Lee's: Changes are listed in the Notes. Enough for 12 muffin tin pies.
---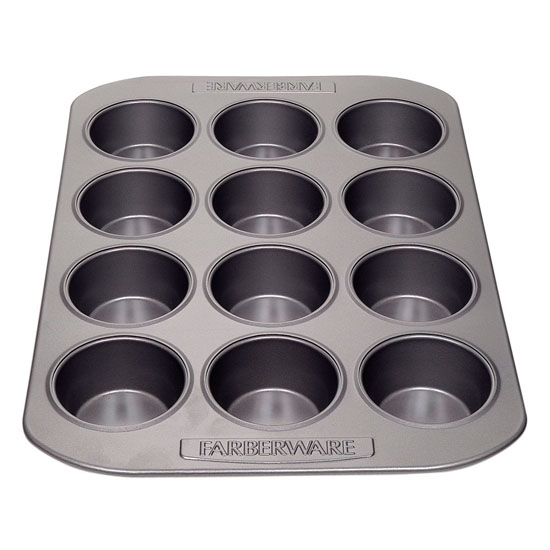 For the filling:
½ cup chopped bacon
1 lb ground pork
1 cup chopped onion
¼ cup diced red bell pepper
1 smashed and minced garlic clove
1½ Tablespoons minced fresh or jarred ginger
1 Tablespoon flour
¾ cup pork, ham or chicken stock (see the Notes)
1 Tablespoon curry powder
2 teaspoons soy sauce
½ teaspoon salt
¼ teaspoon cayenne
¼ teaspoon black pepper
For the pastry:
Any shortcrust pastry will do; the britishfoodinamerica recipe appears in our recipes.
an egg
1 Tablespoon neutral oil
2 Tablespoons milk
unsalted butter for greasing
---
Make the pastry and refrigerate it until you have assembled the filling.
Set a large cast iron skillet over medium low heat and cook the bacon until it begins to render, then increase the heat to high and cook until crisp.
Add the pork, onion, bell pepper, garlic and ginger.
Mix the flour and curry powder into the filling, cook it for a minute and add the stock soy, salt, cayenne and pepper and cook for about 2 minutes. "Has the liquid cooked off but the filling still looks moist? Good."
Preheat the oven to 425°.
Let the filling cool.
Whisk together the egg, oil and milk.
Grease the a 12-muffin baking pan with some butter
Use a biscuit cutter or glass jar to "punch out" 12 five-inch rounds of pastry.
Push the pastry rounds into the muffin tin and paint the inside of each round with the egg wash, then spoon a generous 2 Tablespoons of filling into each round.
Cut out 12 more, slightly smaller rounds and drape each one onto a topless pie. Crimp the edges of the bottomcrust over onto the topcrust, paint each pie and rotate a knife to make a quarter in hole in the center of each pie.
Bake the pies until gold and swollen, usually in about 15 minutes.
Let them cool before extracting them from the tin or they will fall apart.
Notes:
-The original recipe, and the quotations in this one, are from Smoke & Pickles: Recipes and Stories From a New Southern Kitchen (New York 2013)
-Lee uses a quarter pound less pork and add ¼ cup of diced carrot to his pies, and chooses green rather than red bell pepper.
-He also adds his curry powder with the stock rather than with the flour, and specifies only chicken stock.
-To further Anglicize the recipe, substitute Worcestershire, mushroom ketchup or rum and Madeira ketchup for the soy; use a scant ½ cup minced mushrooms instead of the bell pepper.
-Our own recipe for rum and Madeira ketchup appears in the practical.