In its modern guise, haslet is a dish based on ground pork that some authors describe as a sort of meatloaf seasoned with sage. A better comparison would be to a light terrine or pate bound with milk and bread rather than fat. Like a terrine, haslet traditionally is served cold, but there is nothing wrong with eating it hot from the oven. It makes a good starter or light lunch served with cornichons, pickled walnuts (if you can get them), onions and mustard. The older recipes do not always include sage but the herb has become essential. As noted in A Discussion of Some Hazlitts (in the lyrical), the oldest haslet recipes resemble faggots and include offal; they wrap the meat and seasonings in caul fat and roast the mixture.
---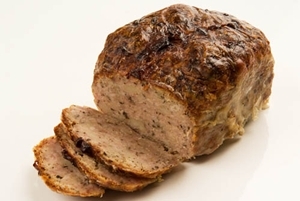 -¼ lb bread cut into smallish dice (you will want it to dissolve)
-enough milk just to make the bread barely mushy
-1 lb ground pork
-about ¾ cup finely chopped onion
-1 generous teaspoon minced fresh sage
-Worcestershire to taste (optional)
-salt and pepper to taste
-unsalted butter for greasing a terrine or bread pan
---
Preheat the oven to 375°.
Let the bread absorb the milk; if you have added too much milk and some of it has pooled, gently squeeze the bread so that it is not soupy.
Mix the other ingredients with the bread and homogenize the mixture in a food processor.
Lightly grease the terrine or pan with the butter.
Press the haslet mixture into its container; compress it evenly but gently mound the top and leave some ridges and ravines in it.
Roast the haslet for about 1½ hours, or just until the fatty juices run clear. Pour off any fatty liquid that has collected around the haslet.
Cool the haslet on a rack for at least 10 minutes, then turn out of the terrine or pan and serve warm or chill to serve later.
Notes:
-The 'ridges and ravines' will give the haslet an appealing, crusted brown texture.
-If you have no access to fresh sage, use about half the amount of 'rubbed,' as opposed to ordinary dried, sage. The flavor of rubbed sage is more robust and the texture is better than the basic dried herb.
-Sometimes there is leftover raw sage-infused breakfast sausage, like Jones patties; unlike their links, raw rather than cooked pork. We substitute whatever is on hand for a fraction of the pure pork to, we think, good effect.
-Alternatively (or in addition; Allah prizes colorful diversity, at least in the Hollywood medieval woodland fantasy abstract), substitute some proportion, up to about a quarter of the meat, of pork, calf's or chicken liver for the ground pork; grind the livers with everything else in the processor. This version is an alliance of haslets past and present.
-If you do not have a food processor, then make haslet anyway with an old-fashioned meat grinder or by mincing the ingredients somewhat laboriously by hand.
-This recipe is only the beginning, although it is an easy and good one. Many variations on haslet have been recorded far from its home and long after its genesis, even if only a few of them are familiar to only a small number of people today.
-Sarah Edington adds a teaspoon of mace along with the sage, omits the milk and substitutes 5 oz brown or white breadcrumbs for the diced bread. The National Trust Complete Traditional Recipe Book (London 2006)
-In Traditional Foods of Britain (Totnes, Devon 1999), Mason and Brown declare in their customarily authoritative if sometimes unreliable manner (they are particularly unsatisfactory on beer) that haslet always includes cured or brined pork, but that is not the case.
-Like Lizzie Boyd in the encyclopedic British Cookery (Woodstock, NY 1979), Jennie Reekie offers a recipe for Lincolnshire 'Harslet' in British Charcuterie ((London 1988) (reviewed in the critical) that resembles the older mixtures of offal and pork, without bread, wrapped in caul fat. Both recipes use only fresh pork, but Reekie at least does note that "Scott's in York make a delicious one with fresh and pickled pork added to it which, as well as adding flavour, gives it an attractive pink tinge."
-Eliza Acton takes note of "a harslet pudding, which is held in much esteem in certain counties, and which is made of the heart, liver, kidneys, &c., of a pig." Modern Cookery for Private Families (London 1855) 336
-In The Great Book of Sausages (Woodstock, NY 1996), the euphonious Hippisley Coxes (Antony and Araminta) include recipes for both the archaic offal and caul ('haslet') and modern pork and bread ('Lincolnshire haslet;' "a much more refined recipe") versions. They use sage but not mace and use "lean pork and rusk in the ratio of 5 parts to one." Great Book 163-64
-In an Anglo-Chinese return to the original reference point of the dish, pluck, the proprietors of the restaurant at 27 Chalton Street, Euston in London, variously called 'Snazz,' 'The New Chinese Club Sichuan' and 'Snazz Sichuan,' serve a stir-fried preparation of pork offal cut into ribbons the shape of shortened pappardelle that is spiced with chilies and cooled with scallions and cilantro. We do not know how they came across the term haslet but the dish is excellent if beyond the British tradition. The place is recommended for tripe with chilies, kidneys with mushrooms and many other things as well.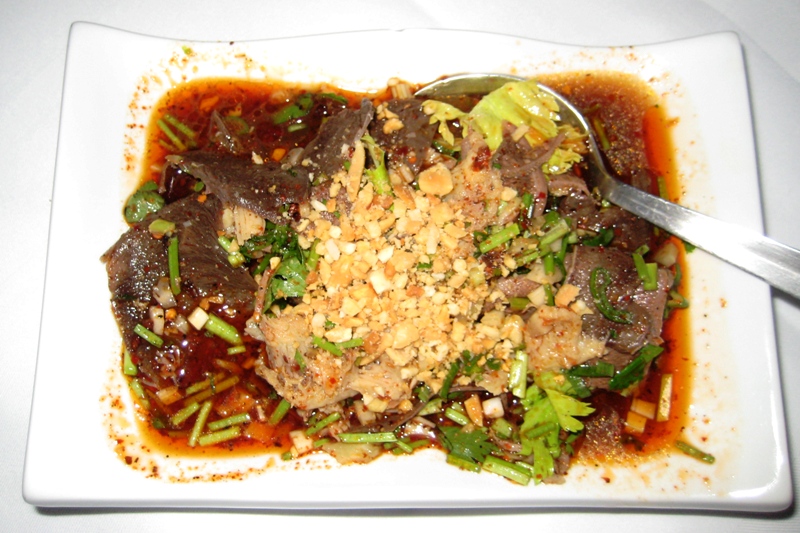 -There is a South African variant based on lamb offal called haksel:
"Cook the pluck (lungs, heart and trachea) of a sheep until soft and then mince. To the meat and kooknat (juices left in the pot after the meat has been cooked), add:
-1 onion, chopped
-12,5 ml (1 tablespoon) vinegar
-5 ml (1 teaspoon) salt
-1 thick slice of bread
---
Bring to the boil and simmer, stirring all the time, until pulpy and serve as a main dish, or with bread for breakfast or supper." Renata Coetzee, The South African Culinary Tradition (Cape Town 1977) 66
Admittedly this does not sound particularly enticing but the problem may be as much with the typically stolid Boer description as with the preparation itself; no celebrity chefs talk about cooking meats until 'pulpy.'